Qwikbread Makes Bread Ideas Possible
If you're planning to open a café but laboring over the standardization of your bread recipes; thinking of ways to produce consistently high quality breads and pastries for the neighborhood bakeshop you own but not having the high-tech equipment to make it possible; hoping to serve your restaurant's cream soups in bread bowls and pasta dishes with toasted crusty bread slices but not knowing where to source them…QWIKBREAD is the practical solution
Founded in 2010 by the brains behind The French Baker and Lartizan, Johnlu Koa, Qwikbread  is an industrial bakery producing fresh, frozen and parbaked bakery products, including lots of breads and pastries that cater to the needs of restaurants, coffee shops, cafés, bakeshops, hotels and caterers. Its high-tech facilities, which are centrally located in Libis, Quezon City, are capable of producing consistent, high-quality breads, pastries, frozen doughs and parbaked items with its automatic and semi-automatic bakery lines, so each and every piece is of the same size, shape, color and texture. It also comes equipped with a high capacity industrial blast freezer that's capable of reaching -35˚C, so it can blast-freeze a dough or parbaked bread and ensure that their integrity is not compromised.
Qwikbread can supply freshly baked artisan-inspired breads on a daily basis including Soup Breads, Kaiser Buns, Brioche Buns, Dutch Crunches, French Sourdoughs, Long Johns, Crusty Steak Rolls, Sourdough Baguettes, and Tortillas in four variants to choose from—Flour, Whole Wheat, Spinach, and Chives & Onion.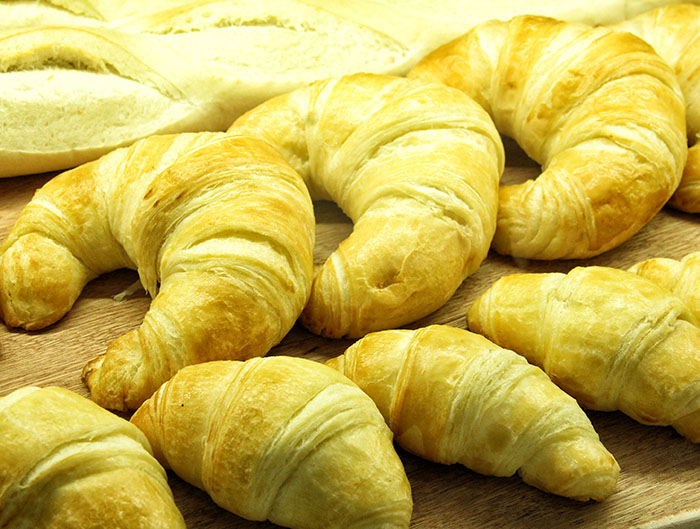 Qwikbread is also a convenient source for parbaked breads such as Ciabatta, Focaccia, Mini Pain au Chocolat, Danish Pastry and Baguettes that are 90% baked in the commissary and delivered to client in blast-frozen parbaked form. Since parbaked breads need to be baked only for the remaining 10% to achieve crust color and texture, they take very little preparation time in the store and yet they look, smell and taste like freshly baked, especially when made into sandwiches or served with gourmet dips and spreads.
For more personalized bread and pastry preparations that clients need for their own products, Qwikbread makes frozen doughs, such as ready-to-use Puff Pastry Sheets, Croissants and Danish Pockets for chefs to whip up their own variations in very little time within the confines of their own kitchens.   Its Puff Pastry Sheets, in particular, are made of 100% butter to ensure a delicate and consistent puffing after baking.
So if you already have a bakery, restaurant, coffee shop or catering company or if you're planning to start such a business and are on the lookout for making life easier on yourself and yet deliver outstanding products, Qwikbread just might be the answer. For inquiries or more information, call 7819810 or 0917-5663253 or email info@qwikbread.com.
Hits: 125