Workshops At Gourdo's
Gourdo's welcomed members of the media to its Megamall branch for the launch of its latest line-up of workshops. The event provided a sneak preview of the classes to be conducted by multi-awarded chefs.
Fleur de Lys Patisserie proprietor and Del Monte Kitchenomics co-host Jackie Ang-Po shared recipes for Sweet Crepe, Crepe Samurai, and Ham and Cheese with Basic Buckwheat Crepe. Pastry Bin owner and master cake maker Penk Ching revealed some cake decorating tricks. Park Avenue Desserts founder and Pastry Alliance of the Philippines President Buddy Trinidad tempted the crowd with Caramel-filled Chocolate Pralines.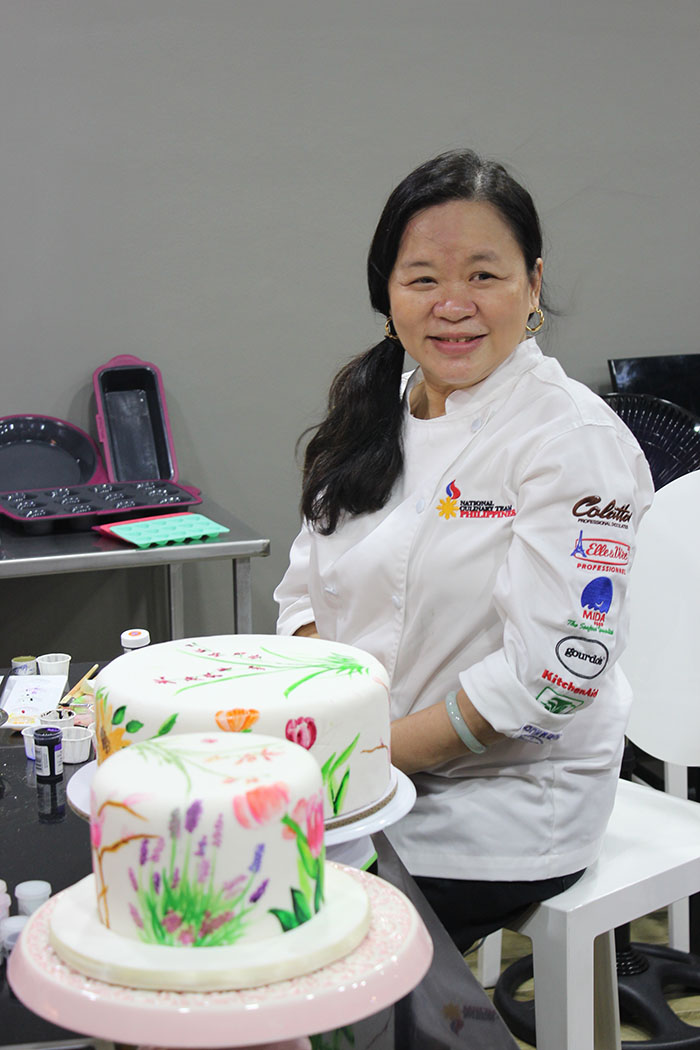 Gourdo's has always been a place where homemakers, food enthusiasts, professional chefs, and restaurant-owners get together. With the workshops, exchange of knowledge is encouraged between beginners and experts. "Despite the big name instructors, the modules were developed for first timers so experience is not a requirement for signing up," said Susan San Miguel, Gourdo's Assistant General Manager for Merchandising.
Chef Buddy will be conducting classes on French Macarons on June 10 and Chocolate Pralines on June 24, at Gourdo's Megamall. Chef Penk will be teaching about Hand-Painted Cakes on July 8 and Edible Paper Flowers on July 15, also at Gourdo's Megamall. Chef Jackie's sessions will be about Sweet and Savory Crepes on July 22, Bars and Brownies on May 27, Cookies on August 12, Pies and Tarts on June 3, and Cheesecakes on July 1 at the Living Well Workshop in The Podium. All classes will run from 1:00pm to 6:00pm and will have hands-on work. Fees start at P3,500 inclusive of certificate of completion, recipe cards, and all necessary supplies and ingredients.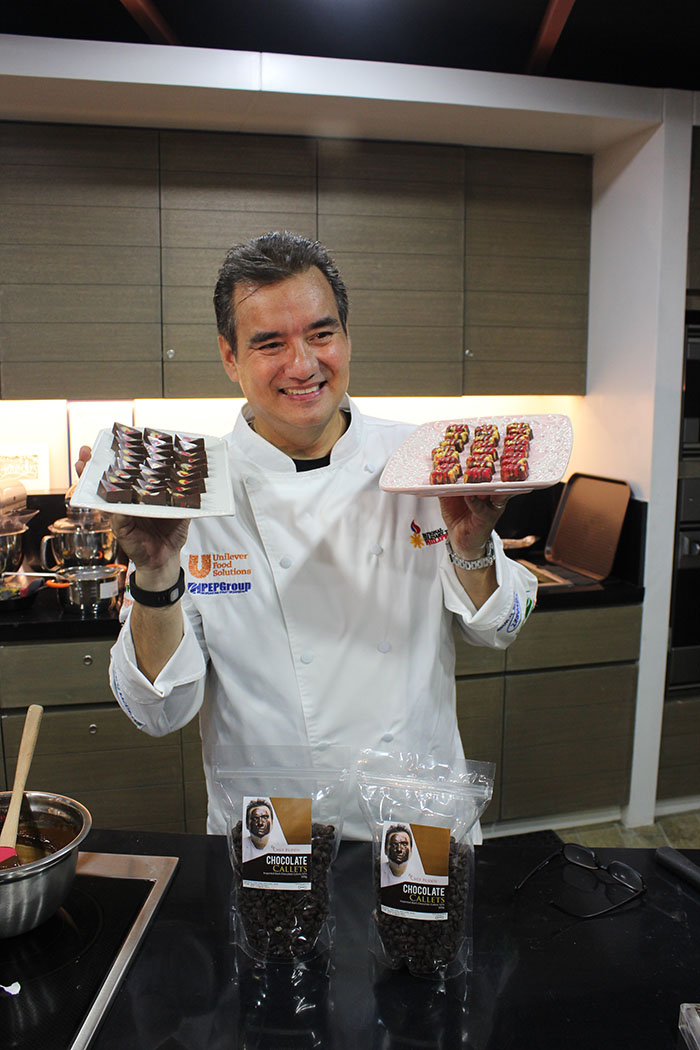 During the demonstrations at the Viking-fitted kitchen, some of Gourdo's new products were highlighted. Among them was the Ballarini Crêpe Pan which is made of aluminum, inside-coated with triple-layered quartz plus non-stick coating. The audience also got a glimpse of Trudeau Silicone Bakeware's new Structure line of baking pans which features an exclusive reinforced steel rim for secure handling while still having the non-stick and flexible properties that make silicone so appealing.
Chef Penk worked with the Wilton Icing Color. The Wilton concentrated gel formula helps achieve the exact shade you want without watering down the icing.  And they have a rainbow of colors, ready to blend together for creating your own custom shades. She also presented her own collection, Chef Penk's Petal Dusting Powder which was developed for the craft industry and often used on display cakes. Dusting powders contain non-toxic ingredients and are ideal for use with gumpaste or rolled fondant to highlight sugar flowers and icing decorations. They may also be mixed with oil-based flavorings or alcohol for painting and highlighting.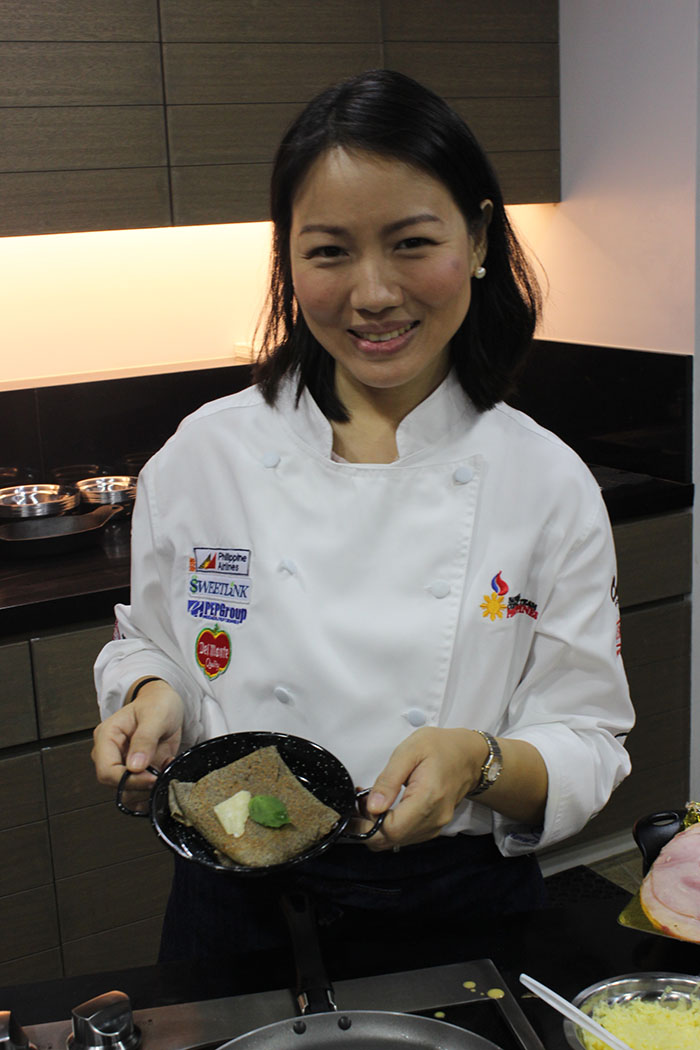 Chef Buddy showed off his range of products too including his signature chocolate mold. All the Polycarbonate Chocolate Molds by Chocolate World are extremely durable and will not warp nor flex. They are made of clear plastic so you can see when the chocolate has set, they also give chocolate a glossy luster. Imported Dark Chocolate Callets by Chef Buddy can be used to add delightful bursts of flavor to cookies and ice cream or for bake-stable fillings that will retain their taste and texture on the shelf.
For more information on the products and the workshops, call Gourdo's at their 24-hour hotline, (02) 8123022 or send an email to customercare@gourdos.com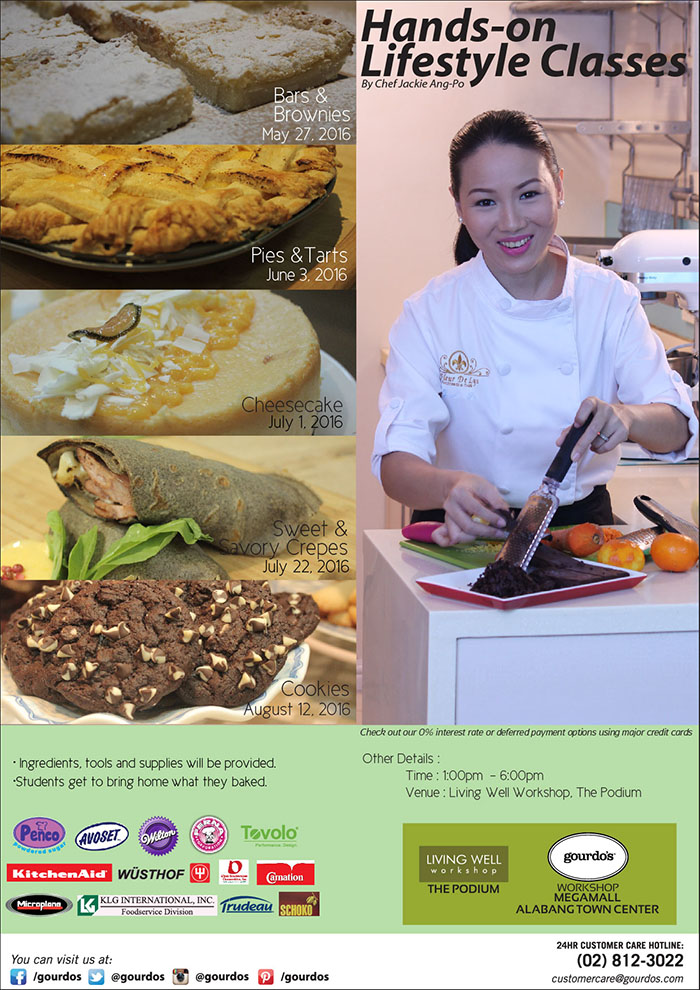 JACKIE ANG-PO
Jackie Ang Po is the pastry chef/owner of Fleur de Lys patisserie, a famous cafe/pastry shop on the Morato strip. She is a graduate of the California Culinary Academy. She has worked as a culinary school instructor. She has appeared on television for GMA/QTV as a host of True Confection and Delicioso and currently as the co-host of actress Carla Abellana in Del Monte Kitchenomics. Chef Jackie is a bronze medallist for plated desserts at the Food and Hotel Asia Competition in Singapore last 2010 and is an active coach with Pastry Alliance of the Philippines.
She is currently the Certified Wilton Method Instructor at the Living Well Workshop located at The Podium.
She also teaches Baking Basics, Lifestyles Classes and will soon teach Modern Buttercream Flowers.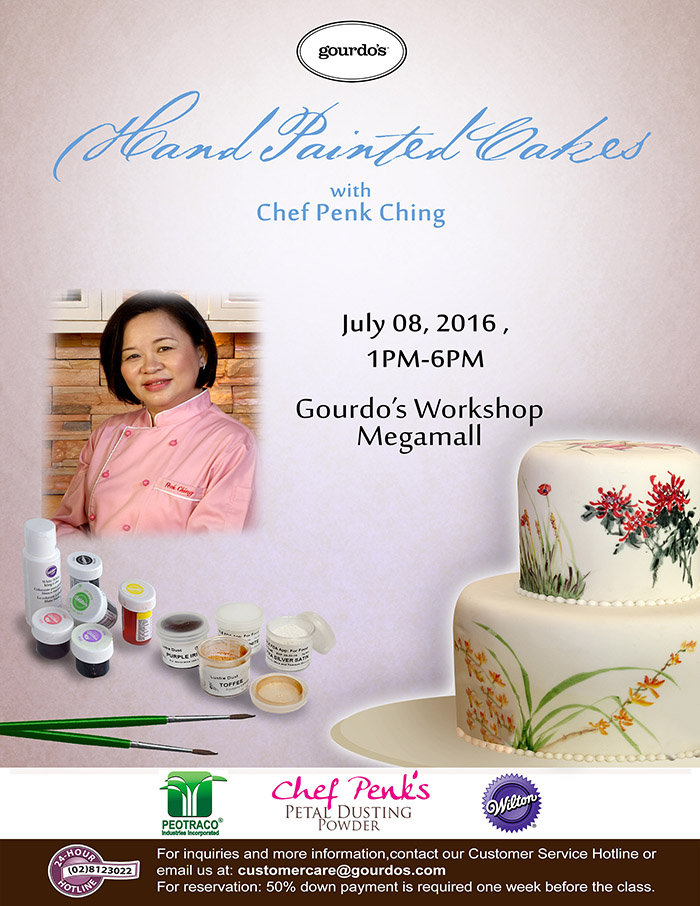 PENK CHING
With more than two decades of experience tucked under her toque, Chef Penk Ching is an acknowledged master at cake-making.  Backed by her team at Pastry Bin, she creates the most awe-inspiring pieces and is much sought after by the affluent and discerning for their special cake needs.  Among her creations are the wedding cakes of celebrity couples, Judy Ann Santos and Ryan Agoncillo, Paul Soriano and Toni Gonzaga, and Vic Sotto and Pauleen Luna.
Most noteworthy among Chef Penk's works of art are the cakes she made for the Princess of Brunei, for a project in Dubai, and the inaugural cake of President Benigno Aquino III which was made in the likeness of the Malacañang Palace. Also ranking high among her greatest achievements is the 3-foot cake replica of the 2008 Beijing Olympics Bird's Nest.  Her original designs are compiled in a book called "Caked in Sugar" which she and her sister launched in 2006.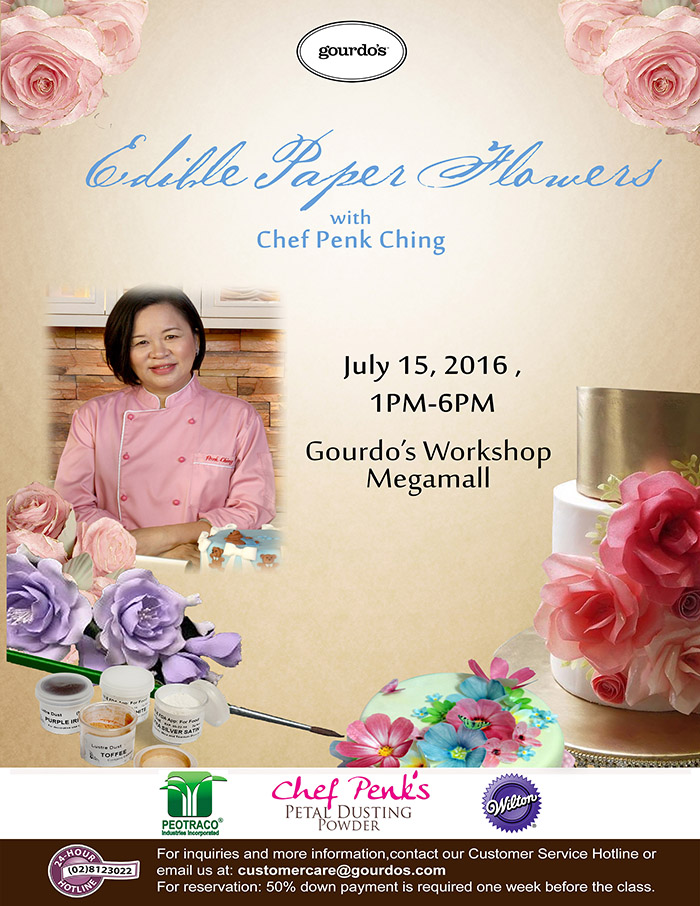 She has made her mark in baking competitions abroad and has brought home medals from the Singapore Food and Hotel Asia 2010, Thailand's Asian Culinary Cup 2009, Hong Kong International Culinary Classic 2009, and British Sugarcraft Competition 2000. A World Association of Chef's Societies-certified judge, Chef Penk travels the country and the region regularly to evaluate competition entries by both students and professionals. She also generously shares her knowledge through lectures and demonstrations.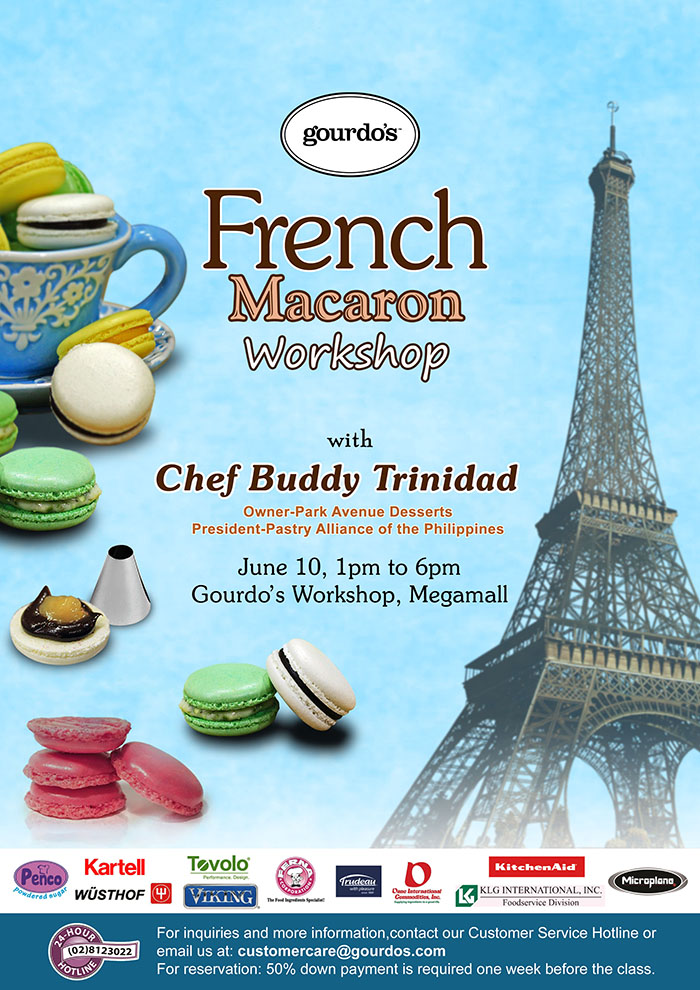 BUDDY TRINIDAD
Chef Buddy Trinidad's first love for sports and music takes a whirlwind turn to a passion for baking, thanks to his mom who urged him to go into baking school. Fast forwarding to 30 years now, he says he still enjoys being a chef, so much it never really feels like work.
Buddy's extensive knowledge in the culinary industry can be attributed to his studies and work abroad with the some of the most notable establishments in the hotel and restaurant industry. He graduated from the University of the Philippines then earned a diploma in Professional Baking from Los Angeles Trade Technology.  He took up chocolate and patisserie courses at Valrhona's L'Ecole du Grand Chocolat and at the Callebaut Chocolate Academy. He also studied Advanced Sugar Art at the Ewald Notter School of Pastry, a praline and petite gateaux course at Felchin Chocolate and advanced Viennoiserie at Master Baker Peter Yuen.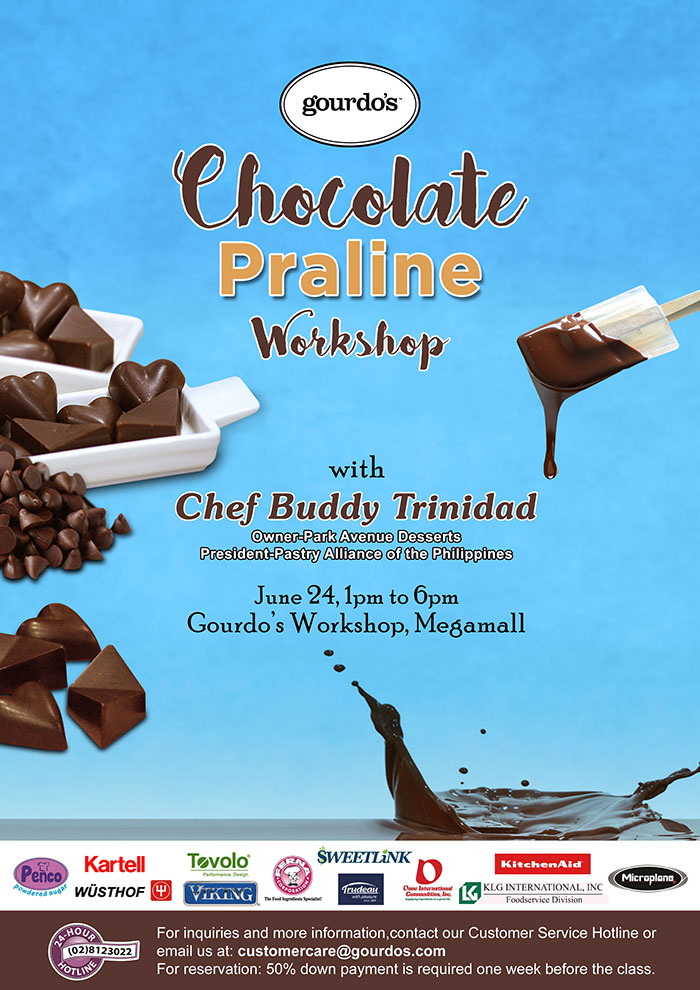 He started training at Michael's Restaurant in Sta. Monica, California and New York City. In the mid to the late 90's, he became pastry chef at Noa Noa Beverly Hills, Tryst in L.A., Stars Restaurant in San Francisco and at Morton's where he was part of the opening team of Hard Rock Hotel and Casino in Las Vegas. During that time, he created all desserts for special events such as the Oscars, Vanity Fair parties and Presidential functions. He also worked as an assistant pastry chef at The Peninsula in Beverly Hills.
After deciding to move back to the Philippines, he became pastry Chef Consultant to the Peninsula Manila and the El Nido Resorts. Buddy is currently the President of the Pastry Alliance of the Philippines. He also is an accredited culinary judge of the World Association of Chef Societies (WACS) since 2010. He is also chef and owner at the Park Avenue Dessert Corporation.
CREPE SAMURAI 
INGREDIENTS                                     
6                        pcs          Sweet Crepes
8                        pcs          Eggyolks
 1/2                  cup         Granulated Sugar
2                        cups       Cream
1                        tsp          Vanilla Extract
4                        pc            Mangoes
                                           Powdered Sugar
PROCEDURE                                        
Whisk the eggs and the sugar and 1 cup of cream on top of double boiler until small bubbles form.
Whip the remaining cream to soft peaks.
Fold the cooled egg mixture to the cream.
To assemble in a dish
 Put a little cream in the bottom of the dish.
Layer crepes, mangoes and cream mixture as desired.
Make sure last layer is cream mixture. Sprinkle with powder sugar.
Bake at 350F until it forms a crust.
When removed from oven, sprinkle again with powdered sugar.
SUPPLIES/TOOLS NEEDED                                  
Sauce Pan
Spatula
Whisk
Cast Iron Oval Pan
HAM and CHEESE with BASIL BUCKWHEAT CREPE
INGREDIENTS                                                                                          
6  pcs Savory Crepes
200 grams Farmer's Ham
200 grams Mozzarela Cheese, grated
100 grams Parmesan or Keso de Bola, sliced
100 grams Fresh Basil
PROCEDURE                                                                                            
Assemble the ham, cheese and basil on a prepared savory crepe.
Optional: Top with tomato coulis.                                                                              
SUPPLIES/TOOLS NEEDED                                                                                         
Serving Plate
Spatula
Grater
CHOCOLATE PRALINES: CARAMEL FILLING
Equipment:
2 small Sauce pots, stainless or glass bowl, strainer,
Ingredients:
150 grams granulated sugar
30  grams honey
270 grams heavy cream
.5 teaspoon vanilla
200 grams milk chocolate
160 grams dark chocolate
42 grams unsalted butter
Procedure:
Warm the honey in the pot, then add the sugar in small batches till it turns amber
Warm the cream and vanilla in a separate pot and bring to a boil
Add the cream to the caramelized sugar and stir to combine.
Strain the hot mixture over the combined dark and milk chocolate. Let stand for 1 minute
Cool to 32 degrees C or 90 degrees F before adding the butter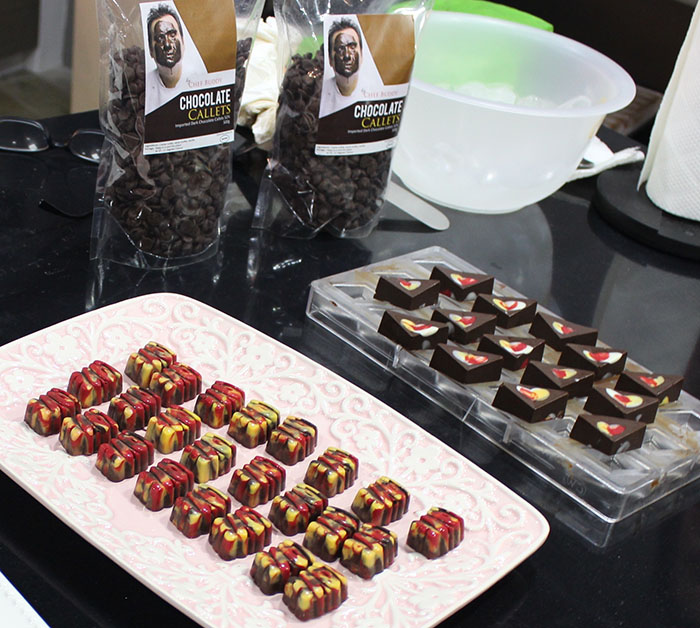 Hits: 146