Gardenia's Cream Roll: A cool treat for summer merienda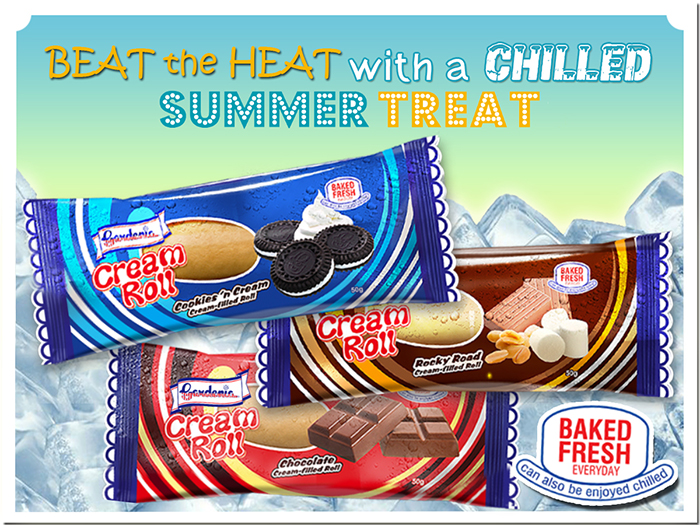 Did you know that your baon in school can still be your best buddy this summer? Or did you ever imagine that your favourite ice cream cooler every summer can be as convenient as you want it to be? Of course, Gardenia made it possible with its Cream Roll.
Gardenia Cream Roll is a yummy and delectable indulgence filled with creamy goodness that's great for the budget-conscious bunch. When going out on fun escapades during your annual "staycation" or when heading off to your favorite summer hideaway, Gardenia Cream Roll never fails to satisfy your sudden sweet or ice cream cravings.
Why Gardenia Cream Roll? It's a cool summertime treat you can enjoy in many different ways. It's so convenient. Simply unpack one straight out of the pantry and enjoy immediately, or you can make it a luscious ice cream indulgence. Just pop it inside the freezer for two hours and you'll have all the creamy, flavorful goodness to enjoy during the hot months.
Take your pick on the many favorite flavors of Gardenia Cream Roll affordable at only Php 10. Try it in chocolate, cookies & cream, rocky road, cheese, choco strawberry or ube flavors.
After all, it's made by Gardenia, known for its world-class quality breads with a distinct taste, softness, aroma, freshness and high nutritive value. Products are baked in an automated, state-of-the-art manufacturing plant in Laguna, untouched by human hands.
For more information and latest promos, visit www.gardenia.com.ph
Hits: 136