Mariwasa Marks 50th Years in Tile Business
Mariwasa, a leader in the ceramic tile industry, marks its fiftieth year in the business.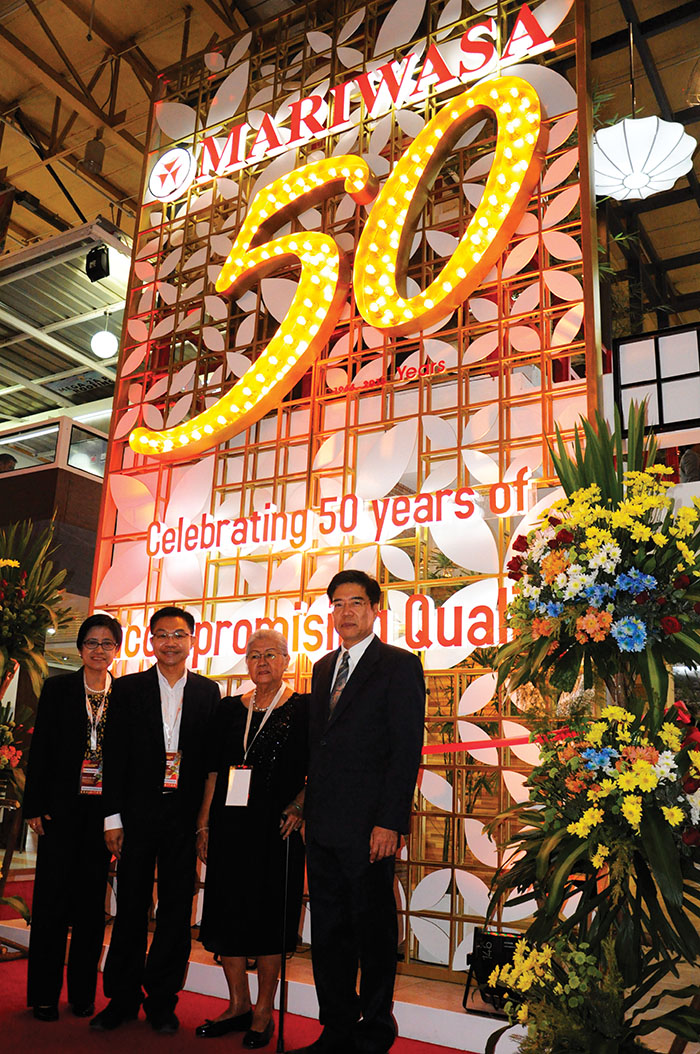 Established in 1966 by the brothers Emerson and Edison Coseteng, the company, a pioneer in the industry, was founded on "a vision of producing ceramic products that would meet world standards for beauty and durability… (that) was to be achieved by harnessing the skills, discipline and creativity of the Filipino artisan," said Mariwasa Siam Ceramics, Inc. (MSC) President Phaskorn Buranawit, who is also the Country Director for SCG Philippines.
As an important part of the celebration, Mariwasa is unveiling its newest tile designs grouped into three avant-garde sub themes namely MORPHOLOGY, INDIE-FLUENCE and INNOTHERAPY which cater to different facets of modern urban consumers. Launched on March 16 at the 21st WORLDBEX, the Philippines' largest construction building materials exposition, the latest collection is touted to strongly complement the company's push for total home solution.
"This is our commitment to be always in step with the demands of an upbeat, young and upwardly mobile market," said VP for Sales and Marketing Jakkrit Suwansilp. "We are launching innovative designs that reflect the preferences of an important segment of our market, the millennials," he added.
MARIWASA was the first to manufacture both wall and floor tiles in a vast range of colors and sizes. "With each MARIWASA tile comes a firm commitment to product excellence that is fully supported by extensive research and development, innovative design and some of the most modern production facilities and processes in the Philippines, all of which are now operating under ISO 9001:2000 and PNS/ISO 13006 quality standards," said Buranawit.
The President also stressed that apart from the company's goals for its bottom line, Mariwasa is also committed in improving the quality of life of the community through its corporate social responsibility (CSR) project.
In partnership with the Department of Education's Adopt-a-School Program, the company has undertaken the Mariwasa Public School Toilet Renovation Project which aims to improve sanitation facilities in public school toilets in far-flung communities across the country. A total of 50 schools spread across Luzon, Visayas and Mindanao were chosen as beneficiaries receiving complete toilet products and fixtures including wall and floor ceramic tiles, waterclosets, sanitary wares and tile accessories. Trained Mariwasa skilled personnel were fielded for installation of the products and to work on the required renovations.
"Through this CSR project Mariwasa has helped provide students with access to sanitary facilities and an environment that is conducive to learning and proper health," Buranawit added.
According to Buranawit, the market is steadily growing, the horizon is decidedly widening, and opportunities will not be wasted. "We are certainly proud of those fifty years of uncompromising quality, and this we intend to carry on for maybe the next fifty years with our brand of innovation and excellence. We are sticking to what has made us what we are today, and so much more. There is no stopping us," Buranawit concluded.■
Hits: 218