Thai-Style Green Curry Lamb Shanks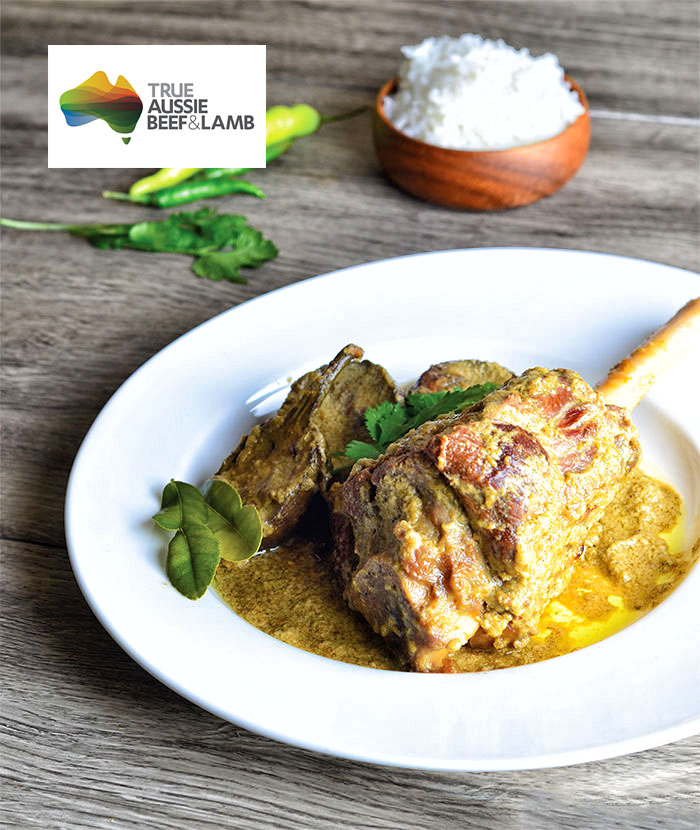 Ingredients:
4 pcs Australian Lamb Shanks
1 small knob ginger, peeled
3 stalks lemongrass (bottom white part), sliced
4 cloves garlic
2 red onions, peeled and cut in half
6 green finger chilies
4 green bird's-eye chilies
1 bunch coriander
4 tbsp fish sauce
4 pcs eggplant, quartered
3 cups coconut cream
 2 cups water
2 pcs kafir lime leaves
coriander leaves for garnish
Procedure:
Season Australian Lamb Shanks with salt and in a casserole, sear in hot oil until browned on all sides then set aside.
In a food processor or blender, combine ginger, lemongrass, garlic, onion, finger chilies, bird's-eye chilies, coriander, kafir lime leaves and fish sauce and process till smooth.
In the same searing casserole, sauté blended curry paste.
Add Australian Lamb Shanks back and pour coconut cream and water in.
Simmer covered until lamb is tender and take lamb shanks out, about 1.5-2 hours. Add eggplants into the sauce and continue simmering uncovered until sauce is thick. Season to taste.
Add Australian Lamb Shanks back to reheat and serve with steamed white rice.
Hits: 228