Do-It-Yourself Christmas Cookies
---

---
As is the case every holiday season, the streets are gridlocked and the malls are bursting with shoppers. While online shopping is a convenient option, it can feel very impersonal for some. Don't want the hassle of traffic and crowds? Do you want a more personalized gift for your family and friends? Why not make your own gifts?
Food gifts are a great idea, of course, until you find yourself with a fridge full of gifts that are nearing spoilage. Understandably, the food gifts will come at around the same time and if you can't or don't want to finish them all at once, you risk spoilage or they end up being recycled (given as gifts to others).
A great solution is to give D.I.Y. or do-it-yourself kits as gifts. This ensures that the gifts will only be opened and prepared when the recipient is ready. How convenient is that?! You can personalize the gifts and packaging as much as you like and it also costs a fraction of buying cooked/baked gifts.
My recipe for this month is not really a recipe but just measurements. You can pick your favorite cookie recipe or brownie recipe and just layer the dry ingredients in a nice jar, ready to be embellished and decorated. I hope you all try this out and get as creative as you wish. I'm sure that those who receive these D.I.Y. kits will not just have fun eating them, but making them too!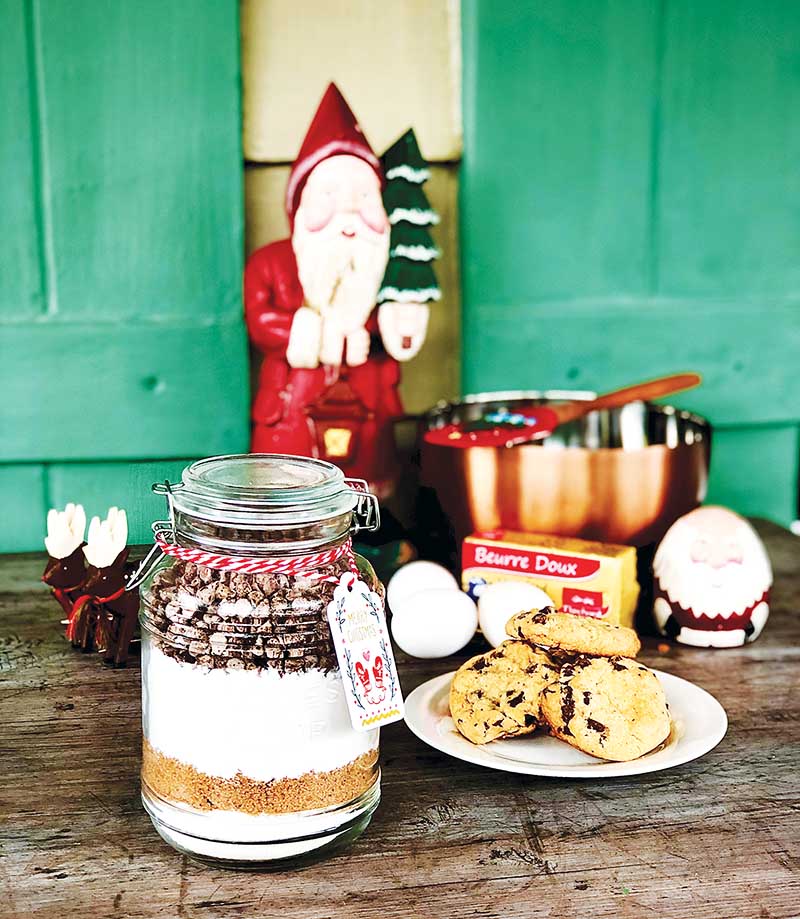 Choco Chip Cookie Kit
Ingredients:
(Layered In A Jar)
1/2 cup brown sugar, packed
1/4 cup granulated (white) sugar
1/2 tsp baking soda
1/2 tsp salt
1 1/2 cups all-purpose flour (see notes below on how to measure flour correctly)
1/2 cup chocolate chips (more if desired)
coarse sea salt, for sprinkling (optional)
(Place a Tag Labeled: "Things You'll Need")
1 pc large egg (cold or room temperature, both are fine)
1 tsp vanilla extract
1/2 cup butter
Procedure (include these instructions with your gift):
Pour out the contents of your D.I.Y. jar into bowls.
Preheat oven to 180˚C.
In a mixer or in a bowl, beat white and brown sugar with softened butter.
Add eggs and vanilla and continue mixing.
Next add the flour (baking soda and salt are already mixed into the flour).
Lastly, add chocolate chips and fold mixture until chips are mixed well into the dough.
Bake for 20 minutes and then let the cookies cool on a wire rack.
Enjoy!
Hits: 164