There's the Rub and Holiday Sauce
---

---
Christmas is not always about giving a gift that costs ridiculous amounts of money. For me I like giving and receiving gifts that take some thought into them. You know that the person will appreciate it more when it's well thought out and it comes from you. So homemade gifts are the way to go. When I think of gifts to make, I have to make sure the theme fits the gift. With this, I will give you a recipe that comes in a set. So, the person you give it to will be a BBQ expert!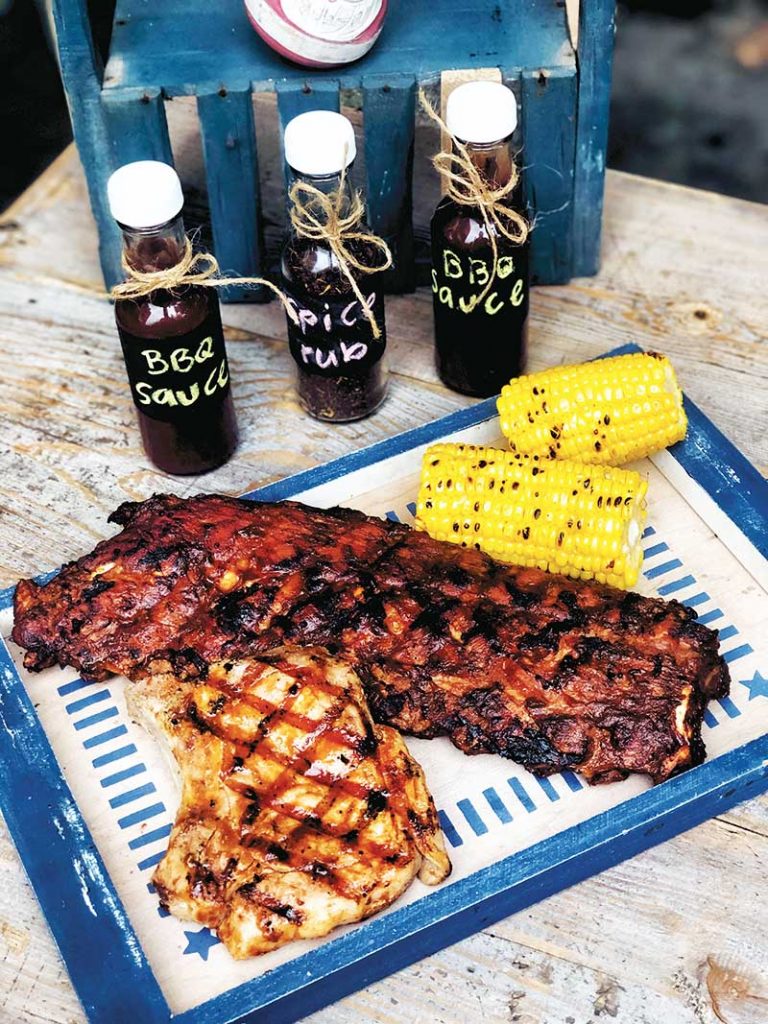 Dry Rub, BBQ sauce and Mop
| | | | |
| --- | --- | --- | --- |
| Serves 15 | Prep Time 30 minutes | Smoking Time 5 hours | Grilling Time 15 minutes |
Ingredients:
Dry Rub
40g Paprika
10g Cayenne Pepper
15g Garlic Powder
10g Onion Powder
5g White Pepper
10g Cracked Black Pepper
2g Ground Cumin
40g Brown Sugar
10g White Sugar
30g Kosher Salt
Carolina BBQ Sauce
300g Mustard
130g Brown Sugar
3g Garlic Powder
3g Black Pepper
2g Salt
Mop sauce
75ml Brewed Coffee
200ml Apple Cider Vinegar
50g Apple Juice
5g Cracked Black Pepper
5g Cayenne Pepper
6g Chili Flakes
Procedure:
For Dry Rub, mix all ingredients together in a clean metal bowl. Once well-mixed store in an air tight container. Wrap it up, ready to gift.
For Carolina BBQ Sauce, mix all ingredients in a clean dry metal bowl, whisk until the sugar has dissolved completely. Store in a dry sanitized container and keep refrigerated until ready to gift.
For Mop Sauce, bring all ingredients to a boil in a non-reactive sauce pan. Let cool completely then store in an airtight container in the chiller until ready to gift.
This set can be used for up to 3 kilos of meat. Below is a suggestion of how you can prepare your meat:
Dust the meat with enough rub to cover the entire surface. Massage it in well. Cover the meat with foil and slow cook for 5 hours over a medium low fire. Make sure the grill is indirect heat to avoid charring to early.
After 5 hours take the internal temperature with a probe thermometer. The core temperature should be around 63˚C for beef and 71˚C for pork.
Remove foil and baste the meat with the mop. Turn the heat up by adding more coal and char it for 5 to 10 minutes. Because there is a high sugar content be sure to watch the meat well so it doesn't burn. Remove from the grill and rest it in a warm place for 5 to 8 minutes covered with foil.
Slice meat and serve with sauce on the side.
Hits: 165