Spice-up the Season
---

---
Fruitcakes, cookies, ensaymada, cakes and pastries of all sorts…these are what we typically receive, send and recycle year after year. While there is nothing wrong with giving and getting these during the Christmas season, it can get tiring and cloyingly sweet after a while. Why not give something that is unusual and can be kept way past the holidays?
For my recipe this month, I am sharing one of my favorite condiments that is easy to make and goes well with absolutely anything. Sambal is a common condiment in Malaysia, Indonesia and Singapore. It's integral in Nasi Lemak and other rice dishes. However, Sambal can also be used as a dip, a sauce, an ingredient and much more. While predominantly spicy, Sambal also contains ingredients that are aromatic, sweet, tangy and umami. Even on its own with rice or noodles, Sambal can seem like a complete meal due to the spectrum of flavors it imparts.
This is probably one of, if not the easiest edible Christmas gift you can make. Add suggested recipes or uses in you gift tags and personalize your Sambal packaging. Merry, spicy Christmas to everyone!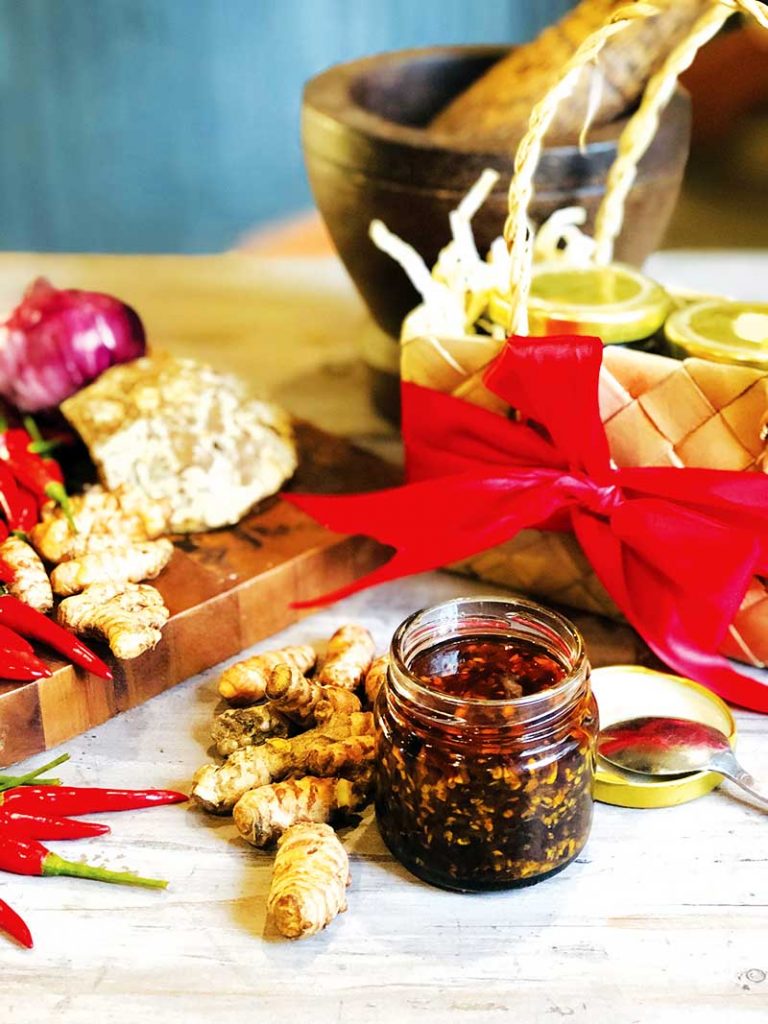 Simple Sambal
| | | |
| --- | --- | --- |
| Makes 4 small bottles (1 cup each) | Prep Time 20 minutes | Cooking Time 20 minutes |
Ingredients:
2 cups dried chilies
1 cup fresh chilies
8 pcs fresh turmeric
3 cloves garlic
2 pcs red onions
4 pcs dried fish like danggit
1/2 cup panutsa (palm sugar)
1/2 cup minced garlic, fried till golden
2 cups vegetable oil
Procedure:
Fry dried fish in a little oil until crispy. Let cool and set aside.
Place fish in a food processor and process until pulverize.
Add chilies and process chilies until finely minced.
Next add the peeled onion, garlic and peeled turmeric.
Process again until finely minced.
Add oil in a large pan and place on medium heat.
Add sambal paste and sauté for 3 minutes.
Add panutsa and continue to sauté on low heat.
Turn the heat off and mix fried garlic into the sambal.
Let the mixture cool down and place in sanitized bottles.
Hits: 106