Canned and Ready!
---

---
Whenever we need to stock up and prepare for the worst, as far as food goes, canned goods provide us with a sense of security. Even before the lockdown was announced, we've been slowly stocking up on essentials and canned food is right at the top of our list. While we can stock our fridges and freezers with food to last us a month or so, canned food should be on standby just in case power runs out or we need to be mobile.
While eating canned goods daily isn't very healthy because of the preservatives and added salt, opening a can or two every so often helps extend our food stocks during times like these when staying home and health and safety are top priority. Prepared with other available pantry items, canned food can and addition and not the only item in our meals.
For this month's recipe, I have three simple recipes that can elevate your canned food meals. Why stick to just frying and sautéing when you can create better dishes with these cupboard staples?
Spam and Kimchi Fried Rice with Pineapple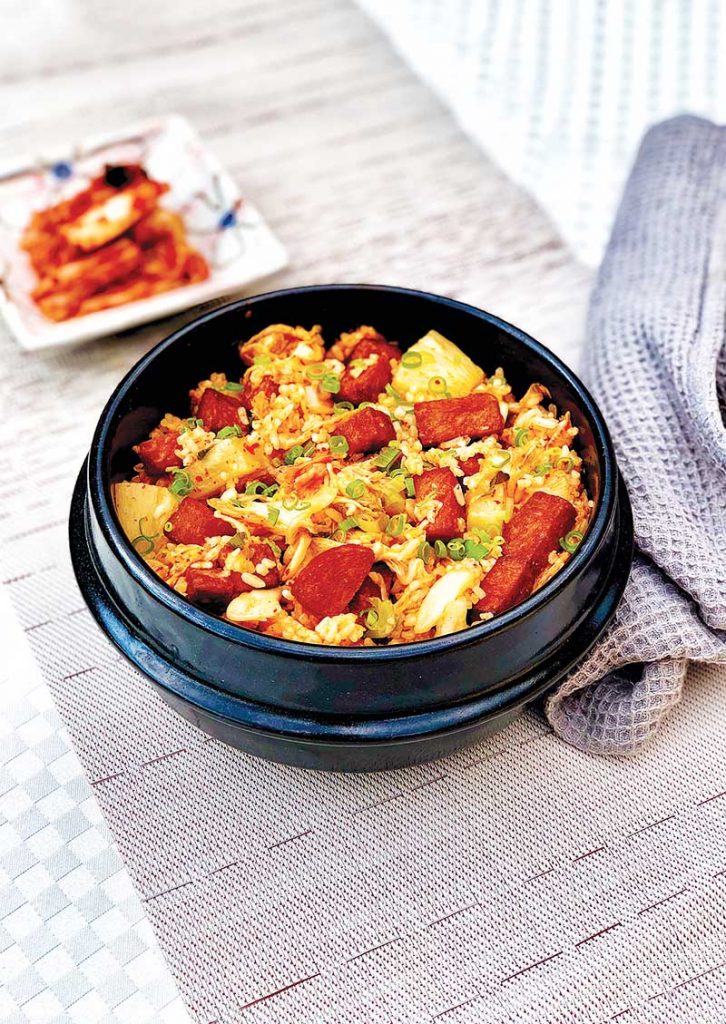 | | | |
| --- | --- | --- |
| Serves 4 | Prep Time 10 minutes | Cooking Time 20 minutes |
Ingredients:
1 can Spam or any luncheon meat, sliced into 1/2 inch cubes
1 cup kimchi, chopped
1/2 cup pineapple chunks
1 pc leek, sliced thinly
1 pc small onion, diced
3 cloves garlic, chopped
2 tbsp oil
4 cups cooked rice
Procedure:
In a non-stick pan, fry Spam in oil until lightly toasted on all sides. Take Spam out and set aside.
In the same oil, sauté onions, garlic, kimchi and leeks for 2 minutes.
Add pineapple and cooked rice and continue to sauté until well combined and the rice is uniform in color.
Add Spam cubes pack to reheat. Serve hot.
Sardine Spaghetti Mediterranean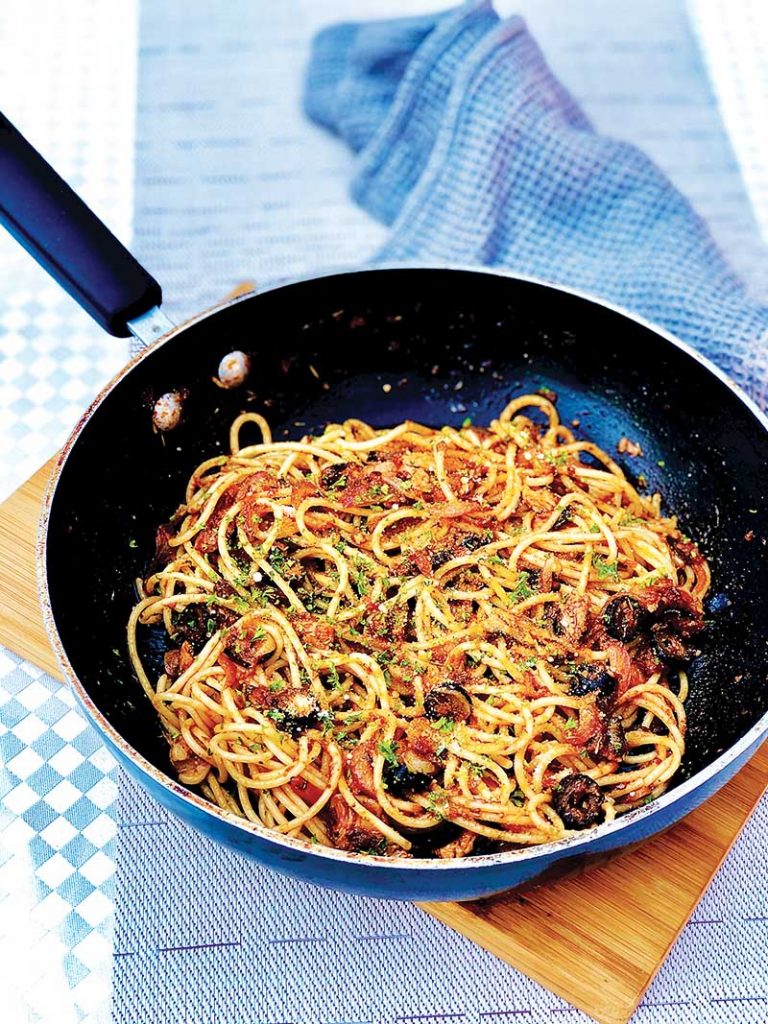 | | | |
| --- | --- | --- |
| Serves 4 | Prep Time 10 minutes | Cooking Time 10 minutes |
Ingredients:
2 cans sardines, drained
300g spaghetti
1 can diced tomato
1 handful sliced black olives
1 tsp red pepper flakes
1 pc onion, sliced
6 cloves garlic, sliced
3 tbsp olive oil
salt and dried oregano
parmesan cheese and chopped parsley (optional)
Procedure:
Boil pasta until al dente, around 8 minutes.
While the pasta is cooking, pour olive oil in a pan and heat up.
Sauté onion, garlic, and drained sardines, breaking sardines up into small chunks.
Add red pepper flakes, dried oregano and then canned diced tomato.
Simmer for about 5 minutes then add cooked pasta and toss.
Sprinkle with parmesan cheese and chopped parsley.
Corned Beef Baked Mac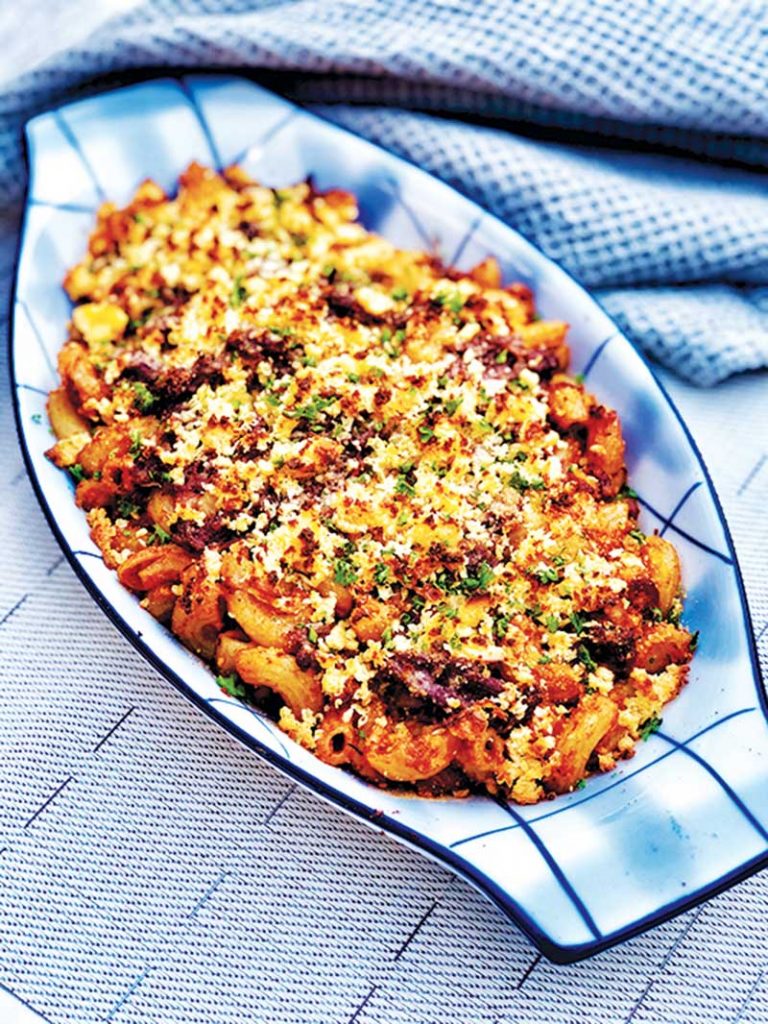 | | | |
| --- | --- | --- |
| Serves 6 | Prep Time 10 minutes | Cooking Time 30 minutes |
Ingredients:
300g macaroni pasta, cooked
2 cans corned beef
1 pc onion, sliced thinly
4 cloves garlic, chopped
1 can diced tomato
1/2 cup grated cheddar cheese
1/2 cup grated parmesan cheese
Procedure:
Sauté corned beef in some oil with onions and garlic.
Add diced tomato and simmer for 5 minutes.
Add half the cheese to the sauce and turn the heat off.
Mix cooked macaroni with the sauce and transfer to a baking dish.
Sprinkle remaining cheese on top and bake at 200˚C until the cheese on top is bubbling. Serve right away.
Hits: 346