Teaching Mom the Comforts of Pot Pie
For our May issue, we were planning to make the theme revolve around moms. May is when Mother's day is celebrated here at home and in most countries. Most people associate cooking and good food with their mothers and grandmothers. In most households, mom takes care of the food or at least watches over the family cook prepare the food. Growing up, we really didn't have those typical mom in the kitchen memories. My mom doesn't cook, and neither do my grandmas on both sides. I used to get jealous of classmates who had good packed lunches and always knew which classmate to approach with trade offers. Very early on, I knew that if I wanted to eat well, I needed to learn how to cook. I remember starting with frying eggplant at about 9 years old. Soon after that, I'd make omelette from whatever we have in the fridge. I remember pretending to be full at dinnertime whenever I didn't like what was served and then I would sneak into the kitchen to make myself an omelette at around 9:00 p.m.
Just recently, I was teasing my mom about her lack of kitchen skills. I challenged her to cook a meal for us one weekend, after the lockdown gets lifted. For this month's recipe, I am sharing a quick and easy dish that I am planning to teach my mom for when she finally takes me up on my cooking challenge. This dish is inspired by what I imagine other moms would make on special occasions. The recipe has to be simple enough for a beginner like my mom, but tasty and elaborate looking so that novice cooks can impress their family and friends. In the spirit of the COVID-19 lockdown, I also limited myself to ingredients I already have at home. You may change the ingredients depending on what you already have at home. That's another thing that moms who cook do—improvise. So in honor of our moms, and as a tribute to our frontliners who need us to stay home during this pandemic, may this dish remind us of the good times past and the good times ahead.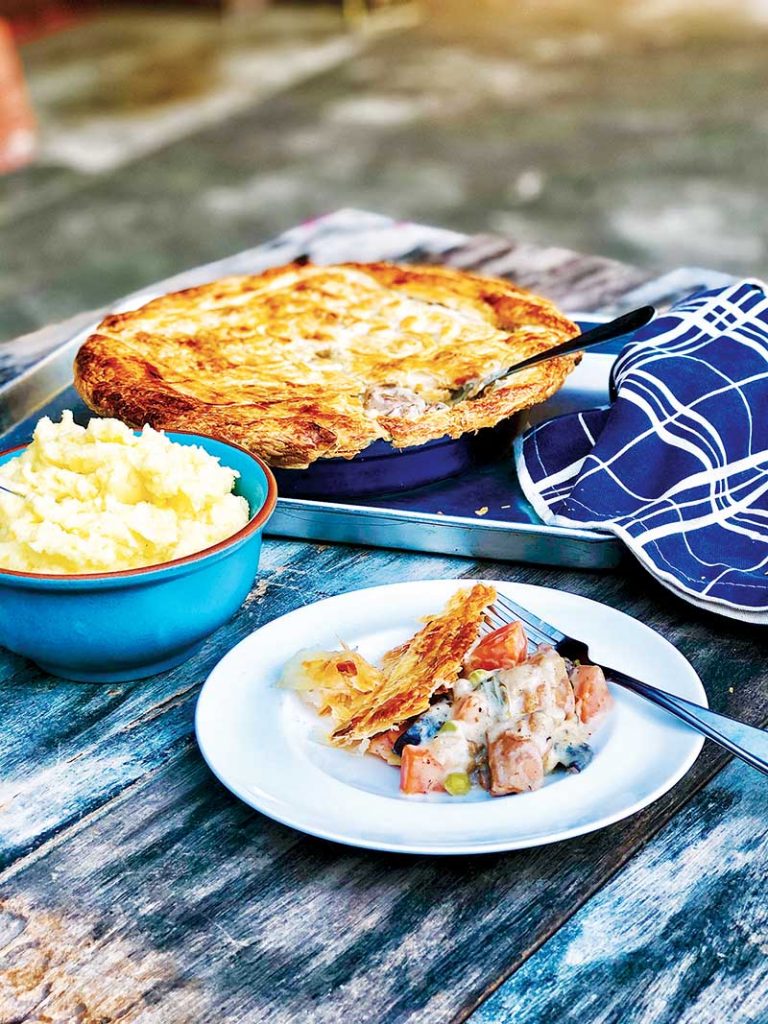 Mom's Chicken and Mushroom Pie
| | | |
| --- | --- | --- |
| Serves 6 | Prep Time 30 minutes | Baking Time 45 minutes |
Ingredients:
600g boneless chicken thighs, sliced into chunks
2 cans Campbells Cream of Mushroom
2 pcs carrots, peeled and cubed
1 pc onion, peeled and cubed
1 cup frozen peas
1 pc leek, sliced
10 pcs fresh shiitake mushrooms, sliced
1 1/2 sheets frozen puff pastry (I use Pampas brand)
salt and pepper
2 tbsp oil
1 pc egg
Procedure:
Preheat oven to 200˚C. Season chicken with salt and pepper.
In a pan, heat some oil and sear chicken until browned on all sides. Set aside.
In the same pan, sauté onion, leeks, mushroom and carrots.
Add chicken back then add 1 cup water and let simmer, covered, until the carrots are cooked.
Add cream of mushroom and stir. Continue cooking on low heat just until the sauce is mixed in and smooth.
Transfer mixture into a baking or pie dish.
Cover with puff pastry and then brush top with beaten egg.
Bake for 45 minutes or until the pastry is golden and crispy.
Serve with mashed potato.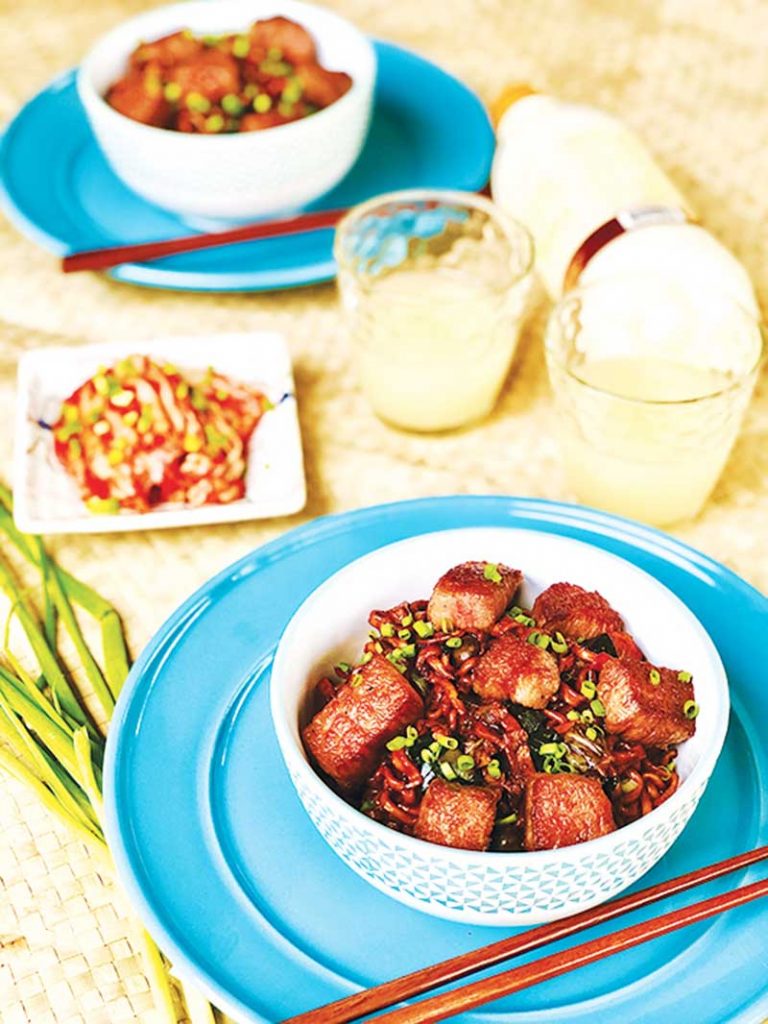 Quarantine Ramdon
This is a recipe I made before the lockdown. It's inspired by the famous Ramdon dish prepared in the Oscar-winning movie Parasite. The noodles (Jajangmeon and Neoguri) are available at any Korean grocery. I used wagyu off-cuts but you may use any steak you have. In the movie, they used Korean Hanwoo Beef, but I'm not sure where to find those locally. Anyway, this dish is worth a try and the noodle mixture is really good and very mildly spicy. It's good even without the beef or you may also use seafood like prawns or scallops.
| | | |
| --- | --- | --- |
| Serves 2 | Prep Time 5 minutes | Cooking Time 5 minutes |
Ingredients:
200g premium beef, cubed
1 pack Jajang Ramen
1 pack Neoguri Ramen
spring onions for garnish
Procedure:
Boil water in a pot.
Open both ramen packs and take the noodles out as well as the dried vegetables packs.
Place noodles in the pot with the dried vegetables and cook for around 3 minutes or just until the noodles are soft but still firm and springy.
In the meantime, heat another pan and season the beef with salt and pepper.
Sear cubed beef for 2 minutes.
Once the noodles are cooked, strain them and place in a bowl. Make sure to include the rehydrated vegetable and seaweed pieces.
Mix in the seasoning powders and oil from the ramen packs.
Transfer to a bowl, top with beef and spring onions.
Hits: 236