Make Mine Merquez
---

---
I thought the spicy month of February is the perfect time to introduce a perhaps not as well known a sausage as its German, Hungarian and Polish counterparts, the Merguez.
Unlike most sausages it's made of lamb, which in itself is already flavorful. This spicy North African sausage has undertones of earthy flavors representative of their cuisine.It's most distinct flavor is the addition of harissa, a zesty concoction of roasted red peppers and other spices, that is a condiment staple of this region. I know that as a country we're quite partial to pork, but this lamb is worth a dramatic spin in your kitchen.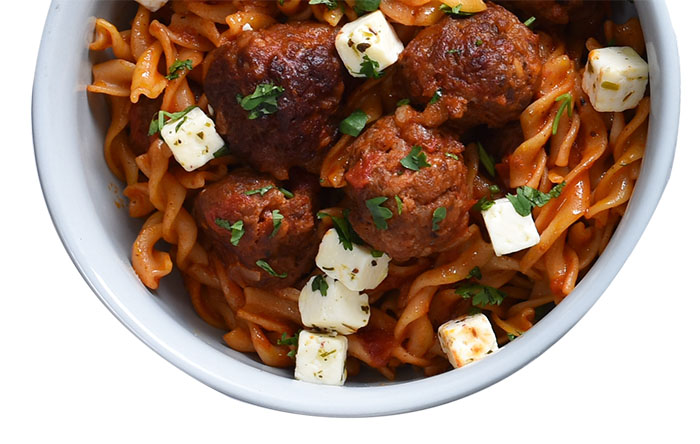 Merguez Sausage Balls Pasta
Olive oil
3 cloves garlic, crushed
400g diced tomatoes
2 pcs bay leaves
1 tsp Balsamic vinegar
1/4 cup red wine
20pcs Marquez Sausage (about 30g each-see recipe below)
300g Fusilli or farfalle pasta, cooked
Feta Cheese
Thyme and bunch of basil leaves for garnish
Sauté garlic in olive oil. Add diced tomatoes, bay leaves, Balsamic Vinegar and Marguez Sausage.
Bring to a boil and lower heat.
Toss in pasta and cook for another 10-15 minutes.
Transfer into serving plate and add generous amount of feta cheese on top.
Garnish with chopped basil leaves and thyme.
Sausage Balls
2 tsp cumin seed, whole
2 tsp coriander seed, whole
2 tsp fennel seed, whole
2 tbsp paprika powder
2 tbsp salt
2 tsp cayenne
2 kg lamb shoulder, ground
1 kg lamb or pork fat, ground
6 cloves garlic, minced
1/3 cup Harissa Paste (available at supermarket or recipe below)
Over medium heat, toast cumin, coriander and fennel seeds in skillet until aromatic (about 2 minutes).
Transfer to a spice grinder and grind into powder.
Transfer to a small bowl and mix in paprika, salt and cayenne.
In a large bowl, combine all ingredients.
Form into balls (about 30g each)
Harissa Paste
1 pc red pepper
1/2 tsp coriander seeds
1/2 tsp cumin seeds
1/2 tsp caraway seeds
1 1/2 tbsp olive oil
1 small red onion, chopped
3 pcs sili labuyo, seeded chopped
1 1/2 tsp tomato paste
2 tbsp lemon juice
1/2 tsp salt
Grill pepper over open flame. Turn occasionally until skin is blackened.
Place inside a plastic bag and allow to cool.
Peel and discard its skin and seeds.
Over low heat, toast coriander, cumin and caraway seeds until aromatic. Grind into powder.
Over medium heat, heat olive oil saute onion, garlic and chilies until almost caramelized.
Using a blender or food processor, mix all ingredients until becomes paste. Add more olive oil if need.
You may keep in chiller for up to 4 weeks.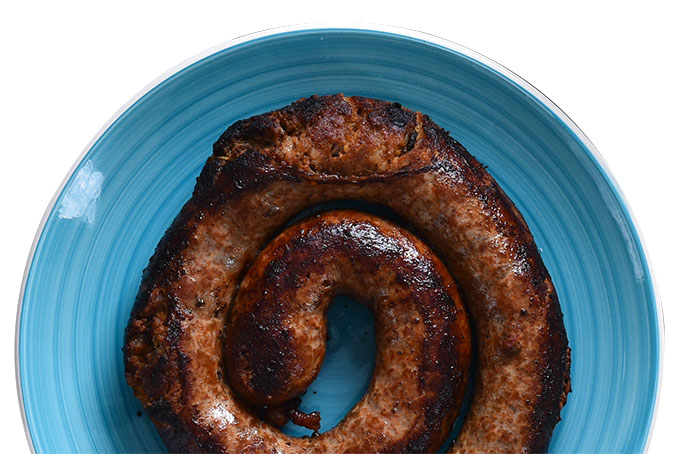 Note: You may form into skinless sausage if preferred
Hits: 181