Spiced Up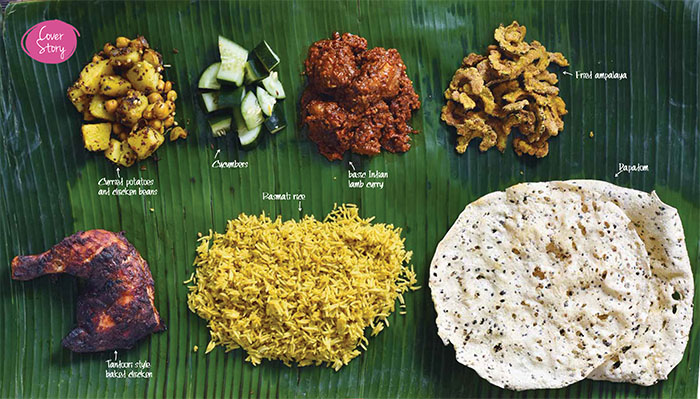 Wars have been fought, lands discovered and conquered, immense wealth gained and blood shed all for a bit of zing, a whiff of the far-flung and a whole other world of flavor. The availability and relatively cheap price of spices is often taken for granted, more so here at home. Most Filipinos associate highly spiced food with bad body odor, turbans, sweaty shirts and motorbikes. The main culprit is usually cumin, that earthy, musky, pungent seed that dominates a number of Indian and Mexican dishes. Show a few whole spices to a typical Pinoy and the common reaction would be, "Ano yan pagkain ng ibon?". Granted that coriander and anise seeds do look like a pet birds idea of a main course, there is so much do be discovered in the spice world.
Spices are normally dried plant parts, anything from seeds, roots, buds, barks, fruits, berries, flowers and flower parts. The green leafy part of the plant is what herbs are. Most cuisines that use spices typically use a few. The French for example, have perfected the use of mustard seeds as a condiment. They also use nutmeg in some sweet and savory dishes. Scandinavians like a bit of fennel seed and caraway. Sausages from all over Europe all the way to Africa and the Middle East all use a variety of spices and seeds. In the Far East, berries, barks and roots find their way into a lot of soups. Here at home, we seem to be stuck with using black pepper. We use star anise, barely, and only in Chinese-influenced dishes. If we're really stretching it, atsuete (annatto seeds) are used to color a few dishes and sauces. But this is used for color and doesn't provide much flavor or aroma.
I can't find a reason for the lack of spice in our cooking. Pinoys can take some heat (labuyo chilies) and we can take foul smells (bagoong, patis, spoiled eggs in bibingka), but a pinch of ground cumin easily puts us off.
I used to not like spicy and highly spiced food either. But due to curiosity and the occasional trip abroad, I have learned to appreciate other cuisines, especially Indian and Persian. While it may be true that some curries have so many flavors and smells going on that it can get confusing to the palate, a dominant spice or two can do wonders to a dish.
My recipes are in no way authentic Indian. I just went shopping at the Indian grocer and bought stuff that I recognize. A bit more research and trial and error should improve my spice skills. I hope you give these recipes a try. Don't mind the smell and focus on the taste. I suggest you go easy on the chili powder and cumin at first if you really can't stand the heat and smell. Your tolerance should build up over time.
Ampalaya (bitter gourd) Chips
1 large ampalaya, seeded and sliced very thinly
1 tsp salt
1 tbsp turmeric powder
1 tbsp garam masala
2 tbsp rice flour
oil for frying
Place ampalaya in a bowl and sprinkle with salt. Let stand for 5 minutes. (this will draw out moisture from the ampalaya). Rinse ampalaya in water then drain but don't pat dry. The ampalaya needs to be moist.
Mix rice flour with turmeric and garam masala powders.
Sprinkle over wet ampalaya and mix until well coated.
Deep fry coated ampalaya in medium hot oil until golden and crispy.
Drain over paper towels (do not pile as to keep chips dry and crispy) and serve at room temperature.
Steamed Basmati Rice
Steam rice as you would normally do but instead of regular rice, use basmati. For color, add turmeric powder to the water and add a cinnamon stick for aroma.
Tandoori Style Baked Chicken
4 pcs Chicken leg and thigh quarters
Marinade
1 tsp grated ginger
4 cloves garlic
1 tsp chili powder
1 tsp paprika
1 tsp garam masala
1 tsp ground cumin
1 cup plain yoghurt
juice of half a lemon
1 tbsp salt
Mix all marinade ingredients in a bowl.
Pour mixture over chicken and let marinate for 3 hours, preferably overnight in the fridge, covered.
Set oven to 200°C and place marinated chicken in a roasting tray. Cover with foil and bake for 30 minutes.
Remove foil and baste chicken with juices. Continue baking for another 20 minutes.
Curried Potato and Chickpeas
2 large potatoes, cut into cubes
1 can cooked garbanzos, drained
2 tbsp turmeric powder
1 tsp garam masala
1 tbsp black mustard seeds
1 tbsp caraway seeds or cumin seeds
1 small white onion sliced thinly
2 tbsp ghee
salt to taste
Boil potatoes and garbanzos in salted water. Add 1 tbsp turmeric powder to the boiling liquid.
Once potatoes are tender, drain and set aside.
In a pan, sauté onions in ghee. Add remaining turmeric powder, garam masala, mustard seeds and caraway seeds.
Add in drained potatoes and garbanzos and mix well. Season with salt.
Basic Indian Lamb Curry
1 kg lamb (boneless shoulder or leg), cut into cubes
2 onions, diced
2 tbsp grated ginger
4 cloves garlic
1 tbsp ground cumin
1 tbsp garam masala
1 tbsp chili powder
1 tbsp ground coriander
1 tbsp turmeric powder
2 cans diced tomato (about 3 cups)
3 tbsp ghee
water to cover
salt to taste
Heat ghee in a heavy casserole. Sear lamb cubes till browned on all sides and set aside.
In the same casserole, sauté onions, garlic and ginger. Add cumin, garam masala, chili, coriander and turmeric and continue to sauté for a few minutes.
Add in canned diced tomato and enough water just to cover.
Simmer until lamb is tender. And sauce has thickened.
Season to taste.
Fact: The term tandoor refers to a variety of ovens, the most commonly known is a cylindrical clay or metal oven used in cooking and baking.
Hits: 134