Face-off
As COOK Magazine celebrates 20 years in print, I look back to my favorite eats. As a food magazine editor, I've probably gone to over a hundred hotel and restaurant invites. In the 15 years I've been with COOK, it's difficult to keep track of all the good meals and great dishes. At 180 issues, if I average two invitations a month, that's 360 restaurants! There are epic meals, great ones, pretty good ones and ho-hum. Are there restaurants that served bad food? Of course! But of all the meals I got to try, there are two dishes that I keep cooking and trying to copy. Coincidentally, my favorites are made from the same, cheap and readily available ingredients. These dishes are Sisig from Mila's Tokwa't Baboy and Pancit Bihon from 3M's Pancit.
Both dishes use pork face, a sometimes discarded part of the pig. With lots of skin, lots of fat and ears filled with cartilage, sliced and boiled, pork face turns to jello when simmered for a long time. Fried after cooking till jiggling tender, pork face transform to crispy, sticky goodness. This mix of stickiness and crunch is what Sisig is all about, at least Mila's version of it. For 3M's Pancit, the liquid from boiling the head (caldo) is seasoned and used to rehydrate the noodles while being stir-fried. It is actually more of a braise than stir-frying, as the noodles and vegetables soak, and then absorb the caldo.
So many of the best dishes around the world come from humble beginnings. Off-cuts, cheap and discarded sections, these less desirable parts make the best eating with a bit of creativity and care from talented cooks. And to celebrate COOK's 20th year, I chose to showcase these two humble, but oh so decadent dishes. Yes, I also like expensive well-marbled and dry-aged steak. I also love morel mushrooms, Chilean sea bass, truffles, foie gras and toro and Hamachi sashimi. Lobsters and scallops and sea urchin are such yummy treats too. But when you talk about punching above your weight, they've got nothing on Peppa!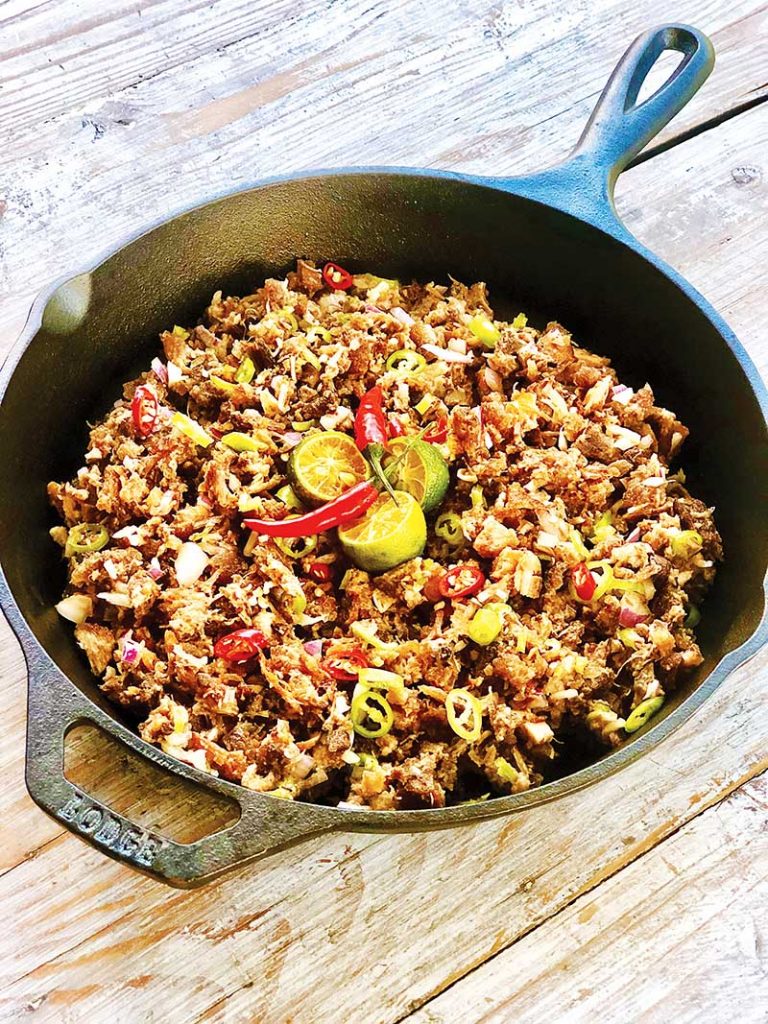 Mila's-style Sisig
Mila's Tokwa't Baboy is an Angeles City institution. I never knew about Mila's until a friend from the UK, Margon Carreon, an Angeles native, insisted I try their food. Mila's is tucked in a subdivision in the outskirts of Angeles City. Apart from their huge signage, you'd mistake Mila's for just another sari-sari store with a few pots displayed outside. There's also a grill outside, nothing out of place in many neighborhood stores all across the country. What is not commonplace is the number of cars parked along the side streets. Moreover, if you pay attention, most of those alighting from the cars speak the local dialect, a sure sign that you're in the right place. You see, a restaurant as simple as Mila's could only be popular by word of mouth and because of their reputation for good food. They're not the type to advertise. They won't even add a second branch and only renovated after a few decades in the business. What could all these people (including us who've come all the way from Manila) be flocking to Mila's for? What's so special that two hours travel is worth the food? One simple dish—Sisig. Actually, they have a few really good dishes, including but not limited to: Tokwa't Baboy, Inihaw na Tenga, Inihaw na Chicken Ass, Chicharon Bulaklak (probably the best in the country), Inihaw na Tocino, Pako Salad, etc. But of all their specialties, Sisig is the one that makes me, and judging from the orders of other tables, and others come back. There isn't any special ingredient either, at least none that I can make out. They just do their sisig with the perfect ratio of sticky, oily and crispy.
| | | |
| --- | --- | --- |
| Serves 8-12 | Prep Time 30 minutes | Cooking Time 2 hours plus 15 minutes |
Ingredients:
1 pc boneless pork face (around 1.5kg)
3 slices ginger
2 pcs medium onions, peeled and halved
1 tbsp whole peppercorn
2 tbsp salt
oil for deep frying
100g chicken liver
2 tbsp butter
2 pcs red onion, peeled and minced
3 pcs green finger chilies, sliced thinly
2 pcs siling labuyo, sliced thinly
3 tbsp calamansi juice
1 tsp ground black pepper
2 tbsp liquid seasoning
For garnish:
2 pcs halved calamansi
3 pcs siling labuyo
Procedure:
Combine pork face, ginger, onion halves, peppercorn and salt in a pot.
Fill with water and let boil then lower heat and simmer for 1.5 to 2 hours until pork is meltingly tender.
Set pork aside to air dry then place in the chiller to firm up.
Once pork has chilled and firmed up, slice into chunks and deep fry in medium hot oil until golden and crispy. Let cool down and chop finely then set aside.
In another pan, sauté chicken livers in butter for 1 minute, keeping them undercooked. Add minced red onion, red and green chilies, calamansi juice, liquid seasoning and ground black pepper.
Add the chopped pork face and mix well.
To serve, place a bit of butter on a hot sizzling plate or cast iron pan and add a few heaping spoons of the sisig mixture. Garnish with calamansi and some more red chilies.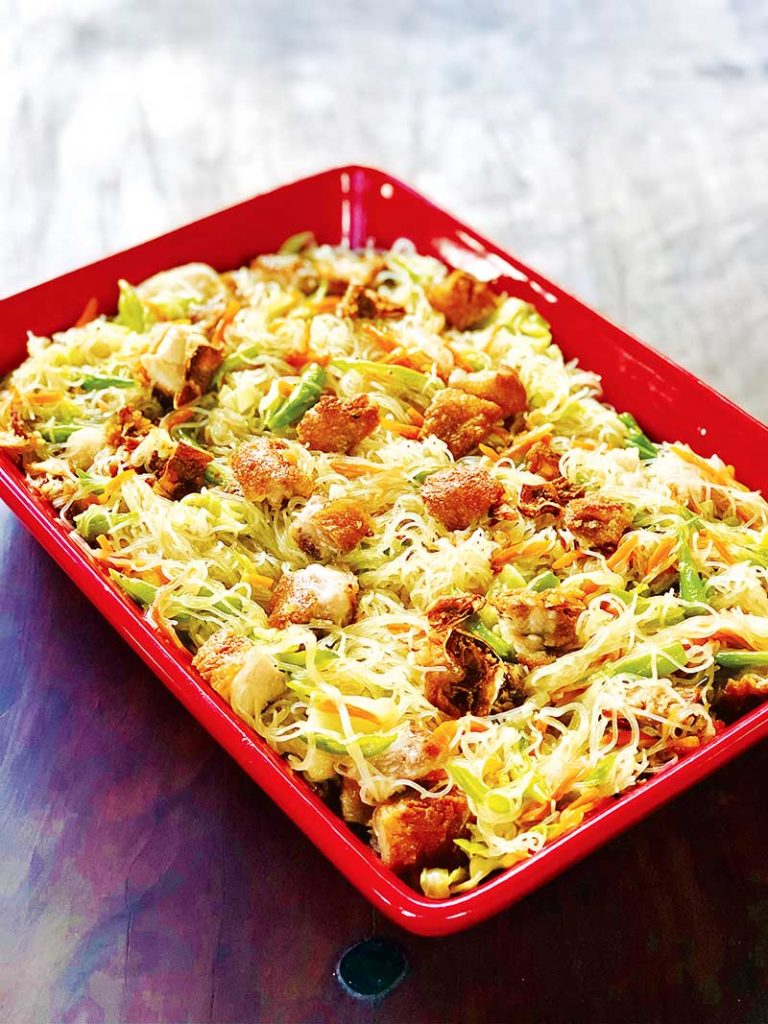 3M's-style Pancit
3M's Pancit in Sta. Rosa, Laguna is something I discovered just as I was starting out at COOK Magazine in 2005. My son's grandparents live in Sta. Rosa and during one of our visits there, we were served what looked like any other Pancit Bihon. After seeing how small one serving was (it was a banana leaf pouch no bigger than a tennis ball), I thought I could down two or three servings. After a few bites though, I realized that this was way richer than any pancit I've ever tried. Sticky, savory noodles and half crispy, half soggy fried pork pieces all joining bits of cabbage and carrots. It didn't look appetizing, but it was the best stir-fried noodles I've ever tried. 3M's store, like Mila's looks like any other sari-sari store. Unlike Mila's though, 3M's doesn't even have a dining area and only sells takeout. Each order is portioned and wrapped in banana leaves, piled one on top of each other inside a Styrofoam box. If you didn't know any better, you'd think they were selling ice candy.
| | | |
| --- | --- | --- |
| Serves 12 | Prep Time 30 minutes | Cooking Time 2 hours plus 30 minutes |
Ingredients:
1 pc boneless pork face (around 1.5kg)
2 pcs pork stock cubes
2 pcs medium onions, peeled and halved
6 cloves garlic
1 tbsp whole peppercorn
2 tbsp salt
oil for deep frying
500g bihon noodles
2 tbsp oil
1 pc carrot, peeled and julienned
12 pcs baguio beans, sliced thinly
1/2 pc cabbage, shredded
2 pcs onions, finely sliced
1/4 cup soy sauce
2 tsp ground black pepper
Procedure:
In a large pot, place pork face, garlic, onion halves, black peppercorn, and salt.
Add water to cover and add pork stock cubes.
Boil and then simmer on low for 2 hours or until the pork is very soft.
Set pork aside to dry and chill in the fridge. Keep boiling liquid (pork stock).
Take pork out when firm then deep fry until crispy and golden.
Chop into bite-sized chunks and set aside.
In a wok, sauté sliced onion, carrot, beans and cabbage in oil.
Add 3 cups pork stock, soy sauce and ground black pepper.
Place dried bihon noodles and let them soak in the liquid, breaking the noodles up while you simmer.
Once all the liquid is absorbed and noodles are soft, you can add the fried pork into the mixture. (Note: You may need a little more of the pork stock to rehydrate the noodles.)
Stir-fry for a few minutes more, making sure the all the liquid has been absorbed and then serve immediately.
Hits: 241