The New Face of F All Day Dining
The F (All Day Dining) Café of F1 Hotel is undergoing a makeover and this is the perfect time for Executive Sous Chef Decker Gokioco to make small changes to the look and the menu. He's been making small changes ever since he took over 4-months ago.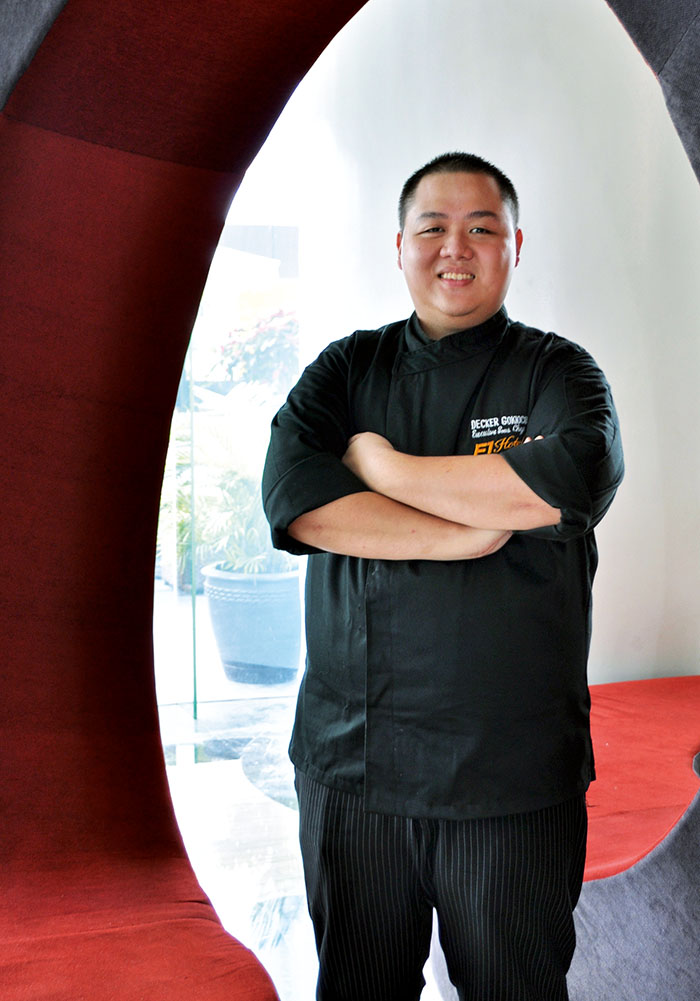 I want the distinctions to be clearer. I like Chinese, so when I go to a buffet I go straight there. The minute you enter the restaurant I want the diner to see the Japanese, Italian and Cold Stations, for instance."
Because F1 Hotel is Filipino owned and operated, they have come to be known for their local and Asian dishes, something Chef Decker is not a stranger to as these are also signature dishes. His recipe for Bagnet Kare-Kare, something he has since incorporated in the F All Day Dining menu is a gold medal winning dish that his team won in competition five years ago. "Hiwalay yung sauce, so you still get the crisp, but you still recognize it as Kare-Kare," describes Chef Decker." He is not a fan, however, of deconstructing dishes for their own sakes. "You have to know your basics," he says like the culinary professor he used to be. You have to have a good foundation before you tweak, otherwise it's confusing." He misses teaching, he admits but the 27- year old found it useful presiding over a professional kitchen even at a young age. "I'm happy with their skills," he says.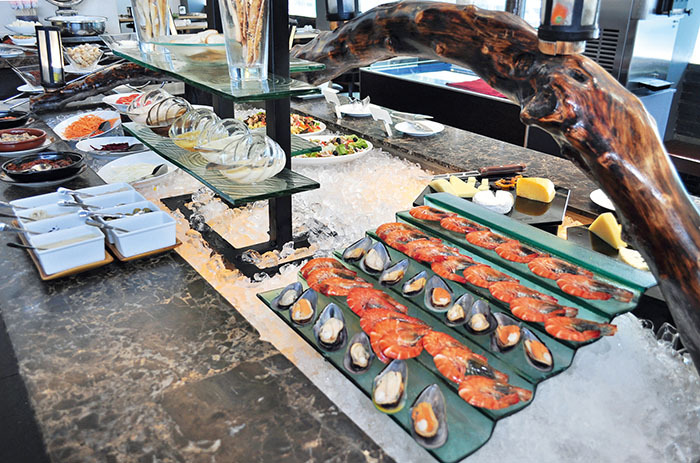 Chef Decker's other specialties include a list close to the Pinoy heart: Lechon de Leche, 4-day marinade pork belly, which is a best seller, and Almond Encrusted Salmon. For dessert, he introduced a delectable yema pie with a meringue topping."We did it for Christmas. I'm partial to tarts, but savory ones, like quiches, but I like yema, so we did that. The meringue was something one of the other chefs thought of because initially it was just a fruit topping and walang dating."
Collaboration with other chefs is something he emphasizes, "Hindi ko alam lahat, ang bibigay ko lang sa inyo idea ko, pero kelangan natin trabahuhin yan."
Another they did Christmas that will now be a permanent part of is their sweet shop is the tablea polvoron, which encapsulates in a tiny package a steaming cup of chocolate eh in that rich cocoa with undertones of saltiness.
Creating a new banquet and a la carte menu to better reflect the needs of the F1's corporate clientele is also something that will be tackled. Corporate clientele are no nonsense folk that are less inclined to be fussy, says Chef Decker. In line with the renovation, he's introducing new equipment as well as maximize spaces that were under utilized as well as improve the flow and efficiency of the buffet.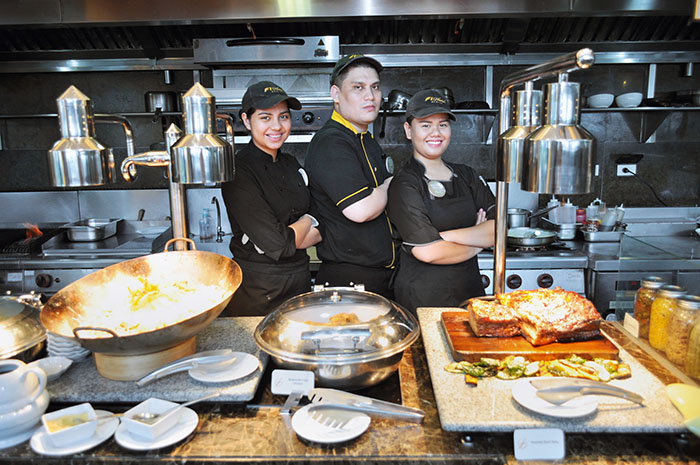 BACKGROUND
Chef Decker's own culinary background is a combination of Chinese from his father and the South, in Jolo, Sulu, where his mother hails from. His Chinese roots is evident when he goes to buffets, he says because he makes a beeline for the ramen, but he has fond memories of his mother's hometown and often craves Pianggang ("Mahirap hanapin sa Maynila") and sattie (from satay as there is predictably a huge Malaysian presence in the South), which are chicken or beef skewers with a "maanghang" red sauce and paired with puso. He remembers vividly riding a boat to Tawi-Tawi, where as a chubby fair-skinned child, he was the object of much fascination by the locals.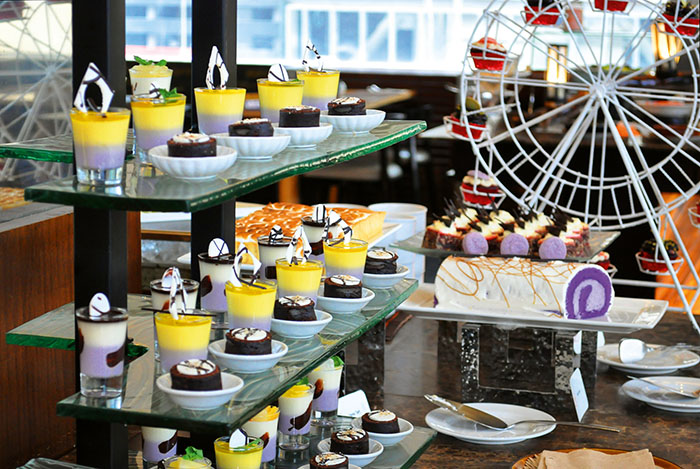 The rest of his family work in banks, while his father has various businesses, but Chef Decker found his niche in cooking early and even went on to teach other culinary students, a job that he finds incredibly satisfying. "They are always grateful for the little things you teach them," he tells of student who went abroad for an internship who thanked him profusely. "It's a form giving back," he shares. In the meantime the cycle of instruction and learning goes on in his professional kitchen. ■
Baked Salmon with Shrimps and Asparagus served with Cauliflower Mashed and Haricot Vert Light Soy and Ginger Glaze
Salmon
160g salmon fillet
60g shrimps (peeled)
40g asparagus (spears)
20ml olive oil
salt and pepper to taste
Blanch asparagus spears in boiling water for 15 seconds, then soak in ice and set aside.
Lightly sauté shrimp and season with salt and pepper, don't cook it completely and set aside.
Place the salmon fillet, skin side down in the chopping board. Score the salmon, deep enough to insert shrimps and asparagus and bake for 5-6minutes. Serve hot
Starch
120g cauliflower
100ml chicken stock
salt too taste
white pepper to taste
Boil chicken stock.
Add chopped cauliflower and let it simmer until soft.
When the cauliflower is soft, blitz in the food processor and pass-thru fine strainer.
Season to taste.
Serve hot.
Sauce
100ml light soy
15g ginger
50ml Mirin
50ml Sake
60g brown sugar
Assemble all ingredients in a sauce pan.
Simmer until reduced to a syrupy consistency.
Strain and serve hot.
Hits: 103