Culinary Travelogue: Valletta, Malta
---

---
Maltese cuisine reflects Maltese history with its strong Italian and British influences as well as Spanish, French, Maghrebin, Provençal and other Mediterranean cuisines. Maltese cuisine is the result of a long relationship between the islanders and the many civilizations who occupied the Maltese islands over the centuries. A marriage of tastes has given Malta an eclectic mix of Mediterranean cooking.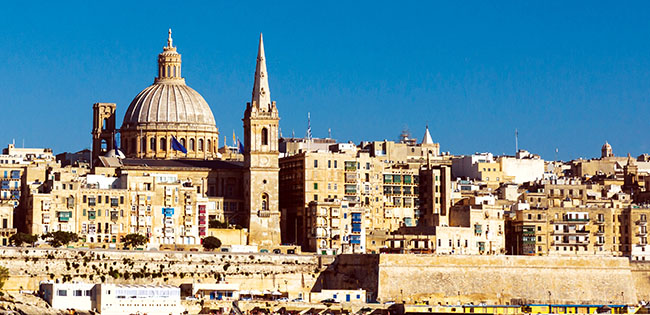 Traditional Maltese food is rustic and based on the seasons. Lookout for Lampuki Pie (Fish Pie), Rabbit Stew, Bragioli (Beef Olives), Kapunata (version of Ratatouille), and Widow's Soup with small round of Gbejnet—sheep or goat's cheese. In most food shop counters you'll find Bigilla, a thick paté of broad beans with garlic. The snacks that must be tried are 'Hobz Biz-zejt' (round of bread dipped in olive oil, rubbed with ripe tomatoes and filled with a mix of tuna, onion, garlic, tomatoes and capers) and Pastizz (flaky pastry parcel filled with ricotta or mashed peas).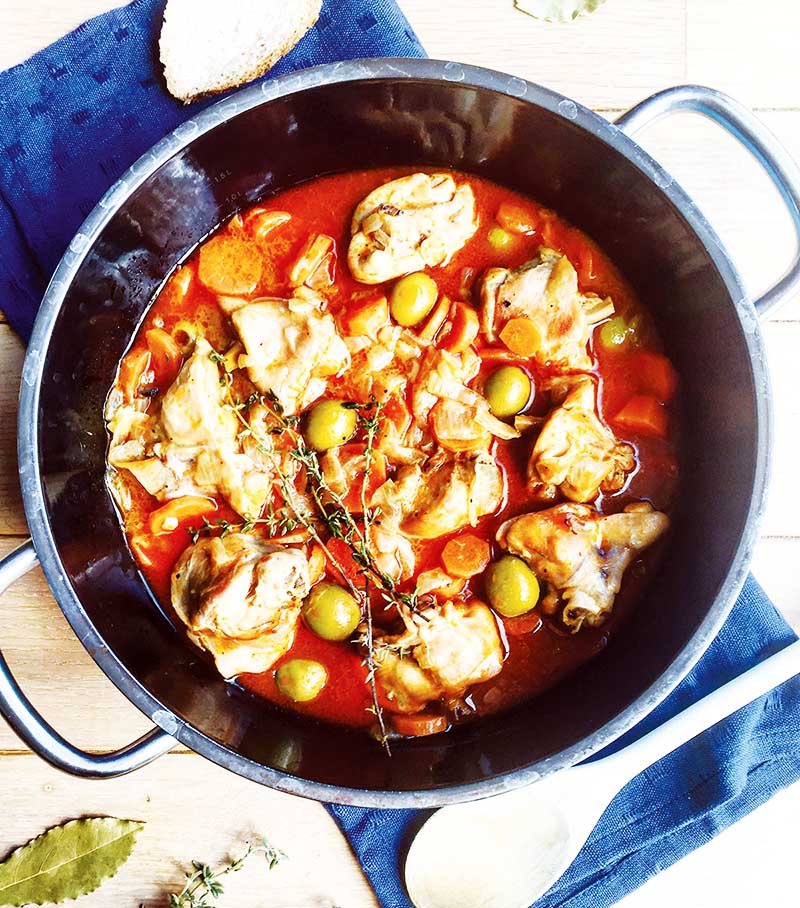 The traditional Maltese stewed rabbit is often identified as the national dish. Octopus and squid are very often used to make some rich stews and pasta sauces. Favorite dessert delicacies are Kannoli (as in Italian Cannoli filled with ricotta), Sicilian-style Semi-Freddo desserts (mix of sponge, ice cream, candied fruits and cream) and Helwa Tat-Tork, a tahini fudge with almonds.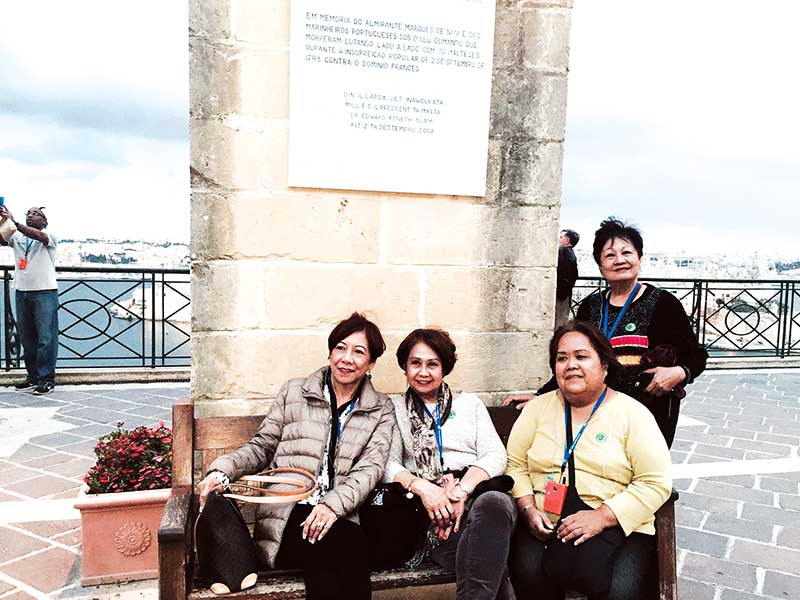 The capital of Malta is Valletta, which is the smallest capital in the European Union. The name Malta is derived from a Greek word meaning "honey". The island has an endemic species of bee, which produces a unique type of honey for which the island is famous for. Malta is one of my favorite countries! It is an archipelago in the central Mediterranean between Sicily and North African coast.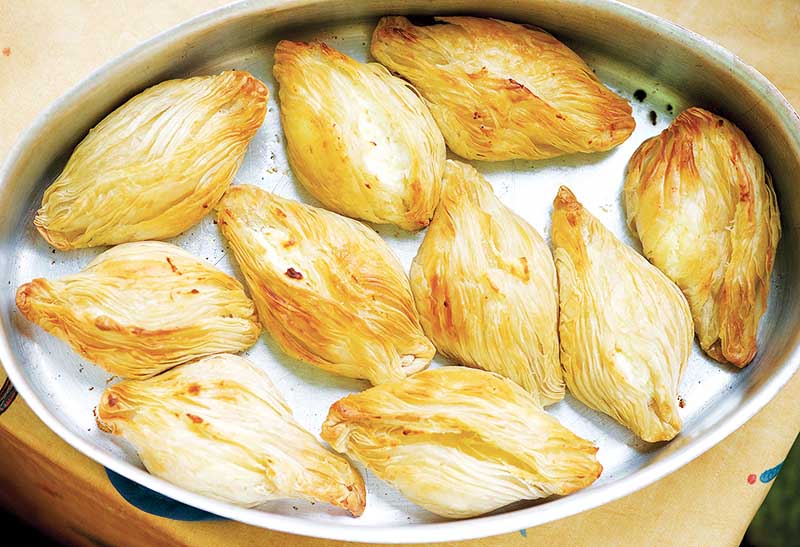 It's a nation known for historic sites related to a succession of rulers including the Romans, Moors, Knights of St. John, French, and British. It has numerous fortresses, megalithic temples and the Hal Saflieni Hypogeum, a subterranean complex of halls and burial chambers dating back to circa 4000 B.C.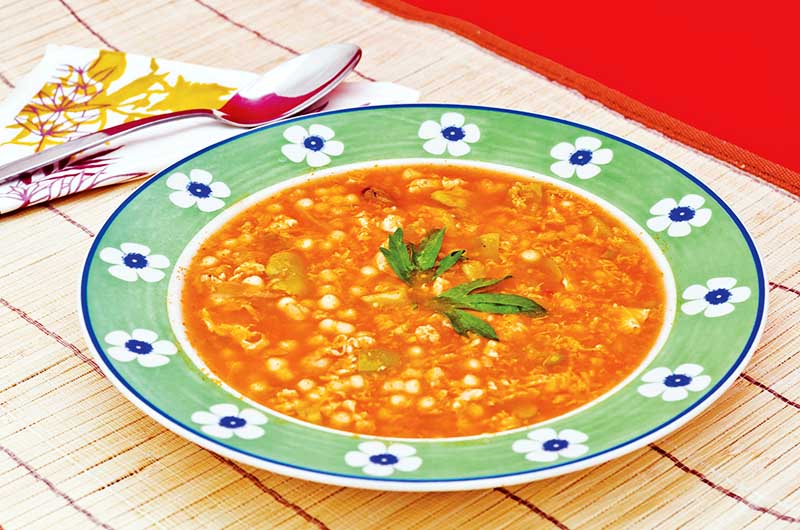 Maltese Soup
(Kusksu)
Ingredients:
2 tbsp olive oil
1 cup diced white onion
2 cloves garlic, minced
1 tbsp tomato paste
4 cups chicken stock
1 pc bay leaf
sea salt and freshly ground pepper, to taste
1 pc medium potato, pared and diced into small pieces
1 pc small carrot, pared and diced into     small pieces
1 1/2 cup fava beans or edamame or peas
1/4 cup pearl couscous
1/4 cup crumbled Queso Fresco or ricotta or     goat cheese
1 pc large egg
chopped parsley
Procedure:
Heat oil in a large pot over medium heat. Add onions and cook until limp. Stir in garlic and tomato paste. Add chicken stock and bay leaf. Season to taste with salt and pepper.
Add potato, carrot and beans. Bring to a boil then simmer for 10 minutes. Stir in couscous and simmer for 15 minutes further.
Add the crumbled cheese and crack an egg on top of the cheese. Cover and turn off the heat and let sit for 20 minutes. Stir the soup and simmer further until heated. Serve garnished with chopped parsley.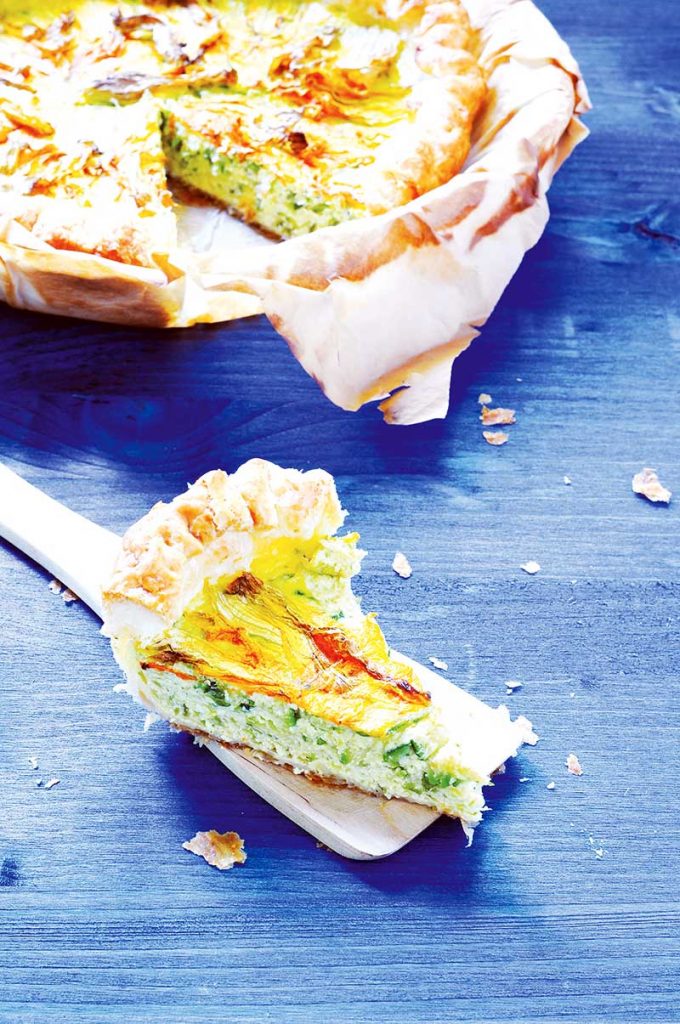 Maltese Baked Ricotta Pie
Crust:
Ingredients:
3/4 cup unsalted butter
1 cup cream cheese
2 cups all-purpose flour
1/4 tsp salt
Procedure:
Blend all the ingredients with a pastry blender or a food processor until mixture resembles coarse crumbs. Gather dough into a tidy ball. Wrap and rest in the refrigerator for 3 hours or preferably overnight. When ready to use, roll out dough on a floured surface until paper-thin, then smear with a layer of soft butter. Roll up the dough until you form a log, then coil it and leave to rest for 30 minutes.
Lightly grease an 8-inch round pan with butter. Roll out dough to 3 millimeter thick and use it to line the pan. Use the remaining dough to make the lid for the pie and set aside.
Filling:
Ingredients:
2 tbsp olive oil
1 pc small onion, finely sliced
1 clove garlic, finely sliced
400g grated zucchini
250g grated squash
1/2 cup frozen green peas
parsley
mint
2 pcs large eggs
350g fresh ricotta or cream cheese
sea salt and freshly ground pepper, to taste
Procedure:
Preheat oven to 350˚F.
Heat oil in a skillet. Add onion and garlic and cook for 2 minutes on medium heat. Add zucchini, squash and peas and cook for 5 minutes, until softened. Remove from heat and add herbs.
In a large bowl mix eggs with ricotta and add the zucchini mixture. Season with salt and pepper and mix well.
Spread the filling in the pie dish, then, cover with the pastry lid. Crimp the edges together to seal. Any leftover pastry can be used to make shapes for the top of the pie. Snip the top of the pie to release steam during baking.
Bake for 35 to 40 minutes, or until golden.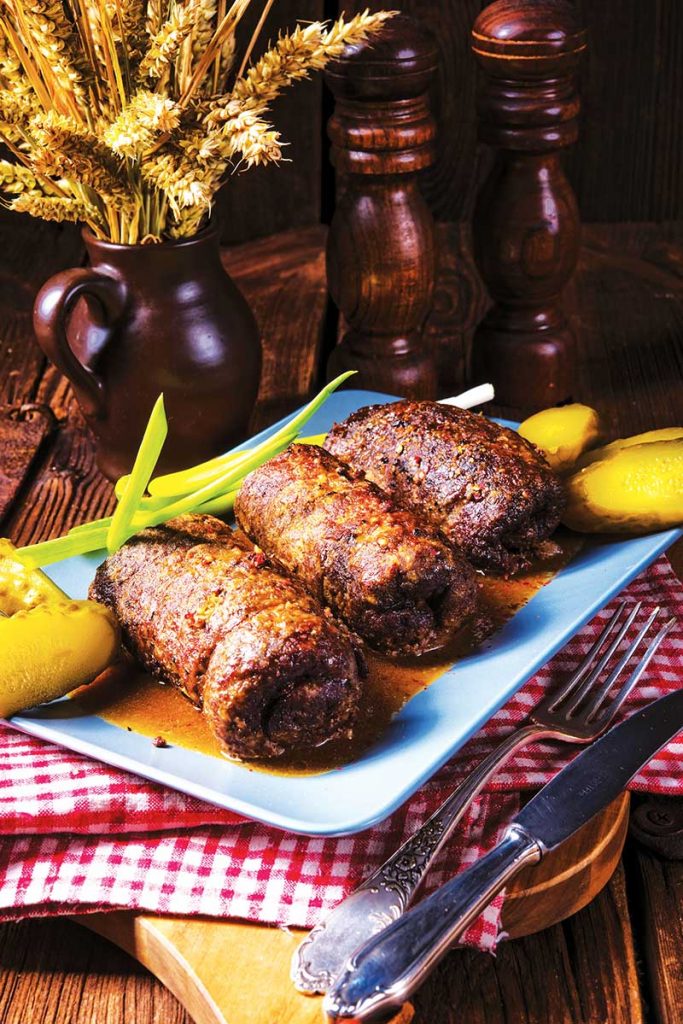 Maltese Bragioli
Ingredients:
500g thinly sliced top sirloin
1/4 cup breadcrumbs
2 tbsp bacon, chopped
2 tbsp parsley, chopped
1 clove garlic, minced
sea salt and freshly ground pepper, to taste
2 pcs large hard boiled eggs, sliced
olive oil
2 pcs bay leaves
1 pc large onion, chopped
1 pc carrot, diced
1 cup red wine
Procedure:
Beat the slices of beef with a mallet to thin.
In a bowl, mix the breadcrumbs, bacon, parsley, garlic, salt and pepper. Place a heaving tablespoon of the stuffing onto a slice of beef and spread it out. Arrange slices of egg. Roll the stuffed beef lengthwise over the stuffing and tie it with a string or secure with toothpicks. Repeat procedure with other slices of beef.
Pour some oil in a large pan and sear the stuffed beef until nicely browned, one piece at a time. Arrange seared beef into a large pot with the bay leaves.
Using the same pan that the beef was seared, stir-fry the onion and carrot until the onion is translucent. Pour the wine over the onion and carrot to deglaze the pan. Pour sauce over the beef and simmer for about 1 to 1 1/2 hours until beef is tender. Remove the strings and serve with the sauce.
Pastini tal-Coconut
Ingredients:
400g butter
600g all-purpose flour
600g freshly grated coconut
2 tsp vanilla
1 tsp lemon zest
jam or marmalade
Procedure:
In a large mixer, beat butter with sugar well until it looks like cream. Add the flour, coconut, vanilla and lemon zest. Mix well.
Heat oven to 350˚F.
Pick about a rounded teaspoon of the mixture and roll in your hands until it is formed into a ball. Arrange balls on a greased cookie sheet. Bake in a preheated oven for about 10 minutes until lightly golden and less pasty. Cool before spooning some jam on top.
Hits: 196