Mamma Mia, Mamma Mia!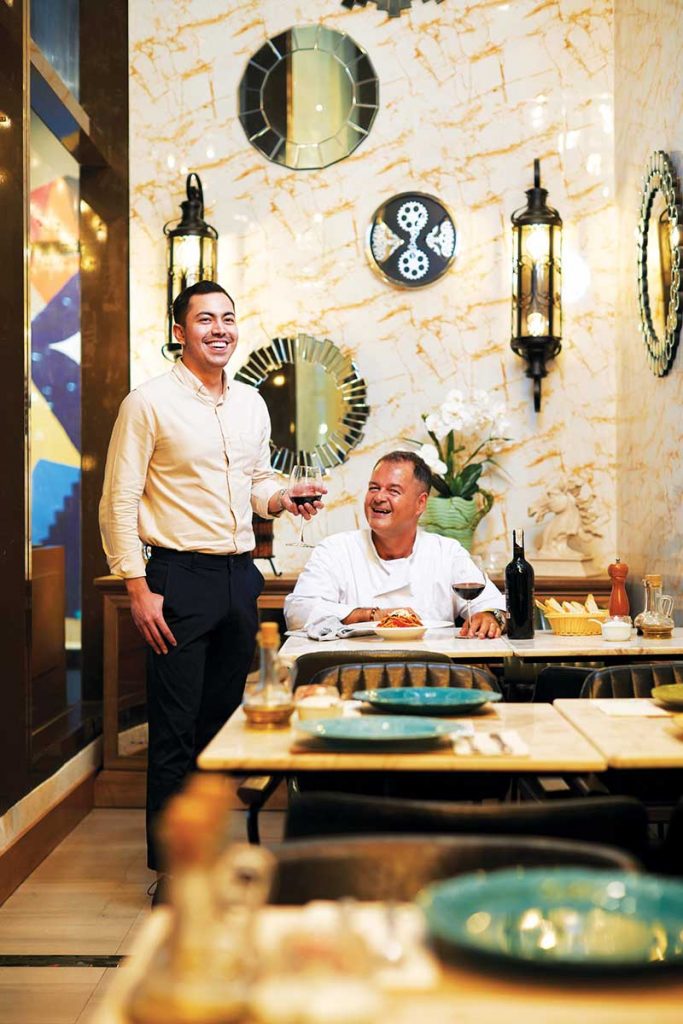 Perhaps you won't find a more quintessential name for an Italian restaurant than Mamma Mia. It's also the expression you most often say when parodying an Italian accent and doing it badly, but then that also makes the restaurant feel accessible. Like a reverse bait and switch, you might think you're getting something along the lines of Italian-American food, which most Filipinos are familiar with, but end up getting authentic Italian instead. As true to its roots as it wants to be, Mamma Mia is also not snobby. If Filipino diners expect their Carbonara to have cream (as opposed to the authentic recipe of egg yolk, Parmiggiano and Pancetta), they will concede to it, but also include "authentic" Carbonara on the menu and name it as such. "For the Cabonara alla Mamma Mia, we included egg yolks as well," said Giulius S. Iapino, chief executive and president of Rigatoni Corporation Eatalian Inc., that also operates Parmigiano Ristorante Pizzeria with locations at Molito Commercial Complex in Alabang and Newport Mall, Newport Boulavard, Pasay, as well as Toni & Sergio with branches at Venice Grand Canal Mall in Taguig City and Eastwood Mall.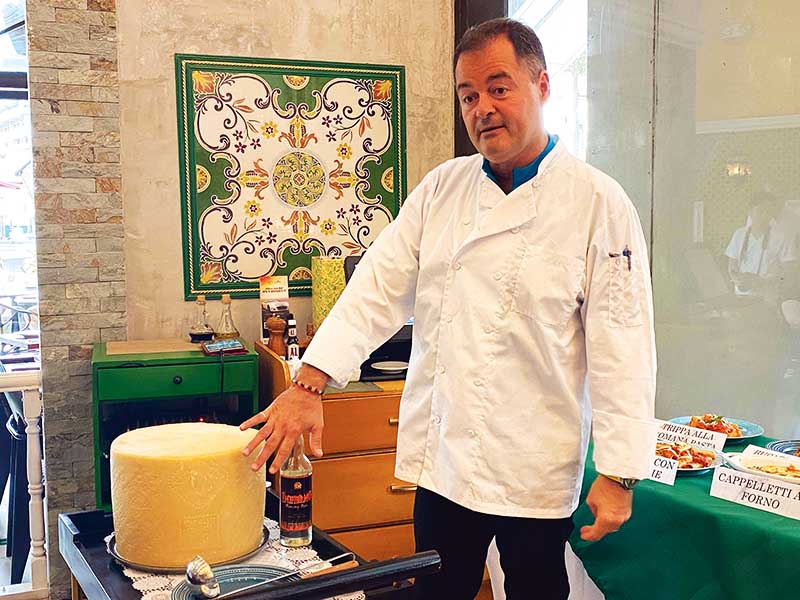 Iapino is perhaps the best person to bridge the gap, so to speak, being a product of both cultures. His mother is Filipina and his father Toni, an Italian restaurateur. The logo on Mamma Mia, in fact, features a cartoon illustration in the style of "Rosie the Riveter" and represents his mother, complete with an "I love Toni" tattoo on her arm. "Our dishes are really from my nonna, my lola, pa," translates Iapino, who is equally fluent in Filipino, having also grown up with his Filipino lola, shuttling between the Philippines and Italy. No doubt influenced by his father Toni who owned five restaurants in Rome, he started getting the restaurateur bug early. After college, Iapino was given a chance to manage Parmigiano. "Na-develop yung passion". His goal is to be able to offer lunch and transform into a bar until the wee hours. "That's the Italian setup. Mag-coffee sila, and then dun sila mag-lunch. Yung iba, babalik at night. The setup changes and you see the younger market. The coffeeshop converts to a party. That's what we want to capture," says Iapino.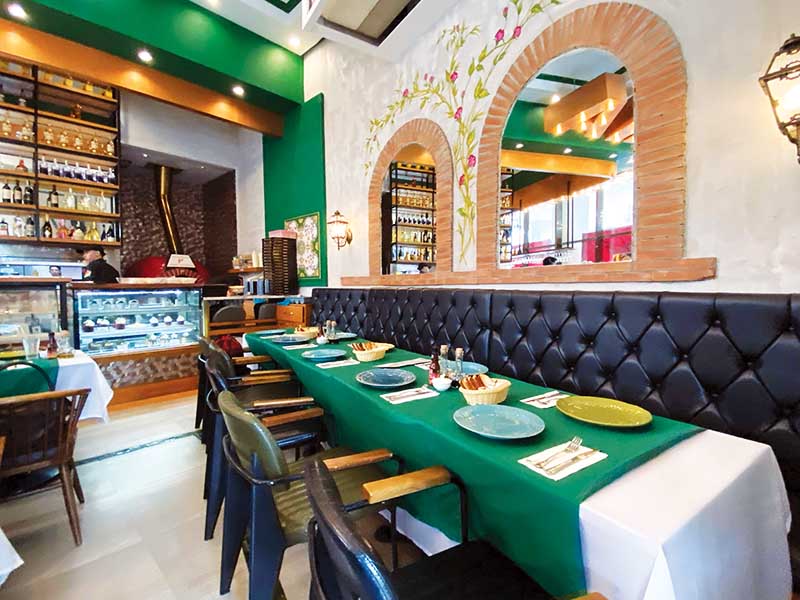 While the restaurant has been operating for two years now, they recently introduced items that are exclusively Roman cuisine. Iapino says that it's very rare that Italian restaurants will concentrate on a specific region in Italy. They also hope to do this with other regions in the future. But to shine the spotlight on Rome first makes perfect sense because it's a heritage he's very proud of. "The Roman empire preceded Italy," he narrates. Iapino couldn't have a more Roman name if he tried, being "Giulius Ceasar".
Mamma Mia's new chef is Alessandro Carossi, a Rome native and longtime friend of the family, who demonstrated how pasta is tossed in a Pecorino Romano Cheese Wheel bowl. It's is the first of its kind in the Philippines, as far as Iapino knows, with diners being more familiar with a Parmigiano Reggiano bowl. The premise is the same. A hot serving of the Trippa Alla Romana (Tripe Pasta) is tossed in a flaming Pecorino wheel, which has been splashed with rum, coating the pasta in its complex salty flavors. After this, the cheese is scraped and topped on the pasta.
My favorites from the special Roman selection are the Mortadella Pistacchio Pizza and the Pappardelle con Gamberi e Calamari. I've never tried chopped pistachios on a pizza before because it was never an option on other menus, which is a huge oversight because this pizza is a harmonious blend of buttery, nutty, sweet and savory flavors on a pizza, and it doesn't get better than that. I've always been partial to Pappardelle pasta ribbons, but have mostly had them with creamy sauces, but I really enjoyed the subtlety of it being paired with shrimp and squid. According to Chef Alessandro, Pappardelle is traditionally prepared with non-cream sauces anyway. Other items include a rich Cappelletti al forno, a stuffed pasta finished in the oven with a rich, cheesy top; Rigatoni Con Salsiccie (Sausage); Bucatini all'Amatriciana (guanciale, which is pork jowl/cheek bacon, pecorino cheese and tomato). The Polpo Con Patate is a tender octopus dish with potatoes, and while octopus sounds exotic, I've always found squid to be better in all aspects. It's also worth mentioning that while a Tres Leches cake is more associated with Latin America particularly Mexico, Mamma Mia makes a very good version of it, which is both custardy and light as opposed to most tres leches cakes I've eaten, which tend to be oversoaked and heavy.
Mamma Mia has generous servings and they have group promotions that make it attractive for office groups to come there if they're craving Italian food. Iapino says his main focus is on the quality of the food and ingredients, which are fresh and or imported from Italy. Depending on the preparation, they have both fresh and dried pasta, and the tomato sauce, the lifeblood of Italian cuisine, is a combination of both Italian canned tomatoes and specially cultivated fresh varieties sourced in the Philippines. It's important to have fresh ones because that's where the sweetness comes in," he explained. The restaurant also sees a number of Italian expats as some of their regular customers, which is essentially a seal of approval when it comes to authenticity, and presumably being there brings them closer to home. As Iapino put it, "At Mamma Mia's, we want to evoke mother's love when it comes to Italian food."
Hits: 145