Meaty Feasts
---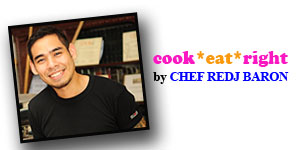 ---
This is the stew I've loved making ever since I've entered the realm of the Culinary Arts.  I adore the blending of spices and how they complement each other, the okay hints of wood, the freshness of lemons, and these all come together in an aromatic cloud during the long simmer it takes for the lamb to be fork tender. My family used to pair it with French bread or better yet, home-made pita. You may also use green olives instead of Kalamata along with some marble potatoes. My recipe is close to our Caldereta. It only differs to the herbs and spices used, and the slight sourness because of the whole peeled tomatoes and the tomato paste.
May you have good memories and happy tummies with this dish.
Roulade of Chicken Stuffed with 3 Colors
Making roulades has always been a thing for me. I find this technique very artistic and tedious, which I enjoy very much. The 3 colors are the wonderful vegetables tied up together to produce an exquisite experience. Carrots, spinach and red bell pepper (you may add cheese if you like). I had to roast the bell peppers so it can be manageable. This dish goes well with a smooth Pomodoro Sauce, Mornay Sauce or even a duet.
3 pcs chicken breast fillet (butterfly cut)
1-2 pcs roasted red bell peppers
300g spinach leaves (blanched, squeezed and chopped)
carrots (batonet)
1/4 tsp dried rosemary
2 tbsp lemon juice
2 pcs eggs (beaten)
1/2 cup flour
200g (more or less) Japanese bread crumbs 
oil for deep frying
foil
Marinate chicken with lemon juice, rosemary, salt and pepper.
Gently stuff red bell peppers, spinach and carrots.
Roll into a roulade and secure with greased foil.
Steam for 10-15 minutes.
Dredge with flour, egg and bread crumbs (for a thicker coating, repeat egg and bread crumbs.
Deep fry until golden brown.
Serve with pomodoro or white sauce.
Greek Lamb Stew
700g lamb neck slices or shoulder (cut into big chunks) 
4 tbsp olive oil 
3 medium sized onions (quartered) 
2 medium sized carrots (cut into large cubes) 
180g celery (coarsely chopped)
2 pcs cinnamon bark
1 bay leaf
220g tomato paste
300g whole peeled tomatoes
1/2 cup red wine
2 pcs green bell pepper (cut into diamonds/squares) 
2 pcs red bell pepper (cut into diamonds/squares) 
1/2 tsp dried oregano 
1/4 tsp dried rosemary 
zest of 1 lemon 
2 tbsp lemon juice 
1 tsp spice mix 
300g kalamata olives 
beef stock (as needed)
Season lamb with salt and pepper.
Sear all sides of the lamb and set aside.
Using the same pan, sauté half of the onions, half of the carrots, half of the bell peppers and celery.
Add the seared lamb and tomato paste. Gently coat all ingredients with paste then pour red wine.
Mix well then add dried herbs, spice mix and whole peeled tomatoes.
Lower heat and simmer for 2 hours.
Add other half of the vegetables, lemon zest and the olives.
Simmer some more until fork tender (add ample amount of beef stock if stew dries up.
Season with salt and pepper to taste.
Finish with a splash of lemon juice.
Spice mix
1 tsp cinnamon
1/4 tsp cloves
1/4 tsp nutmeg
Mix everything together.
---
WANT TO KEEP UPDATED?
Join us on our newsletter!
[wysija_form id="2″]
Hits: 181