From Picky To Perky Eaters
---

---
My nieces Ale and Tea are cooking a simple flan with me. What absolute fun!
Often I am asked by moms and dads for recipes and tips on getting picky kids to eat healthier. Our competition is junk food, hot dogs, cakes and sugars, candies and more. That's really tough considering this stuff come with all the trimmings of food coloring and artificial flavorings. Who is going to want to eat veggies after these options?
Parents, this is WAR! And we have to be cunning and witty to get our children back on the health wagon
Step 1: Junk and treats should only be eaten once a week. It should be a "treat", which means you only indulge in it once in awhile. You can make a point of having it only during Sunday family celebrations or outings. The kids won't feel deprived and even look forward to this special treat once a week.
Step 2: Keep junk out of your own home refrigerators and pantries. You should replace these with…
Step 3: Beautiful colorful fruits. Fruits should always be on your kitchen and dining table top. It's easy access for kids when they want to munch on something. If they're hungry, they will grab a banana or an apple instead.
Remember that our taste buds are ruined by high salty, sweet and MSG laden foods. That's why kids no longer like regular food, and thus begin to crave junk food that's out there.
Step 4: Create dishes using clever ways to
smuggle veggies in.
Common kiddie favorites: Hamburgers, longganizas, meat loafs, lumpia , siomai , flans and custards. The possibilities of veggies you can smuggle in here are endless. Plus, kiddies can help cook with you, too, which will pique their interest in healthy food preparation.
The good news is, all this is very doable and not IMPOSSIBLE at all. You just have to stick to your guns and after a few weeks you will see a change in your children's eating habits.
Hugs and love,
Sabrina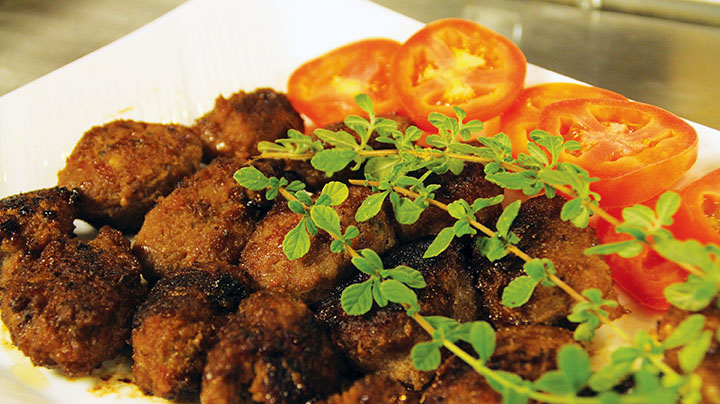 Homemade (no preservatives) Longganiza with McCormick Paprika
Mix
1/2 kg ground pork
3 tsp coco sugar
one whole egg
2 tbsp soy sauce
half a tsp Spanish paprika
2 tsp minced garlic
one half tsp salt
dash black pepper
Roll into balls and then saute in sesame oil until golden. I use a nonstick Teflon pan. This is the ultimate Baon food. It's great for tapas or breakfast, or any meal of the day.
Make a large batch and freeze it. You can take them out and fry when needed.
Left over Sesame Thyme Oregano Pork Siomai
Waste not, want not. Here is another recipe that makes good use of leftovers.  I always do this at home and it's always a hit!
Mix
2 cups shredded fish/chicken/ground pork or beef with one whole egg
one minced onion
one shredded carrot
4 tsp sesame oil
2 tsp shredded ginger.
dash of McCormick Thyme and Oregano.
salt and pepper to taste.
Wrap in Siomai rice paper, then arrange in a bamboo steamer inside a pan with a bit of water in the bottom. Make sure you just have enough water to steam and not boil.
Line the bottom of the pan, so the siomai bottoms don't get too soggy and then steam for about 8 to 10 minutes.
Our traditionally Yummy dipping sauce of calamansi and soy sauce can be enlivened with a dash of sesame oil. Enjoy eating healthy with the kiddies!

Healthy and Yummy McCormick Vanilla Flan
Mix and set aside
one large can evaporated milk,
4 whole eggs
2 tsp vanilla
1 cup coco sugar
Sprinkle about a teaspoon each of coco sugar in the flan molds.
Heat over stovetop to melt and caramelize the sugar, swirl it around so it coats the entire bottom of the mold. A drop or two of water will hasten the process.
Once the sugar melts and the caramel starts to bubble, remove from heat.
Pour the flan mixture into the mold.
Put the molds in a double boiler ( make sure only less than half the pan has water, around 1 1/2 half inches).
Cover the molds with cloth so water does not seep in. Then cover with a lid.
Double boil for about 15 to 20 minutes. You can also do this in the oven about the same time at maximum heat, although you can dispense with the cloth and the lids when cooking in an oven.
Cook about 15 to 20 minutes medium heat then check with toothpick at the center for doneness. It the toothpick comes out clean, then your flan is done.
Use a knife to cut through the edges so when you turn over on dish, it's a lovely shape.
Garnish with some choco syrup drizzle and fresh mint. Other options include mangoes, yogurt , orange rind garnish.
I love this dessert; it's beautifully rustic and bohemian, a healthy flan at its absolute best.
Hits: 136