What the Merlion Dreams of Eating
---

---
Food and travel are inseparable, especially for foodies. Whenever I go abroad, as much as I want to see the sights, it seems that trying the local food trumps any landmark or attraction. It is said that local food offers a view into a culture, and what better way is there to immerse yourself in a foreign culture than to do it one bite at a time?
My last foreign trip was to Singapore and for this month's theme of "Food from my Travels", what better dish can represent Singapore better than Chicken Rice? This simple meal of poached chicken, soup and rice with dipping sauces may seem unexciting. But once you try the really good ones, with juicy, gelatinous chicken, and fragrant, savory rice, you'd understand why it has become Singapore's national dish. Chciken Rice is actually Chinese in origin, Hainanese style chicken. But since the majority of Singaporeans are ethnically Chinese, they've made their version The ingredients are very simple, ginger, garlic, shallots, chicken, salt and water. Of course some chilies and more ginger and spring onions are used for the sauces plus some thick soy sauce for mixing with the rice, depending on who you ask. But from these pretty common ingredients and the most basic of cooking methods comes a dish that has become a staple for a prosperous nation that could afford more elaborate dishes.
I hope this recipe brings back memories if you've been to Singapore and make you want to go if you haven't. Cooking food from your travels is a great way to revisit and relive fun times. Where was the last place you've been and what was the best thing you ate there? Why not make some at home?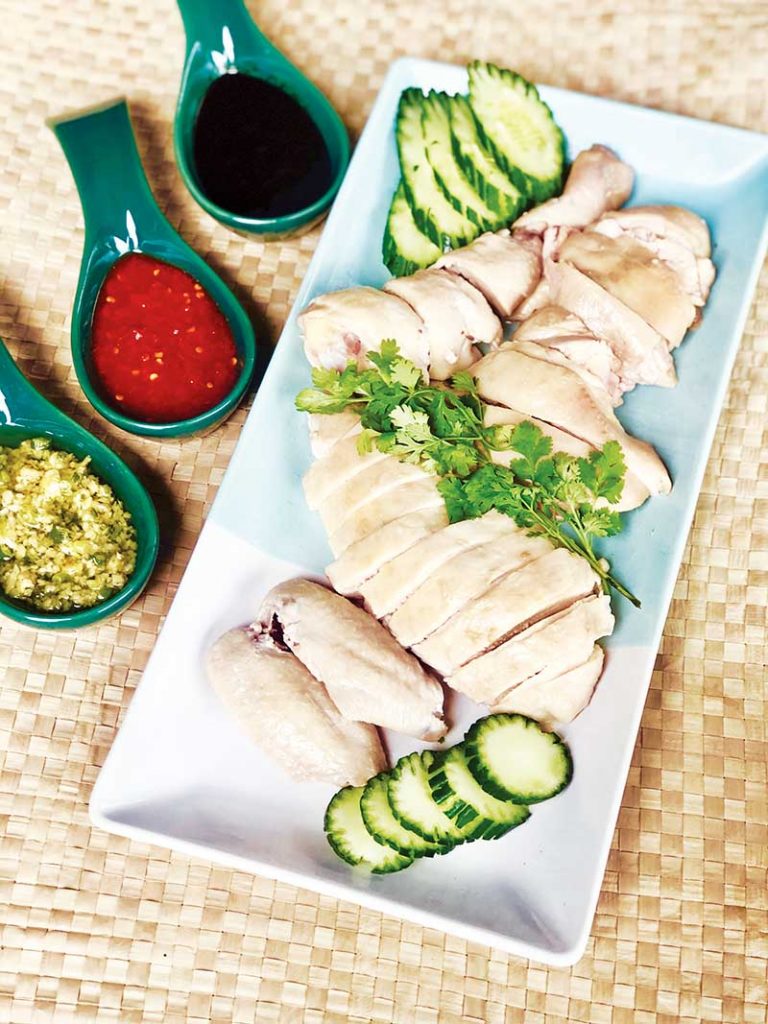 Singapore's Iconic Chicken Rice
| | | |
| --- | --- | --- |
| Serves 4 | Prep Time 30 minutes | Cooking Time 1.5 hours |
For the chicken:
Ingredients:
1 pc whole large chicken
2 pcs ginger, sliced
4 stalks leek
1 pc white onion
4 cloves garlic
salt
1 pc chicken broth cube
2 tbsp vegetable oil
2 tbsp sesame oil
20 pcs ice cubes and water for "shocking"
Procedure:
Take out any fat you see from the chicken (usually right at the opening of the cavity). Set aside.
Wash chicken and then rub all over with salt. Salt inside the carcass too.
Stuff chicken with a few pieces of ginger, leeks and garlic.
Lightly pound the rest of the garlic, ginger and leeks.
In a large pot, heat 2 tablespoons oil. Sauté sliced onion, pounded ginger, garlic and leek.
Add chicken and cover with water. Add chicken broth cube.
Bring to a boil and then lower to a simmer and continue cooking for 20 minutes. Turn off the heat and keep chicken in the hot broth for another 20 minutes.
In another large pot, place ice cubes and enough water to cover chicken. Add a handful of salt to the ice water.
Carefully lift the chicken from the broth and transfer to the ice water. Let cool for 10 minutes.
Carefully lift the chicken from the broth and transfer to the ice water. Let cool for 10 minutes.
Once cool, take chicken out, pat dry, and rub with sesame oil. Set aside until ready to serve.
For the rice:
Ingredients:
2 tbsp rendered chicken fat
2 cups jasmine rice
2 tbsp chopped garlic
1 tbsp chopped ginger
2 cups chicken broth
2 pcs pandan leaves
Procedure:
For the rice, render reserved chicken fat. Add a bit of oil if needed.
Sauté chopped ginger and garlic and add uncooked rice.
Add broth and pandan leaves and cook in a rice cooker or in the pot under low heat until dry.
For the Chili Sauce:
Ingredients:
12 pcs red chilies
1 pc red bell pepper
3 cloves garlic
1 tbsp vinegar
1 tsp salt
1 tsp sugar
1/2 cup chicken broth
Procedure:
For the chili sauce, simply place all ingredients in a blender and blend till smooth. Set aside.
For the Ginger sauce:
Ingredients:
1/2 cup finely minced ginger
1/2 cup chopped green onions
2 cloves garlic, minced
1 tsp salt
1 cup vegetable oil
Procedure:
For the ginger sauce, combine all ingredients and gently heat in a pan for 2 minutes. Make sure to just keep the heat low and just "sweat" the ingredients. Set aside.
For the Dark Soy Sauce:
Ingredients:
2 tbsp hoisin sauce
2 tbsp soy sauce
Procedure:
For the dark soy sauce, just mix hoisin and soy sauce and set aside.
For garnish:
sliced cucumbers
coriander
To serve:
Slice the chicken into sections. Brush with some more sesame oil. Serve with rice, broth in separate bowl and the three sauces. Garnish with sliced cucumbers and coriander leaves.
Hits: 217