Chinese Pantry Specials
Apart from Filipino food, our cooking is most closely related to and influenced by Chinese cuisine. From centuries of trade and intermarriages, our palates have always been exposed to Chinese ingredients and flavor combinations. Cooking authentic Chinese food is difficult to do simply because unlike other popular cuisines, our neighbors to the north are quite secretive when it comes to their recipes. But after decades of eating pancit, dim sum, and lauriat dinners and weddings, we can form an approximation of the different tastes and techniques of Chinese cooking.
One of the first stops in creating any dish is the market. Luckily, our local palengke, Suki Market in Mayon, Quezon City, has a sizeable Chinese grocery within the market. Jashmart is my go-to place for anything Chinese, especially for hotpot ingredients. They have an aisle dedicated to sauces, from the bottled stuff to the canned to the ones in pouches. While I cannot read even a single Chinese character, some brands have English labels while others are grouped together so you can deduce from the groupings even without being able to read. Of course, you can also ask the staff.
Some Chinese pantry essentials are chili garlic paste, dried chili, hoisin sauce, rice wine, fermented black beans, light soy sauce, and oyster sauce. If you are more adventurous, try some of the fermented and pickled items too. With a few basic ingredients in your pantry, Chinese-style dishes become easier, and even if they aren't authentic, you can come pretty close to the real thing.
Sweet and Spicy Chicken with Eggplants
Serves 8; Prep Time 15 minutes; Cooking Time 30 minutes.
Ingredients:
1 kg chicken thigh fillets, cut into four
2 pcs eggplants, sliced in half lengthwise and into2-inch segments
6 pcs fresh shiitake mushrooms
1 tbsp chili bean sauce
2 tbsp fermented black beans
3 tbsp hoisin sauce
6 pcs dried chili
1 pc onion, peeled and sliced
1 tbsp chopped garlic
1 tbsp chopped ginger
2 stalks leeks, sliced thinly
1/2 cup flour
1/2 cup cornstarch
2 tbsp rice wine
salt and pepper
oil for frying
Procedure:
Season chicken with rice wine, salt, and pepper. Marinate for 15 minutes.
Combine flour and cornstarch in a bowl and season with salt.
Dredge chicken in flour/cornstarch mixture and deep fry in oil until golden. Set aside.
In the same oil, fry eggplant until golden and tender. Set aside.
In a wok, sauté dried chilies, ginger, garlic, onions, and leeks for a minute.
Add mushroom, black beans, chili bean paste, and hoisin. Add 3 tablespoons of water to loosen the mixture.
Add fried chicken and eggplant pieces to the wok and toss to combine.
Serve hot.
Beef and Tendon Stew with Radish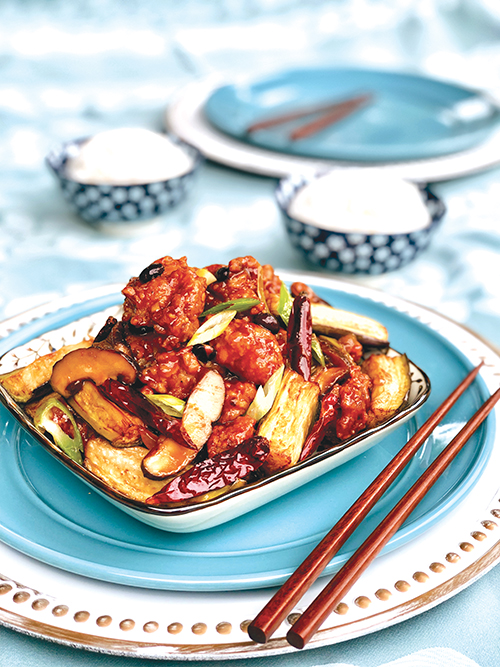 Serves 6; Prep Time 10 minutes; Cooking Time 3 hours.
Ingredients:
1kg beef brisket
500g beef tendon
1 pc large radish
4 pcs star anise
3 slices ginger
1 cup light soy sauce
1/2 cup sugar
water
Procedure:
Slice beef into 1-inch cubes.
Slice tendon into 1-inch segments.
Place all the ingredients in a heavy-bottomed pot, except for the raddish.
Pour enough water to just cover the ingredients.
Simmer covered over low heat for 2 to 3 hours or until the beef and tendon are very tender.
In case the beef cooks faster, take them out and set them aside while you continue cooking the tendon.
Peel radish and slice into half-inch thick discs.
Once the tendon is tender, add the radish and continue cooking until the radish is cooked through.
OPTIONAL: If you want a thicker sauce, thicken the sauce with 2 tablespoon cornstarch mixed with 2 tablespoon water. Add cornstarch slurry, a bit at a time, to the simmering sauce and mix until desired thickness is achieved.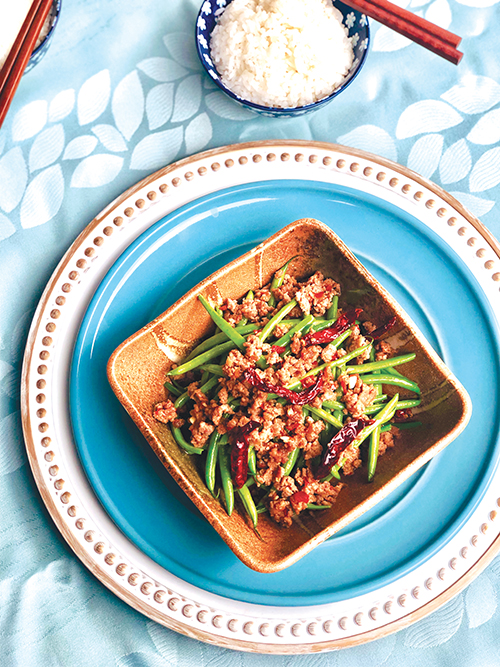 Serves 4; Prep Time 5 minutes; Cooking Time 10 minutes.
Ingredients:
1/4 kg French beans, trimmed
100g ground pork
8 pcs dried chili
2 tbsp chili bean paste
1 pc onion, minced
4 cloves garlic, minced
2 tbsp oil
Procedure:
Blanch beans for 1 minute in boiling water. After blanching, submerge beans in cold water to keep color vibrant.
In a wok, heat some oil and add dried chilies, garlic, onion, and sauté for a few seconds.
Add ground pork and chili bean paste.
Stir-fry ground pork until cooked.
Add beans to the wok and toss to reheat and combine.
Serve hot.
Hits: 281