Harissa Plaza
---

---
When we think of spice or say something is spicy, what comes to mind? Well, chilies, of course. Through the years, we've gone from siling labuyo to hot sauces, to chili garlic, to thicker hot sauces like Sriracha and more recently, Gochujang paste. The spice trends have evolved and grown through the years so much that it is now common to see hot sauce clubs displaying their products in some weekend markets. These chili aficionados come up with hotter and hotter variants of their sauces from chili hybrids sourced from all over the world.
One popular spicy chili paste that has yet to be embraced here is Harissa. This chili paste which originates from North Africa is a common ingredient in Moroccan and Tunisian cuisine. Primarily made with Serrano peppers, the sauce is thought to have been a product of the Spanish occupation of Tunisia in the 1500s. Serrano peppers are native to Central and South America, and were believed to be brought to Europe and North Africa during the said occupation.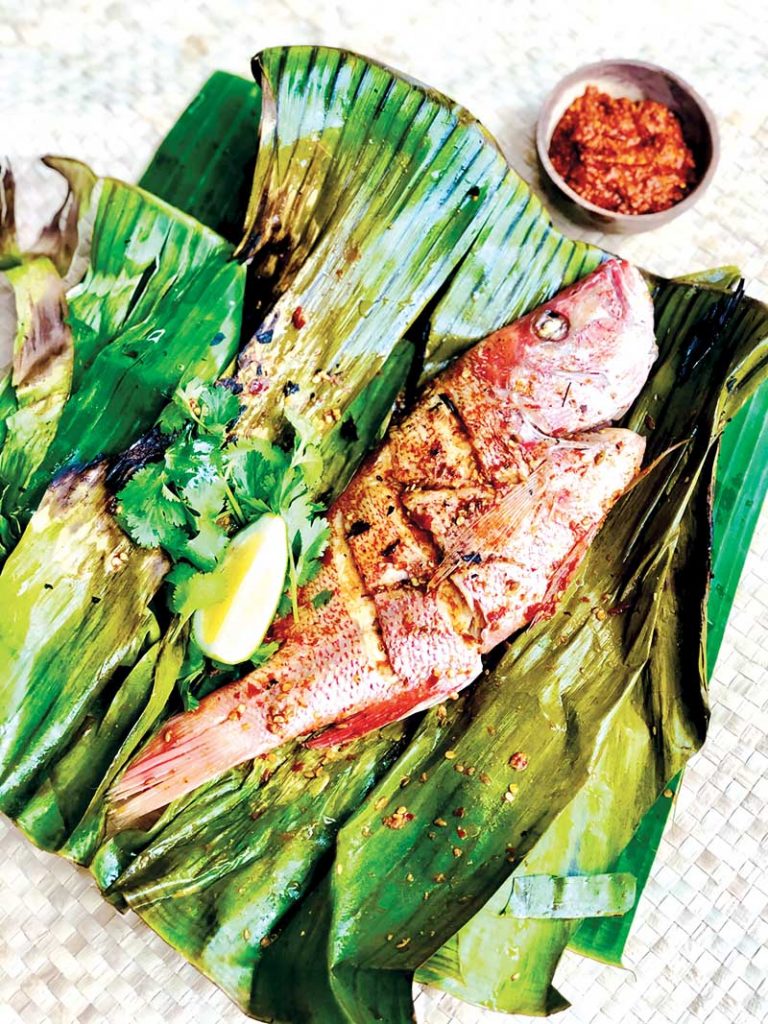 Harissa is a mixture composed of roasted red or rehydrated Serrano peppers, garlic, coriander, cumin and caraway seeds. Acid in the form of vinegar or lemon juice is added, as well as some olive oil. This punchy, earthy chili paste is often used in stews or as a condiment to tagines.
This month, I am sharing my recipe for Harissa paste. You may use it as a condiment or and ingredient in whatever dish you make, but here, I used it simply as flavoring to grilled fish. The subtle earthy flavors are best highlighted when used on something as delicate as fresh fish. Enjoy the heat!
Harissa Paste
| | |
| --- | --- |
| Makes one 500ml jar | Prep Time 30 minutes |
Ingredients:
2 packed cups dried chilies
2 tbsp tomato paste
1 tbsp paprika
1 tbsp coriander seeds
1 tbsp cumin seeds
1 tbsp caraway seeds (I couldn't find caraway so I used fennel seeds)
4 cloves garlic
juice of 1/2 pc lemon
1/4 cup olive oil
1 tbsp salt
Procedure:
Remove the seeds and stems from dried chilies. Just break them in half and rub until seeds fall out.
Place chilies in a large bowl and cover with boiling water.
Once softened, drain water from the chilies and place in a food processor.
Using a flat pan, toast coriander, cumin and caraway seeds. This should take about 2 minutes.
Add all other ingredients together with the chili.
Process until you get a smooth paste.
Place in a sterilized jar and top off with more olive oil then cover until ready to use.
Easy Grilled Snapper with Harissa Paste
| | | |
| --- | --- | --- |
| Serves 4 | Prep Time 2 minutes | Grilling Time 30 minutes |
Ingredients:
1 pc whole red snapper, scaled and cleaned
2 tbsp harissa paste
1 pc lemon
salt to taste
coriander leaves for garnish
banana leaves for wrapping
coals for grilling
Procedure:
Make slits on the flesh of both sides of the snapper. Season with salt and a squeeze of lemon juice.
Rub harissa paste all over snapper.
Wrap in banana leaves and then grill over charcoal.
Garnish with lemon wedges and coriander leaves.
Hits: 167