Have A Guava
---

---
Native to Mexico and Central Americas, Guava is a tropical fruit that has unique flavor, taste, and health-promoting qualities. Because of its high profile nutrients, it is often called "super-fruit."  The fruit is soft when ripe and its flesh varies in color depending up on the cultivar (white, pink, yellow, or red) Ripe guava have rich flavor with sweet-tart taste. Each fruit contains many tiny, semi-hard edible seeds. Because of its high pectin level, guavas are used to make candies, preserves and jams. Guava is low in calories and fats. It contains vitamin C, minerals and antioxidant poy-phenolic and flavonoid compounds that play a vital role in cancer prevention and anti-aging. It is also a good source of soluble dietary fiber, which helps protect from cancer-causing chemicals in colon. Guava is also a very rich source of potassium-more than other fruit like banana- that helps control heart rate and blood pressure.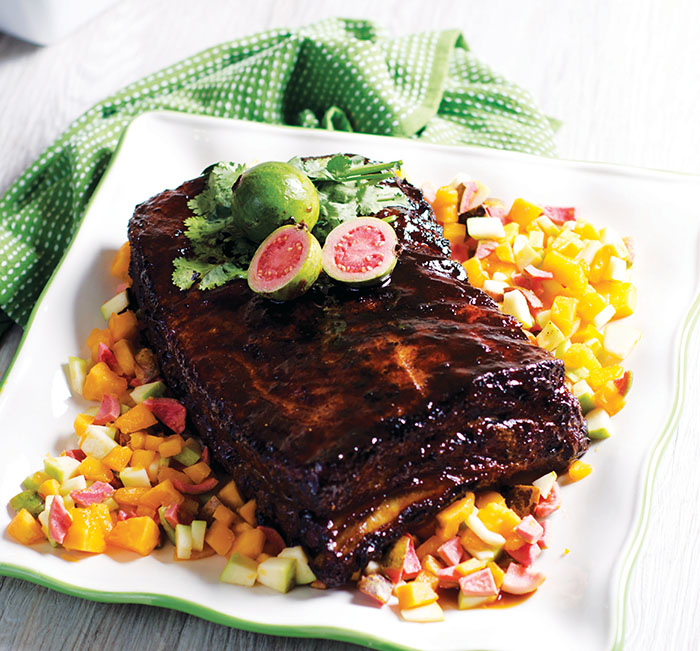 GUAVA-GLAZED RIBS
1 kg pork or beef ribs (slab)
1 tbsp olive oil
1/2 tsp cayenne
1 tsp paprika
1 tsp garlic powder
salt and freshly ground pepper
cilantro leaves, for garnish
GUAVA GLAZE
1 cup guava jelly
3 tbsp soy sauce
3 tbsp Worcestershire sauce
1/4 cup orange juice
3 tbsp water
Marinate ribs with cayenne, paprika, garlic powder, salt and pepper for at least 2 hours in chiller.
Prepare glaze by mixing all in a small sauce pot, simmer in low heat until reduced to 3/4 Set aside.
Pre heat griller, and place ribs on top. Grill both sides and just before you are ready to remove meat from heat, liberally spread the glaze on all sized of the slab and grill for another minute or two.
Remove from griller and rest for 5 minutes.
SERVE WITH GUAVA-PAPAYA SALSA
To make Guava Papaya salsa, combine 1 cup of papaya cubes and 1/2 cup sliced guava (scrape off seeds).
Squeeze 1/2 lemon.
---
WANT TO KEEP UPDATED?
Join us on our newsletter!
[wysija_form id="2″]
Hits: 166