The ABCs of Southern BBQ
There's this new-ish show on TV called Man,Fire,Food. The show's host, Chef Roger Mooking, goes around the U.S. to experience and learn about traditional, basic ways of cooking with fire. From Spanish/ Mexican barbecue pits called barbacoa (where barbecue comes from), to Argentinian-style parilla, to clam bakes and Southern U.S. whole hog barbecue, the episodes all have one thing in common—they are all cooked low and slow over fire.
Cooking over wood has always been appealing, especially to men. Maybe it comes from our caveman instincts, our discovery and fascination with fire. I've always wanted to try to build my own smoker, and my brother-in-law, Richo is even more passionate, reading up and researching on barbecue techniques and legendary barbecue places and pit masters in the U.S. The main obstacle though has always been sourcing wood, the traditional smoking woods like hickory and mesquite. There could be local alternatives but trying and testing them would be too tedious so we often end up just watching TV and drooling.
Barbecue isn't uncommon to us here in the Philippines. Most neighborhoods have a few isawans and bbq stands dotted all around them. Strictly speaking, what we call barbecue is really grilling—quick cooking over high heat, typically charcoal. What we don't really have is authentic, American-style barbecue, the ones which smoke the meats for hours and hours using hardwood and/ or fruit tree wood. Hickory, mesquite, apple and cherry woods, even oak is used to smoke in the southern U.S. Proper barbecue doesn't use wood chips over a gas grill like we see in some shows. Real barbecue starts with logs, broken down to
manageable pieces, lit-up and tended to maintain an even low temperature. The meats to be barbecued are placed on top or on the side, cooked anywhere from 6-12 hours not by fire or searing heat, but by hot smoke. This creates a juicy, tender, deep flavored piece of meat with that all-telling smoke ring, a pink layer under the surface of smoked meat which can't be replicated if you simply bake and baste your meats with barbecue marinade-turned-glaze.
Barbecue isn't uncommon to us here in the Philippines. Most neighborhoods have a few isawans and bbq stands dotted all around them. Strictly speaking, what we call barbecue is really grilling—quick cooking over high heat, typically charcoal.
A lot of restaurants offer "BBQ" in the country. Their versions are typically braised or baked meats, finished on the grill while being basted with some sauce. Those who try to be a bit more authentic smoke their meats for a few hours toward the end of cooking for the meats to get the smoked aroma. There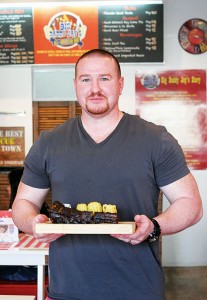 is also a restaurant which smokes meats using a brick oven. But in my search for a real smoker, I discovered a place in Cubao that smokes meats South Carolina style— Big Daddy Jay's.
On our initial visit to Big Daddy Jay's, we were met by one of the owners, Ian Cruz. As we parked, we noticed two smokers right out front, a confirmation that they indeed smoked their meats. At last, I told myself, a real smoker! I no longer have to bear watching smokehouses on TV and can finally see and taste the real thing. As I chatted with Ian, I discovered how they started and what else they have in store for barbecue fans in the metro. Below is our interview with Ian Cruz, a trader by profession:
Can you tell us briefly about your company? Also, who is Big Daddy Jay?
The corporation is called CRLS which is an acronym of our last names; Cruz, Ridgway, Lopez, and Sulapas. With the exception of Mr. Sulapas, we are all siblings with me as the eldest, then my sister who is based in the US named Famela, and our youngest sister Ada. Big Daddy Jay, a U.S. Airforce serviceman, is actually my brother-in-law,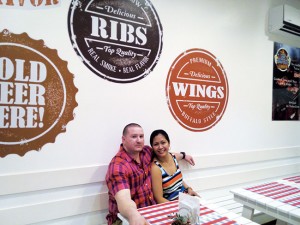 married to my middle sister Famela. The restaurant is named after him because the recipe for our smoked ribs is primarily his. Jay was born in the mid-west by way of Missouri and spent a good amount of time in the South when he lived in Charleston, South Carolina. The way we smoke our ribs is very much reminiscent of how they do it both in the Southern region of the US fused with midwestern flavors.
What pushed you to finally decide to make your BBQ into a business? Any difficulty initially?
We wanted to offer something unique to the Philippine gastronomic scene. Typically, when pinoys hear the word "barbecue" the quick reference is always skewered meat that is cooked over a grill. True barbecue in the US refers to smoked meats primarily, whole hogs, brisket (beef), pork ribs, and sausage links. Slapping the meat on the grill is typically the last part of the process. The smoky flavor profile comes from a long and slow process of smoking which infuses it with its distinct flavor. My brother-in-law Jay would always serve us his smoked ribs whenever we would visit them, and it's always the star of the dinner party! We all decided that this is the flavor profile that is missing in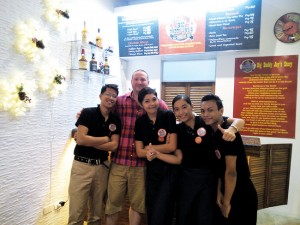 our very diverse and bustling culinary scene here in the Philippines. Our other counterparts that also offer ribs do not go through the whole smoking process. A lot of these other rib places basically par-boil the meat – which is really a travesty when you're dealing with barbecue; and then finish it off on the grill. The intense, deep, smoky flavor is not present. We take the time to rub our ribs and let it sit overnight, then smoke it anywhere from 6-7 hours – a true labor of love!
Initially, the difficulty was creating the smoker and finding the right cut of ribs. The fat-to-meat ratio is very important in the smoking process. You get ribs that are too lean and you end up with dry piece of meat. Too fatty, and you're not going to be able to seal in the flavor. Finding the right kind of wood to use for smoking also posed as a challenge during R&D. Since mesquite and hickory are the primary woods that are used in the US, it took a lot of trial and error to find the right wood that was comparable that we can source locally. Finally, all the pieces came together, and the rest as they say is history!
As one of the few, or the only source of proper smoked ribs in the country, is there a plan of educating locals who are used to the baked or boiled then grilled and basted BBQ?
Do find an increasing number of locals who know or search for real BBQ? It would be great to let everyone in on how we smoke our meats but then we would be out of business! : ) Plus, I think it would be more fun for the consumer to let us put in all the sweat equity, and you guys can just reap the delicious benefits of all that we do! But should the customer really want to see how the smoking is done, they can visit Cubao on Mondays (smoking day).
In the beginning, we were quite surprised that that we almost garnered sort of like a cult following among foodies. It's always a great feeling when all of your hard work is appreciated. Our customer base has dramatically increased from when we started participating in food bazaars, to actually having our first store front in Cubao , to now having another branch in BF Homes Paranaque (169 Aguirre Ave) for our foodie fans in the South. I think that with our presence in the culinary scene, we were definitely able to offer an alternative to the usual "tuhog" barbecue. What Big Daddy Jay's brings to the table is a unique American barbecue experience. Our slogan says it all: our ribs are "hugged by smoke, licked by fire, and kissed by sauce". This is what authentic American barbecue is all about.
Can you describe your product and the general steps in making them?
It all starts from the rub which consists of your typical barbecue staples: salt, pepper, and brown sugar + other spices. Our ribs are twice-rubbed and sits for 24 hours. Then they go in our smoker anywhere from 6 to 7 hours. We use choice cuts of wood to create the unique smoky flavor that our ribs have. Smoked meats are always going to have a dark exterior just because of the physics of it all. In the beginning, folks thought the exterior was "sunog". What you actually see is what's called a "bark". That bark is all the rub that has beautifully caramelized on the meat. Underneath the bark is a "smoke ring" which is only formed if the ribs were cooked low and slow in a smoker.
Any upcoming products we should look forward to?
We are constantly working on new menu ideas that will complement and not take away from the star of the show – our ribs! We are working on perfecting our brisket and are looking to add more to our arsenal of wing flavors (currently we have 5). Down the line, we are also thinking of maybe introducing some Cajun and Creole flavors to the menu, since my sister Famela makes killer Jambalaya, gumbo, and etoufee! We don't just add things to the menu because there is a new food obsession creeping up, or just for the sake of offering variety. We spend a lot of time sourcing out ingredients and testing out recipes because we want to stay true to our original mission – to offer an authentic barbecue experience without having to travel to the States.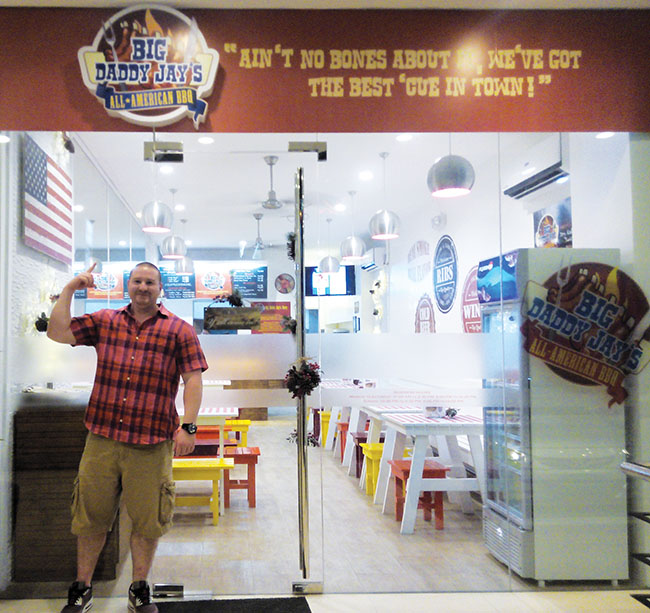 Big Daddy Jay's is at #61B 17th Avenue, Cubao, Quezon City (near P. Tuazon) and 169 Aguirre Ave., BF Homes Parañaque. Visit their Facebook page at https://www.facebook.com/BigDaddyJayBBQ  BIG Daddy Jay's All-American BBQ.
Source: Pages 6 – 11 of Cook Magazine March 2015 issue.
---
WANT TO KEEP UPDATED?
Join us on our newsletter!
[wysija_form id="2″]
Hits: 84