Summer Sea-viche
---

---
You will probably find a avocado a curious ingredient in this ceviche, but this is something quite common in Latin countries like Mexico and Ecuador. The addition of Sriracha will also give it a savory kick.
It also makes us think this is something worth trying in our own local kinilaw recipes, where you balance heat with a touch of creaminess. This classic combination of shrimp and avocado really evokes the summer sea. In the other recipe we combined the octopus or pulpo on Spanish with olive oil and sili, although you could really mix and match these recipes to see what works for you. One thing's for sure, a whiff of this and you're definitely sea bound.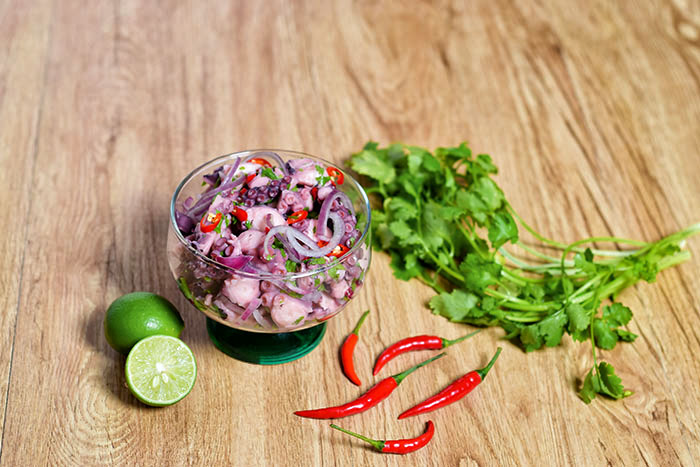 Pulpo Ceviche
1/2 kg octopus, cooked
1 pc red onion (small), thinly sliced
3/4 cup lime juice plus 1/8 cup to pickle onions
3 tbsp cilantro, chopped
2 tbsp olive oil
Salt and pepper to taste
Sili labuyo, thinly sliced (optional)
Cut octopus into small pieces.
In a bowl, place onions and add salt and cover with warm water. Let stand for 10 minutes. Drain and rinse well.
Place the octopus in stainless or wooden bowl, add lime juice, 1/2 of the onion, sili labuyo (optional), season with salt and marinate for not less 2 hours.
In a separate non-reactive bowl, place the remaining onions, add 1/8 cup lime juice and a pinch of salt. Marinate for not less than 2 hours.
To assemble, Combine the marinated octopus and pickled onions, olive oil, cilantro and mix well.
Transfer into serving plates.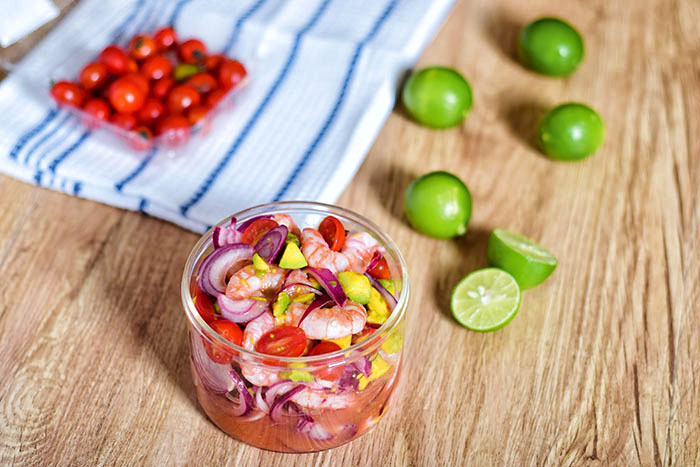 Shrimp and Avocado Ceviche
1 kg shrimp (large), peeled deveined and chopped
3/4 cup lime juice, fresh (or 1/2 cup calamansi)
5 pcs tomatoes, diced
1 pc onion (white), chopped
1/2 cup cilantro, chopped
1 tbsp worcestershire sauce
1 tblsp sriracha
1 tsp pepper sauce or hot sauce
1 pc avocado, peeled, pitted and diced
Salt and pepper to taste
Place the shrimp into a large bowl.
Add lime juice and stir. Let stand for about 5 minutes or until shrimp are opaque.
Mix in the tomatoes, onion and cilantro until coated with lime juice.
Cover and refrigerate for 1 hour.
Just before serving, mix in the avocado, Worcestershire, ketchup, sriracha, hot sauce, salt and pepper.
Serve with crackers.
Hits: 190