Let's Go To The Beach
---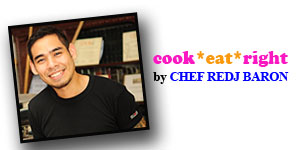 ---
Every summer, my family and friends would always think of something to make the lazy days of vacation a little more extravagant. Up until now, the most common yet fun idea that we always agree on is to go to the beach. We would plan a month before where, when and of course, what to fill our bottomless pit tummies. Aside from being the reliable driver, I am also the cook! For many years, I've devised many recipes, and so far, these two are one of the dishes they enjoyed very much!
Crispy Ox Tripe with Light Pickled Experience
This dish made ox tripe a bit more interesting. Instead of preparing tripe the usual way, why not give it some character and provide the tasters a dash of excitement? I am certain that a lot of people will ask, "How can it be crispy when it is pickled?" I want to give the tripe the tang of the kilawin. But before that, you have to boil the tripe for 2-3 hours (or until tender). Then apply the magic! May you all have a smashing experience with this appetizer.
1/2 k ox tripe
3 pcs White onions (quartered)
1 pc bay leaf
1 tsp whole black peppercorn
water (as needed)
salt to taste
Combine all ingredients in a small stock pot and bring to a simmer.
Cover with lid and simmer for 2-3 hours (or until tender)
Drain excess water.
Meanwhile, make the kinilaw experience.
The Beach Impaled Chicken
My friends just can't stop requesting for this dish every summer. It is very simple and very Filipino as well. A typical food you'd serve with a bottle of beer or several shots of brandy. I always pair it with grilled tomatoes to give the chicken skewers a juicy-sour partner that will breakdown the strong flavor of the marinate.
300 g chicken thigh fillet (cut into cubes)
300 g chicken breast fillet (cut into cubes)
5-8 barbecue sticks (soak in water for 10 min.)
Marinate
3 tbsp soy sauce
1 tbsp calamansi juice
2 tsp of minced lemongrass bulb
2 tsp minced garlic
1/4 tsp ground turmeric
1 tsp sugar
salt and pepper to taste
Combine marinate and chicken.
Let it rest in the chiller for 15-30 min.
Carefully impale chicken using the skewers.
Grill each side until done.
The Kinilaw Experience
2 red onions (cut into thin strips)
2 tsp minced garlic
30 g ginger (cut into strips)
2 pcs finger chilies (cut diagonally)
1-2 pcs chili labuyo (cut diagonally)
1 1/2 cup vinegar
2 tbsp (or more) sugar
salt and pepper to taste
flour (as needed, for dredging
oil (for deep frying)
Combine all ingredients. Season to taste.
Add ox tripe and marinate with the "kilawin experience" for 15 min.
Dredge in flour and deep fry (at high heat) until crispy.
Serve with pickled ingredients on the side.
Hits: 137