Going Scottish on Eggs
By Chef Dino Datu | Photography by Michael Anthony Sagaran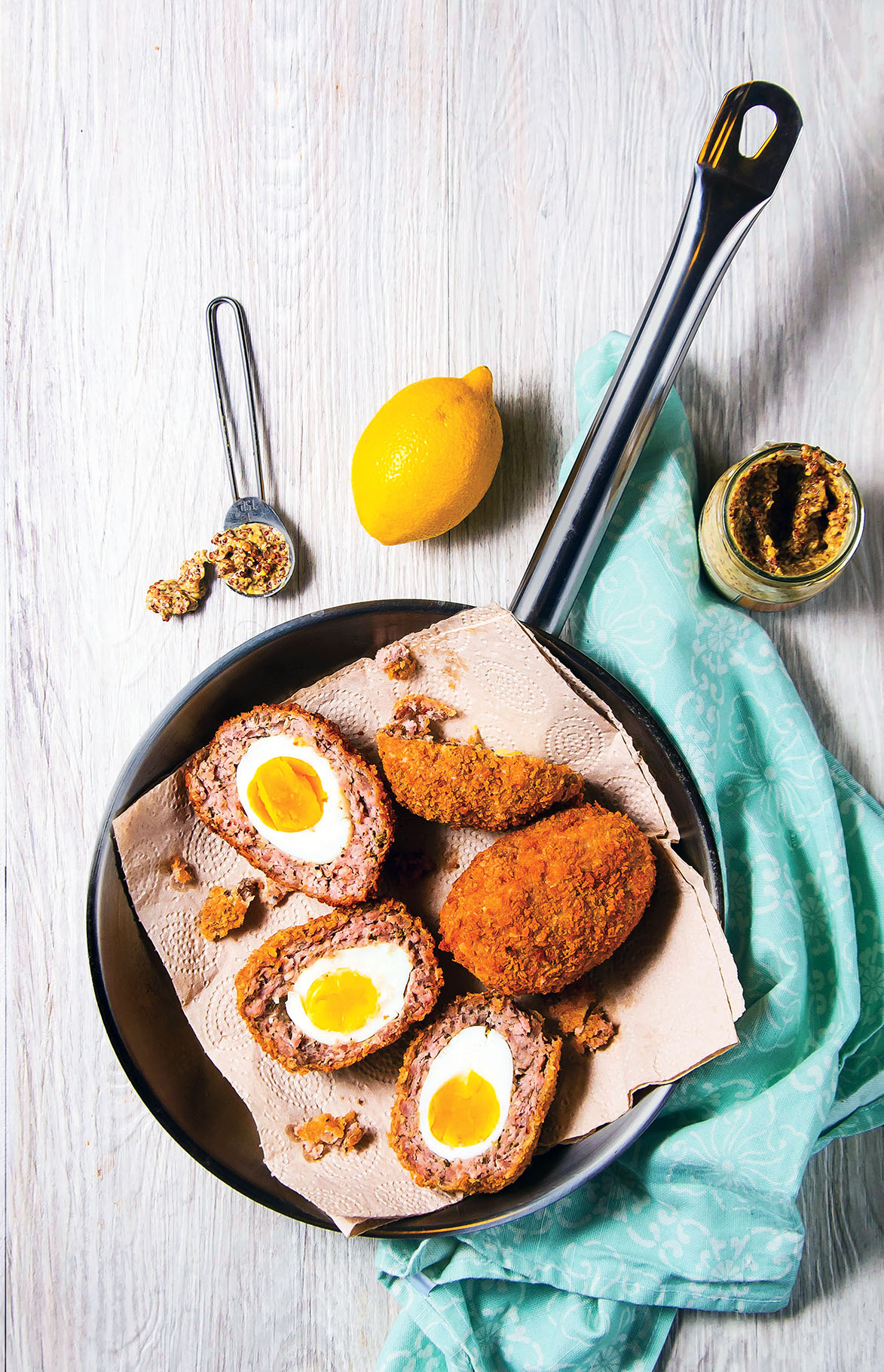 A popular picnic food in the UK and with some variations, across Europe, Scotch eggs aren't widely known here. I've always wondered why, considering the two main ingredients, eggs and sausage are universally loved foods.
Being the new year and trying to think of a cover for our January issue, I wanted to do something with eggs, which symbolizes beginnings, that I haven't tried before. I knew the hard part would be getting the eggs to the right doneness, and this can or can't be problematic. If you don't mind the eggs fully cooked, then you're in for a breeze. But if like me, you like your yolks semi-soft and sticky or runny, then you have a few things to watch out for.
Boiling eggs is not that difficult. The best way I found, is to place eggs in a pot of cold water, bring the water to the boil and shut the heat off. Then, depending on the doneness you'd like, take the eggs out of the hot water at certain intervals. 10 minutes in the hot water gives you a fully, but not overcooked (no grey sulfur ring around the yolk) yolk. Six minutes gives you the creamy, paste-y yolk I like. Four gives you runny yolk with set white and two minutes gives you soft white and liquid yolk. For this recipe, given that you will need to peel the eggs and then cook it further, I suggest going for the "four minute" ones.
Now with the sausage, you can be quite liberal with what spices you'd like. I put the classic ones but feel free to experiment. It can be as plain as salt and pepper or as creative as adding dried fruits or even grated apples. My mix includes garlic, pepper flakes, black pepper, sage and anise seeds. Caraway, cinnamon, cumin, coriander seeds and paprika are a few other common spices found in sausages so I suggest trying a small batch and cooking and tasting until you get the mix you like. After that, it's just the usual flour, egg, breadcrumb coating and you're frying.
I hope you try this simple but delicious recipe which can be eaten hot or cold, with a bit of mustard or on its own. Happy new year!
My Scotch Egg
Ingredients:
6 eggs
1 kg ground pork
1 tbsp black pepper
1 tbsp red pepper flakes
1 tbsp dried sage
1 tbsp anise seeds
2 tbsp salt
2 tbsp minced garlic
For the breading:
1 cup flour
2 eggs, beaten
1 1/2 cups breadcrumbs
oil for deep frying
Procedure:
Place eggs in a pot, cover with cold water and boil. Turn heat off and leave in the hot water for 4 minutes. Carefully remove eggs from hot water, plunge into a bowl with ice water to stop cooking and peel very carefully.
Using a food processor, pulverize sausage seasoning. Add half of the ground pork, and process until well combined. This will result in a sticky, smooth paste. Remove from the food processor and mix with plain ground pork by hand.
Form a thin patty with the sausage mix. Place the egg in the center and wrap egg with sausage mix. Make sure not to make sausage coating too thick so it cooks quickly enough to avoid having raw pork with burnt breadcrumbs.
Dredge "egg" in flour, dip in egg wash and coat with breadcrumbs. 5 Fry in medium-low heat for around 4 minutes, until breadcrumbs turn golden. Drain on kitchen towels and serve hot or cold.
Hits: 142