Level Up Your Home-Cooking Game with these Tried and Tested Recipes
MANILA, Philippines – After more than a year at home, we have undoubtedly cooked our own meals more than ever. We've tried all the quarantine food trends, which have brought out the inner chef in many of us. Cooking at home has become a creative outlet and a source of comfort in the new normal.
If you love cooking food as much as you love eating, why not up your cooking game and add some much-needed variety to your everyday menu? Get inspired by these tried and tested recipes from expert home cooks made with Royal Umbrella Rice that you can recreate at home!
1. Kare-Kare by @tastydelightsph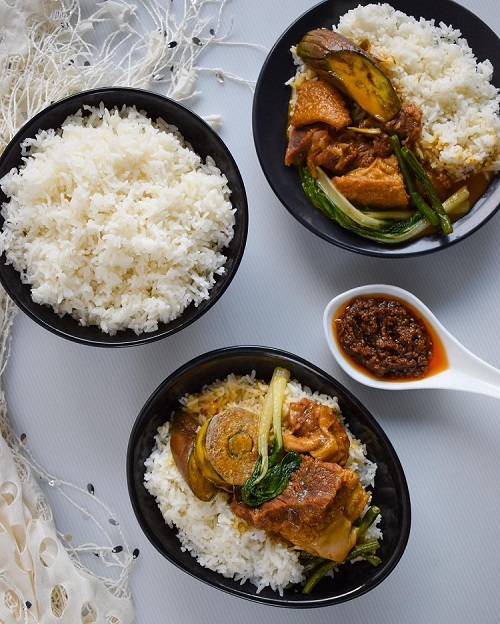 Ingredients:
1 kg oxtail, sliced, 2 inches thick
1 kg pork hocks, sliced, 1 inch thick
6 cups water
Salt and black pepper
¼ cup oil
2 tbsps Annatto oil
¼ cup garlic, minced
2 onions, diced
½ cup shrimp paste
1 cup ground peanut
1 cup ground toasted rice
4 pcs eggplant, sliced
1 bundle string beans, cut 2 inches long
1 banana blossom, sliced
Procedure:
Boil the oxtail and pork slices with salt and black pepper until tender. Then, set aside the broth.
In a separate pot, heat oil, annatto oil and sauté garlic, onion, shrimp paste, ground peanut and ground rice.
Pour in the reserved broth and boil.
Add the boiled meat and simmer for 15 minutes.
Add the vegetables and cover.
Turn off the heat and allow the residual heat to cook the vegetables.
Serve with Royal Umbrella Rice with sautéed shrimp paste on the side and enjoy!
2. Pork Binagoongan sa Gata by @mommy.issa325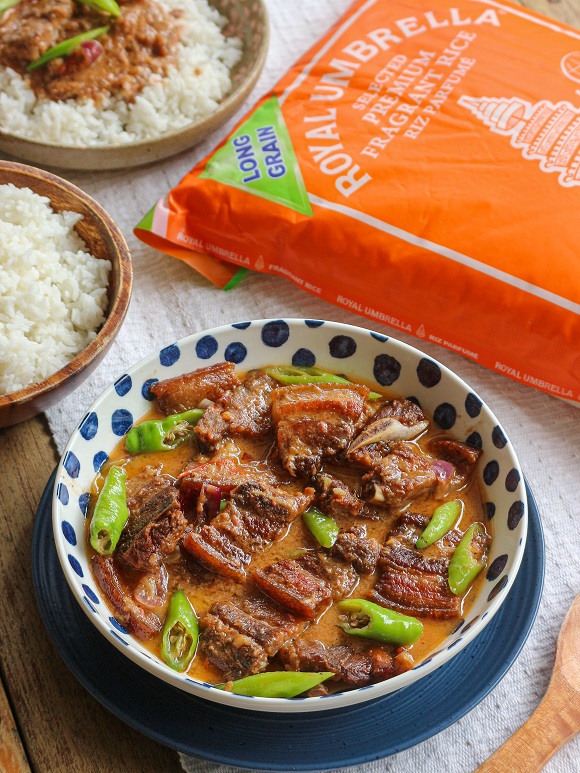 Ingredients:
¾ kg pork belly, sliced into 2 inch cubes
1 cup coconut milk
½ cup coconut cream
3 to 4 tbsps ginisang bagoong alamang
1 medium onion, sliced
4 garlic cloves, chopped
1 thumb-size ginger, sliced
4 pcs green chili peppers
2 pcs red chili
1 tbsp white vinegar
2 tbsp sugar
2 laurel leaves
1 tsp ground black pepper
Procedure:
Saute ginger, garlic, and onions in oil.
Add pork belly slices and cook until they begin to brown and render fat.
Add bagoong alamang and stir well.
Add sugar, vinegar, pepper, and laurel leaves.
Pour in coconut milk. Simmer until pork is tender.
Add in coconut cream. Simmer in low heat for a few minutes until the sauce thickens.
Add red and green chilis.
Serve over warm Royal Umbrella Rice.
3. Butter ChickUn by @lifewithaua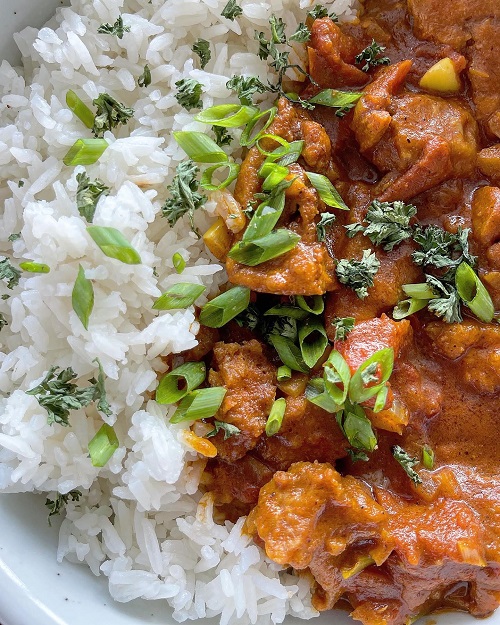 Ingredients:
For the ChickUn
1 block of firm tofu
4 tbsp cornstarch
1 tbsp potato starch
1 tsp salt
1 tsp pepper
1 tsp garlic powder
1 tsp onion powder
2 tbsp olive oil
Procedure:
Press and drain the block of firm tofu. Freeze overnight.
On the day you will cook: Thaw the tofu. Drain and press the tofu again to create a spongier texture.
Dry well and then tear into bite sized chunks.
Toss in the fry mix then drizzle the oil and toss again.
Bake or air fry in a preheated oven at 200C/392F for 25-30 minutes. Set aside.
For the sauce
3-4 tbsp vegan butter
1 medium onion, chopped
1 tbsp ginger root, minced
1 labuyo chili (or more if you like it spicy!)
2 tomatoes, chopped
3 garlic cloves, sliced
2 tsp garam masala
1 tsp curry powder
½ tsp paprika
1 tsp ground coriander
4 tbsp tomato paste
1 tbsp soy sauce
2 cups coconut milk
Salt and pepper to taste
Cooking Directions:
In a heavy bottom saucepan, melt the butter over medium heat. Toss in the onion, ginger, and chili. Cook down until soft.
Add in the chopped tomatoes and cook down.
Add the garlic and the spices and mix well.
Add in the tomato paste and cook for another 5 minutes. Add the soy sauce and mix.
Pour in the coconut milk. Mix and simmer for another 5 minutes.
Mix in the cooked chickUn.
To serve, garnish with chopped parsley and spring onions over warm Royal Umbrella Rice and enjoy!
Royal Umbrella Rice is meticulously selected and processed to ensure the highest quality. It's chemical and contaminant-free which is why it's the preferred choice among Filipino homecooks.
Follow Royal Umbrella Philippines on Instagram and Facebook for more delicious recipes! Royal Umbrella Rice is currently available in all supermarkets and online through LazMart by Lazada. Prices start at P350.00.
Get In Touch
CENTAUR DIGITAL MARKETING PH INC.5th Floor Cacho-Gonzales Building
101 Aguirre Street
Makati City, 1229 Philippines
TELEPHONE:Philippines: +63 2 7 218 5613
USA: +1-917-530-5763
EMAIL:info@centaurmarketing.co
Hits: 283