Oriental Chicken Wrap with Orange Ginger Dressing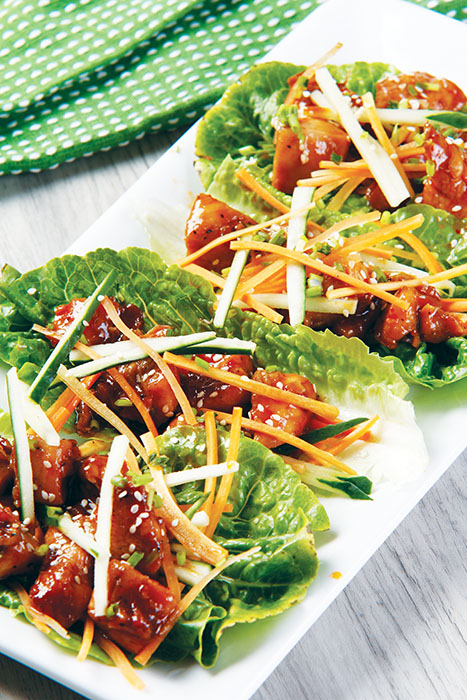 Ingredients:
Chicken Marinade:
1kg chicken thigh, cut into cubes
3 tbsp sesame oil
1 tbsp sugar
1 tbsp light soy sauce
1/2 tsp pepper
Combine all ingredients and marinate for at least 2 hours.
Stir-Fry:
vegetable oil
1 tbsp garlic, minced
1 tbsp ginger, minced
2 tbsp rice wine
1 tbsp Hoisin sauce
1 tbsp Oyster sauce
1 tbsp chili sauce
juice and zest of 1 lemon
In a wok, over high heat, sauté ginger and garlic until aromatic. Add marinated chicken and the rest of the ingredients. Stir-fry until chicken is cooked (about 3 minutes)
Dressing:
juice from 1 orange
1 tsp orange zest
1 tsp ginger, grated
2 tbsp rice vinegar
1 tsp honey
1/4 cup olive oil
salt and pepper to taste
Whisk all ingredients in a bowl. Set aside
To serve:
lettuce leaves
carrots, julienne
cucumber, julienne
toasted sesame seeds
spring onion, thinly sliced
To assemble:
Place individual leaves in a plate. Add carrots, cucumber and cooked chicken. Sprinkle sesame seeds and garnish with spring onion on top. Serve dressing on the side.
Hits: 190