Filling Good
---

---
Ravioli is one of the quintessential pasta dishes you should know how to make because you can stuff anything inside of it and it's going to look special. The ingredients for making ravioli can be mixed and matched, but I prefer the one that I'm going to share with you because I love eating sausages and cheese. I also paired it with spinach, so it feels healthy.
For this recipe, I used red sauce because I like the acidity and spice that compliments the flavor of the sausage, but you can also serve this with a cream sauce. Raviolis are extremely versatile; if you want to omit the meat, you can fill it with vegetables to make it a vegetarian ravioli. You can fill it with pumpkin and mushroom sautéed in brown butter with sage and it would be delicious.
So, master this recipe and tweak it to fit your personal taste. I would love to hear about how you made this dish, so hit me up on Facebook (Chef Bruce Lim) and Instagram (@chef_bruce_lim) for your comments or thoughts on this recipe. Enjoy!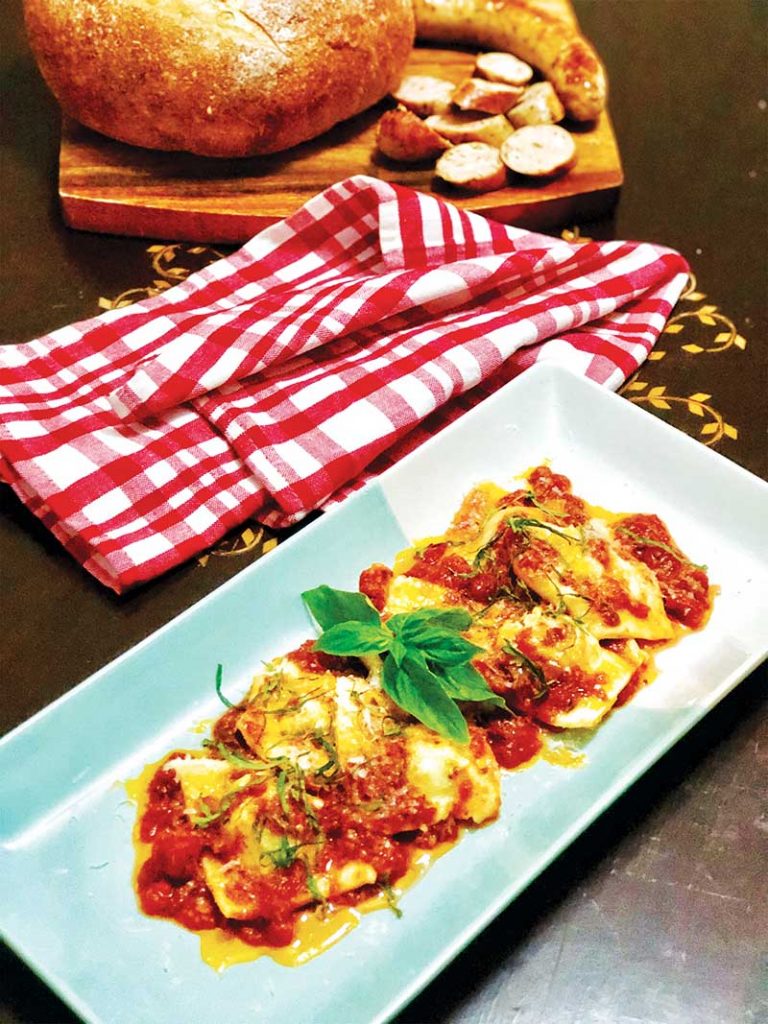 Italian Sausage Ravioli in Red Sauce
| | | |
| --- | --- | --- |
| Serves 4 | Prep Time 1 hour | Cooking Time 15 minutes |
Ingredients:
Filling
300g Italian sausage (casing removed)
150g blanched spinach (squeezed weight)
75g Ricotta cheese
30g breadcrumbs
1 pc large egg
30g olive oil
salt and pepper to taste
Pasta
3 pcs large eggs, beaten
2 cups all-purpose flour     
1 tbsp olive oil
1 tsp salt
Sauce
500g canned diced tomatoes
10g chopped garlic
1/2 tsp dried oregano
2g fresh basil
100g chicken stock
50g olive oil
1/2 tsp chili flakes
salt and pepper to taste
Procedure:
In a large bowl, place all filling ingredients together and lightly mix. Chill to firm up mixture.
To make the pasta, place flour in a large bowl and make a well. Pour in egg mixture and salt and 1 teaspoon of oil. Mix it until it forms into a firm ball and it comes away clean from the bowl.
Rub remaining oil over the dough ball and let it rest for 30 to 45 minutes.
After resting the dough, roll it into long sheets. It should be 4 inches in width and 1 foot long.
Place 1 teaspoon of filling per 2 inch square. Flip dough over and seal.
Cut it into pieces and dust with flour. Place it in the chiller to firm up.
To make the sauce, sweat garlic in a pan for 2 minutes.
Add tomatoes and chicken stock. Simmer for 5 minutes.
Add oregano and season with salt and pepper.
In a separate pot, cook ravioli in boiling water for 5 minutes and drain.
Toss cooked ravioli and basil into the sauce.
Serve.
Hits: 147