Get Cracking
---

---
Pasta dishes are a common offering in most restaurants. At home, it serves as a quick and filling alternative on days that we need a break from the typical rice and viand meals. What most people don't seem to realize is that just as any staple, pasta can go with almost anything. You need not limit yourself to the traditional and commonplace. It used to be that the word pasta automatically reminded one of Spaghetti Bolognese or a version of it. Growing up in the 80s, the pasta choices were quite limited to spaghetti with meat sauce, baked macaroni or lasagna. In the 90s, we were introduced to options like pesto, putanesca and carbonara.
As the years went by, some classics have remained, but are now joined by truffle, aglio olio, and a few more standard offerings. While some of these may be relatively new in our shores, these dishes have existed in Italy for decades, some even centuries. What I don't see too often are pasta being treated as rice would be—as an accompanying carbohydrate to a protein. Imagine fried chicken with rice and gravy. We don't normally see pasta as a "with", it normally is a dish on its own.
For this month's recipe, I've decided to use pasta more like a partner rather than the main attraction itself. While aglio olio (garlic and olive oil) could stand on its own as a dish just mixed spaghetti, I have decided to use the same garlic noodles with something we don't often see with pasta—whole crabs. Popularized by Thanh Long, an Asian restaurant in San Francisco, crabs with garlic noodles is a great dish to share with family and friends. The garlic noodles, although great on its own, is the perfect accompaniment to the luscious crab. The dish is pretty simple to make and takes advantage of the abundance of sweet fatty crabs we have locally. While plain steamed crabs with a vinegar dip and steamed rice is pretty good already, I hope you try this recipe and discover a whole new set of flavors, and add it to your repertoire of crab dishes.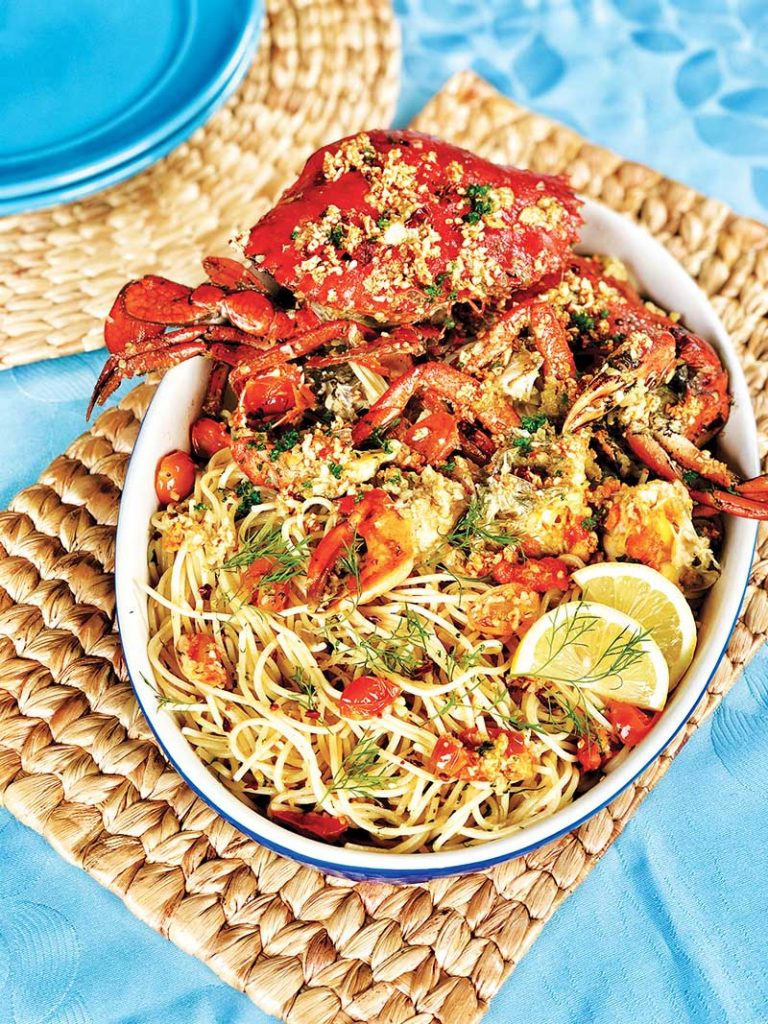 Crabs with Garlic Noodles
| | | |
| --- | --- | --- |
| Serves 4 | Prep Time 30 minutes | Cooking Time 10 minutes |
Ingredients:
2 pcs large female crabs
4 heads of garlic, minced
250g spaghetti
12 pcs cherry tomatoes, sliced in half
1/2 cup cooking oil
1/2 cup olive oil
2 tbsp butter
1/4 cup white wine
1 tbsp chili flakes
1 bunch dill, chopped
1 bunch parsley chopped
2 tbsp lemon juice
salt to taste
lemon wedges to serve
Procedure:
Steam crabs whole for 10 minutes. While the crabs are steaming, cook spaghetti till al dente. Let both the crab and spaghetti cool down to room temperature.
In a frying pan with some cooking oil, fry half the minced garlic until golden then set aside.
Once the crab has cooled down, break it down to serving pieces and crack the claws. Remove gills.
In a large pan, heat olive oil and sauté remaining garlic just until softened. Add halved cherry tomatoes.
Add white wine, butter, chili flakes and parsley and dill (leave some parsley and dill for garnish), and continue cooking for a minute.
Add crabs to the pan; toss and season with salt and pepper.
Add cooked spaghetti; toss until evenly coated with the oil and add lemon juice. Sprinkle half of the fried garlic into the mixture and toss.
Serve on a platter right away and sprinkle remaining fried garlic, parsley and dill over the whole dish. Arrange lemon wedges on the side.
Hits: 145