Not Your Usual Pasta
When we think of pasta, the first thing that comes to mind are long strands of dough, perfect for twirling, with just the right amount of sauce clinging to every noodle. A close second would be tube-shaped pastas, like macaroni and penne. After that would be flat sheets, like lasagna or the stuffed variety like ravioli or variations of the same, shaped differently and folded, pinched or otherwise like tortellini. A typical foodie could probably name at least 10 pasta varieties or more before remembering one of the least used varieties and one of the smallest ones—Risoni.
As the name suggests, Risoni is a rice-shaped pasta. Riso, rice in Italian, is usually made into risotto, a popular dish that has made its way into a lot of restaurants, even non-Italian ones. The possibilities with risotto, like pasta are endless, and one is not necessarily better than the other. Why then, would anyone want to cook and eat a rice-shaped pasta if you can use real rice to make risotto? The answer is simple—because you can and because it's good!
This month, my recipes use Risoni on familiar dishes. One is inspired by paella, with seafood and saffron. The second is a simpler but equally decadent dish with mushrooms and some parmesan and ricotta cheeses. Playing around with seldom used ingredients like Risoni opens the cook and diner to so many possibilities. What's great about less popular ingredients is that they are usually cheaper, plus they make your dishes unique. Go and find some unusual pastas the next time you're out shopping. You might find yourself enjoying the cooking and the eating just that little bit more.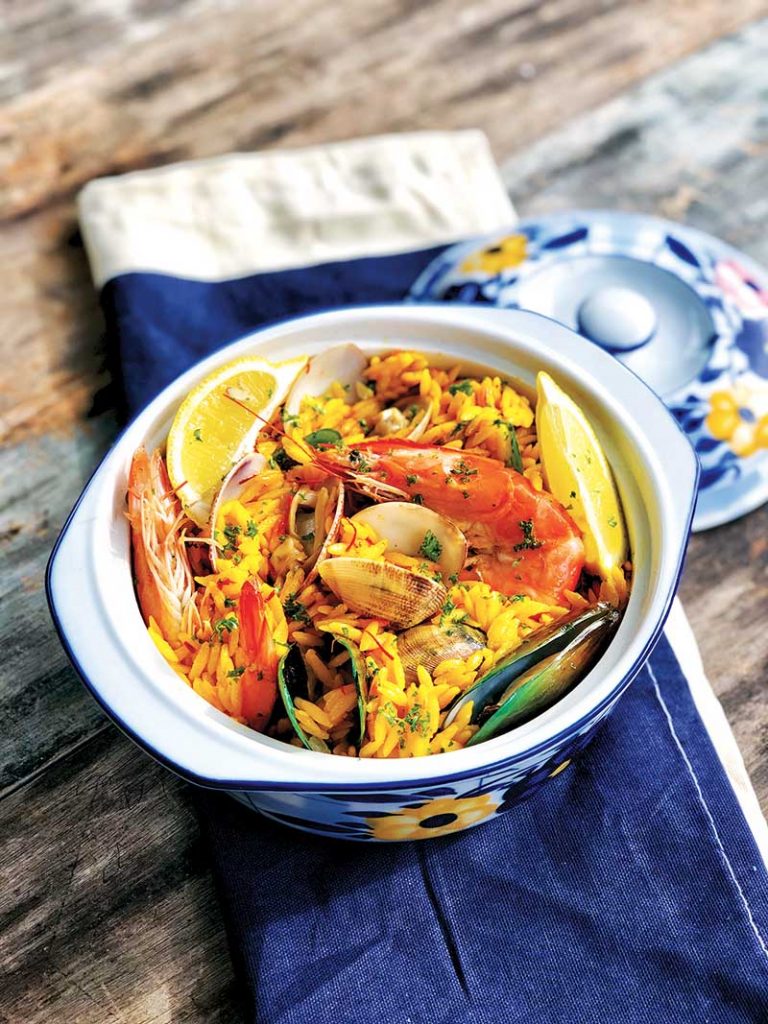 Seafood and Saffron Risoni
| | | |
| --- | --- | --- |
| Serves 4-6 | Prep Time 10 minutes | Cooking Time 30 minutes |
Ingredients:
250g Risoni pasta
500g prawns
1kg medium-sized clams
1kg mussels
4 cloves garlic, chopped
1 pc large white onion, chopped
3 tbsp olive oil
1 pinch saffron strands (about half a gram)
3 cups water
1 cup white wine     
1 smal bunch parsley, chopped
salt to taste
lemon wedges for garnish
Procedure:
Heat olive oil in a saucepan. Add onions and garlic and sauté for a minute.
Add clams, mussels and prawns and sauté for another minute and then pour in the white wine. After another minute, add saffron and water, then cover.
Once the clams and mussels have opened, turn the heat off. Remove seafood and set aside.
Check the pan for grit or sand in the bottom. If the bottom has some dirt from the shellfish, pour liquid into another pan. If it's clean, continue cooking in the same pan.
Check the broth for seasoning. Add salt only if needed.
Bring seafood broth to a boil and add Risoni pasta. Cook until the liquid is all absorbed.
Add the seafood back to the pot, sprinkle with chopped parsley and gently toss with the Risoni.
Serve with lemon wedges.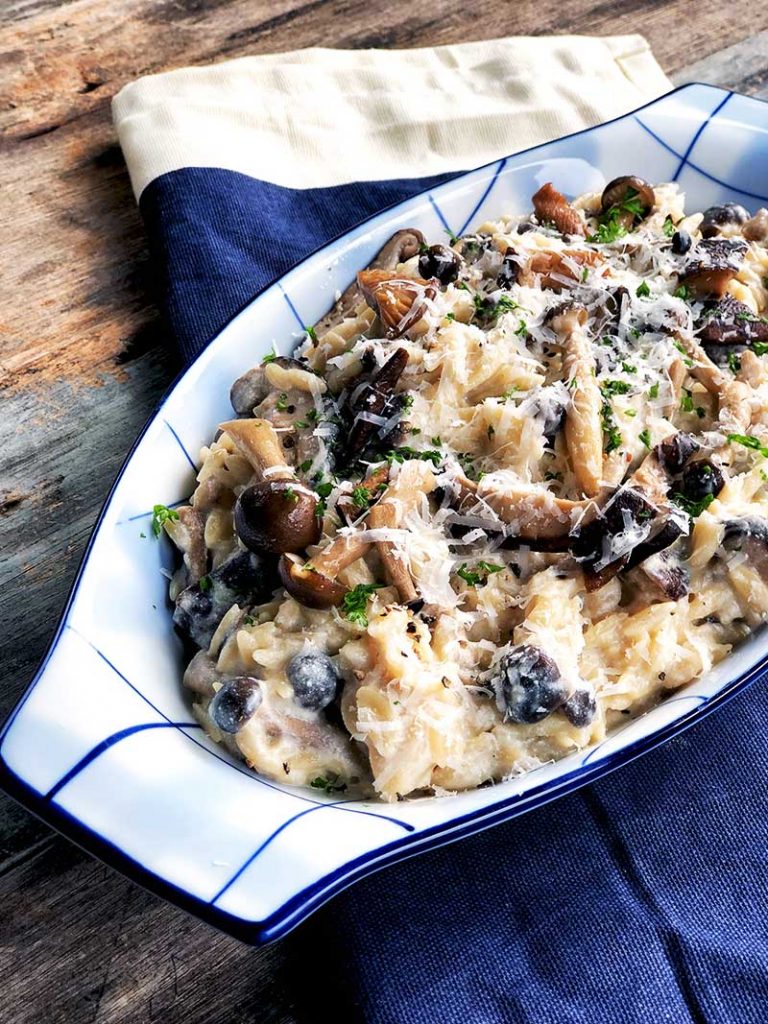 Parmesan, Ricotta and Mushroom Risoni
| | | |
| --- | --- | --- |
| Serves 4 | Prep Time 10 minutes | Cooking Time 15 minutes |
Ingredients:
250g Risoni Pasta
12 pcs dried shiitake mushrooms
4 cups hot water
12 pcs fresh shiitake mushrooms, sliced
1 tub shimeji mushrooms, sliced off the base
2 tbsp olive oil
2 tbsp butter
1/2 cup white wine
1 pc large onion, chopped
6 cloves garlic, chopped
1 cup ricotta cheese
1 cup grated parmesan cheese
2 tbsp butter
salt and pepper to taste
chopped parsley
Procedure:
In a large bowl, place dried shiitake mushrooms and soak in 4 cups hot water. Leave mushrooms to soak for 10 minutes.
Once the mushrooms have softened, take them out and squeeze the liquid into the bowl. Keep the soaking liquid.
Take stems off the fresh shiitake mushrooms and slice thinly.
In a large pan, sauté onions and garlic in olive oil and butter. Add all the mushrooms and sauté for a few minutes, until the mushrooms are cooked through. Season to taste. Remove mushrooms from the pan and set aside.
In the same pan, add wine and mushroom liquid. Simmer for a minute and add salt and pepper. The broth should be savory, not salty.
Finally, add Risoni pasta and simmer on low heat until most of the liquid is absorbed.
Turn the heat off and add butter, ricotta and parmesan, and gently fold into the pasta. Add mushrooms back, and add parsley.
Serve warm.
Hits: 158