Crinkle Chronicles
---

---
Chocolate Crinkles are one of the most enduring products out there, especially during the holidays. They're pretty easy to make, the ingredients are basic and they're usually given as gifts. For a novice baker wanting to sell something during the Christmas season, chocolate crinkles are a great starting point.
Truth be told, I've never made Chocolate Crinkles to sell. I've tried making some years ago but somehow, they've taken a backseat to other products. This year, I am planning to make some and hopefully, they sell well.
The recipe I'll be sharing is a tried and tested one. It's also pretty flexible in the sense that depending on the outcome you want, you can play around with the baking times. It is imperative though, that you chill the mixture well before portioning, and chill it again before baking. The dough/batter is very sticky but is easily workable when chilled. However, once handled or left out at room temperature, the mixture becomes very soft and sticky. If ever that happens, just put it back in the fridge to firm up.
The Basic Chocolate Crinkle recipe can be altered by adding other flavors into the mixture. You may also make crinkle sandwiches by piping the pieces with your desired flavored creams or pastes and then pressing two crinkles together. Whatever you decide on, these little morsels of chocolate are a sure hit.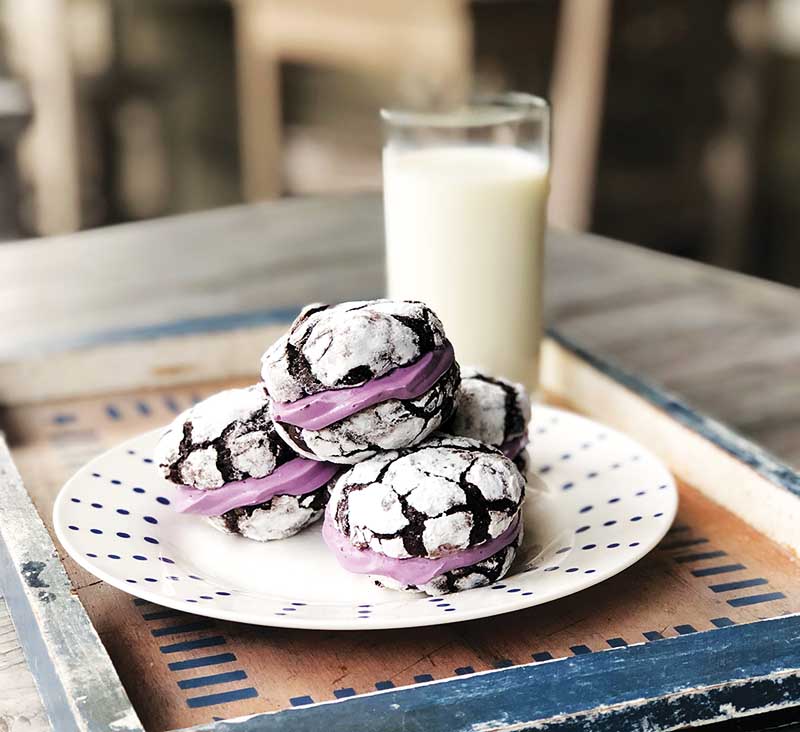 Basic Chocolate Crinkles
| | | |
| --- | --- | --- |
| Prep Time 15 minutes | Chilling Time 4 hours | Baking Time 8-10 minutes |
Makes 36 small or 18 big crinkles
Ingredients:
1 cup unsweetened cocoa powder
1 1/2 cups sugar
1/2 cup vegetable oil
4 pcs eggs
2 tsp vanilla extract
2 cups all-purpose flour
2 tsp baking powder
1/2 tsp salt
1 cup powdered sugar
Procedure:
In a mixer with the paddle attachment on, place cocoa powder, sugar and oil in the mixing bowl. Mix on low until ingredients are well-combined and resemble a dark, grainy paste.
While mixing on low, add one egg at a time, pausing until the each egg is mixed in before adding the next.
Before adding the fourth egg, add vanilla essence with the last egg.
In a separate bowl, sift flour, baking powder and salt together.
Add the dry mix while keeping the mixer on low, one tablespoon at a time. Wait until the flour is mixed in before adding the next spoonful. Continue until all the dry ingredients are mixed into the batter.
Remove the bowl from the mixer, cover with plastic wrap and refrigerate for 4 hours.
Once firm, scoop 1-inch balls from the cold crinkle mix and place in a tray. Once all the mixture has been formed into balls, chill for another hour.
Preheat oven to 175˚C.
Roll cold crinkle balls in powdered sugar and quickly arrange on a baking tray, two inches apart.
Bake for 8 minutes for chewy, 10 to 12 minutes for a more crumbly chocolate crinkle.
Let the chocolate crinkles cool in a wire rack before packing.
Optional:
Add chopped cherries in the mixture
Pipe some blueberry cream cheese between two crinkle pieces to make sandwiches
Hits: 153