Teriyaki Roulade of Chicken Stuffed with Bean Sprouts and Shitake Mushrooms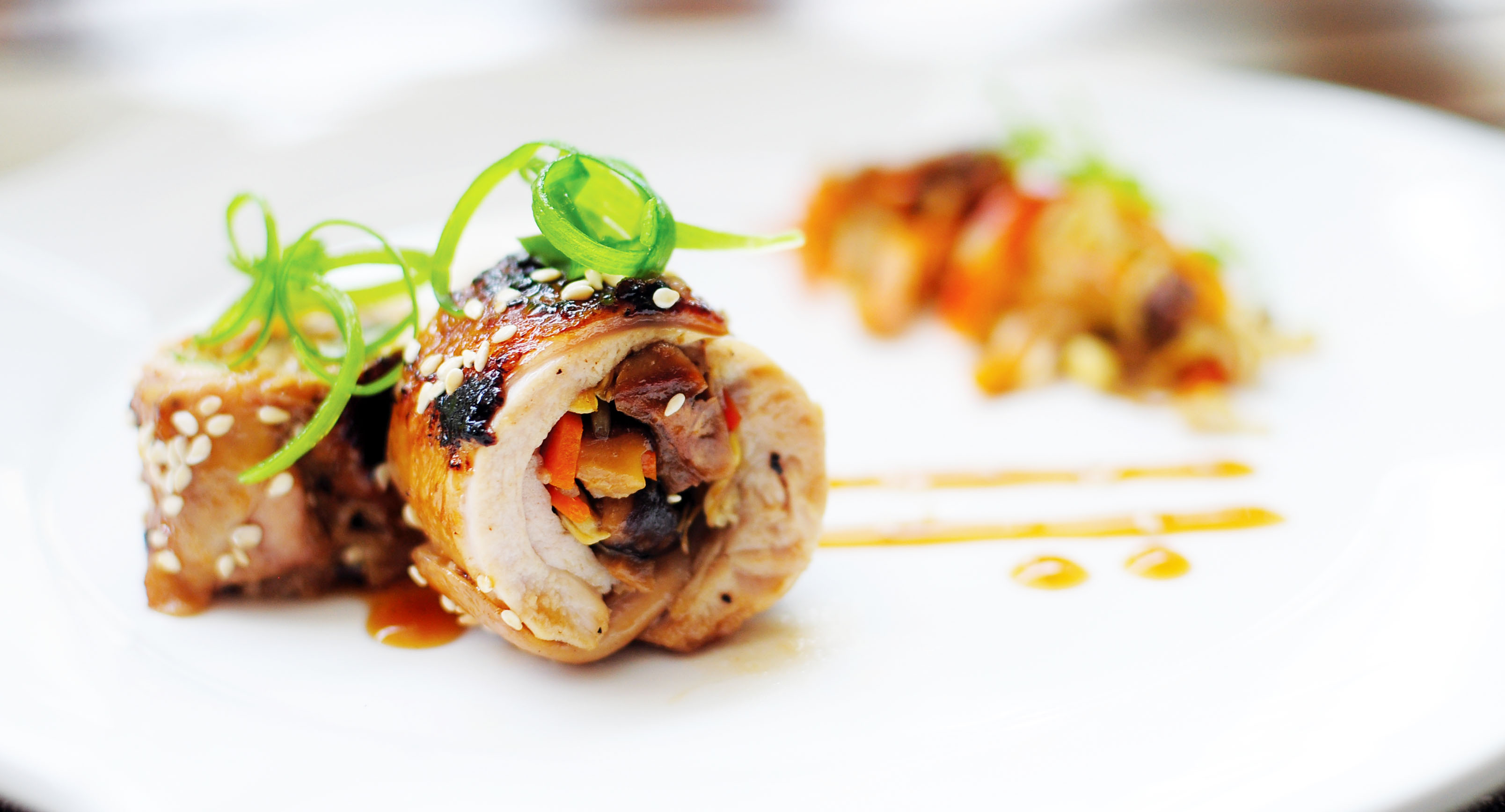 Ingredients:
2 pcs chicken thigh fillet
3g Ginger (coarsely chopped)
3g onion leeks (coarsely chopped)
1/4 cup naturally brewed soy sauce
1/2 cup chicken stock
1/4 tsp dashi
1 tbsp or more sugar
1/4 tsp sesame oil
cornstarch slurry (as needed)
salt and pepper to taste
Procedure:
Combine ginger, leeks, soy sauce, stock and sugar in a medium sized sauce pan.
Simmer for 5 minutes then haul out ginger and leeks.
Thicken with slurry and drizzle with sesame oil. Salt and pepper to taste.
This will be your easy teriyaki sauce.
For stuffing:
80g bean sprouts
50g shitake mushrooms (cut into strips)
2 tbsp white onions (minced)
1 tbsp garlic (minced)
1 pc each small red and green bell pepper (cut into strips)
3 tbsp oil
salt and pepper to taste
1 tbsp roasted sesame seeds
foil for wrapping
Procedure:
Stir fry garlic, onions, bell pepper bean sprouts and shitake mushroom with oil.
Salt and pepper to taste.
Stuff into chicken and make a roulade.
Roll with greased foil and steam for 10-15 min.
Gently remove foil and grill/pan grill (brushing all sides with teriyaki sauce)
Sprinkle with roasted sesame seeds. Slice and serve.
Hits: 402