Have a Pint…of Cake
---

---
Christmas season is one of the busiest times of the year, especially for a baker like me. While my bestselling products are cakes and cookies, I wanted to create something that's easy to transport, store and of course, eat. With the convenience of delivery services comes a bit of risk. I use mainly motorcycle delivery services for my clients in Metro Manila and as careful as the drivers may be, offering a product that is packaged securely is a big load off my mind.
Cakes can be difficult to transport, especially on motorbikes that lean side to side and weave in and out of traffic. This got me thinking of a unique way I can package my cakes, pre-portioned. This is how the idea of Cake Pints came about. Instead of whole cakes that can get damaged during transport, cake pints offer a secure container with the added convenience of not needing plates and knives to serve. All you need is a spoon and you're good to go. Leftovers are also a breeze with Cake Pints. You now won't need to force yourself to finish a slice. All you need to do is put the lid on and you can store your pint in the chiller. You can also stack pints on top of each other in storage without any worry.
The cake flavors you can put in these pints are endless. Almost any cake can be made into a cake pint. For this month's recipe, I chose one of my bestselling cakes, my carrot cake with walnuts and cream cheese frosting. You can of course make your own pints with your own flavor combinations. Cake pints can also be the perfect Christmas giveaway. Try it out and let me know how your cake pints went!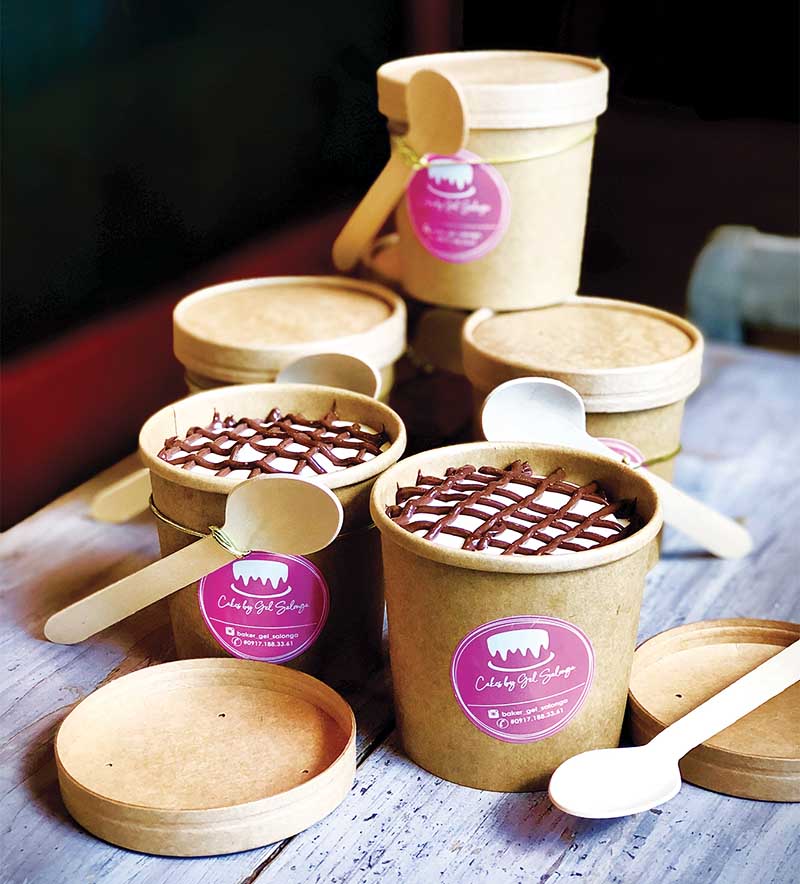 Carrot Cake Pints
| | | |
| --- | --- | --- |
| Makes 6 cake pints | Prep Time 45 minutes | Baking Time 1 hour plus cooling time |
Ingredients:
500g carrots, peeled and grated
1/2 cup crushed pineapple
1 cup chopped walnuts
2 1/2 cups all-purpose flour
2 tsp baking soda
2 tsp cinnamon
1 tsp salt
2 cups sugar
1 1/4 cup oil
4 pcs eggs
1 tsp vanilla extract
For the Frosting
1 1/4 cup cream cheese at room temperature
1 cup softened butter
3 cups powdered sugar
1 tsp vanilla extract
1/2 cup melted chocolate for décor (optional)
Procedure:
Preheat oven to 175˚C.
Brush two round cake pans with oil and line with parchment paper.
Brush with some more oil and dust with flour, shaking the excess off.
In a mixing bowl, beat eggs, sugar and oil together until pale yellow. Add the vanilla and beat until combined.
In another bowl, combine flour, cinnamon, baking soda and salt.
Using the lowest setting, mix dry ingredients into the wet.
Once combined, add walnuts (tossed in a bit of flour), pineapple and carrots. Fold in gently using a rubber spatula.
Divide mixture between the two cake pans and bake for 50 minutes or until a toothpick comes out dry when poked.
Let the cakes cool completely before unmolding.
For the frosting, beat together the cream cheese, butter and vanilla. Add the powdered sugar in intervals until everything is mixed in.
Place frosting in a piping bag and refrigerate.
Once the cakes have cooled down, slice them into small cubes.
Place a few cubes into the pints, pipe some frosting over the cake cubes and repeat until the pints are almost full (note: top layer must be frosting).
Optional: Pour some melted chocolate into a small piping bag and pipe your desired design over the cream cheese frosting.
Cover the cake pints with their lids and keep refrigerated.
Hits: 273