Namnamin Pa Rin Ang Pasko with Eden Cheese
Eden reminds us that despite the challenges and the things we are missing this year, family mealtimes are still Christmas gifts worth savoring and are special moments to be grateful for.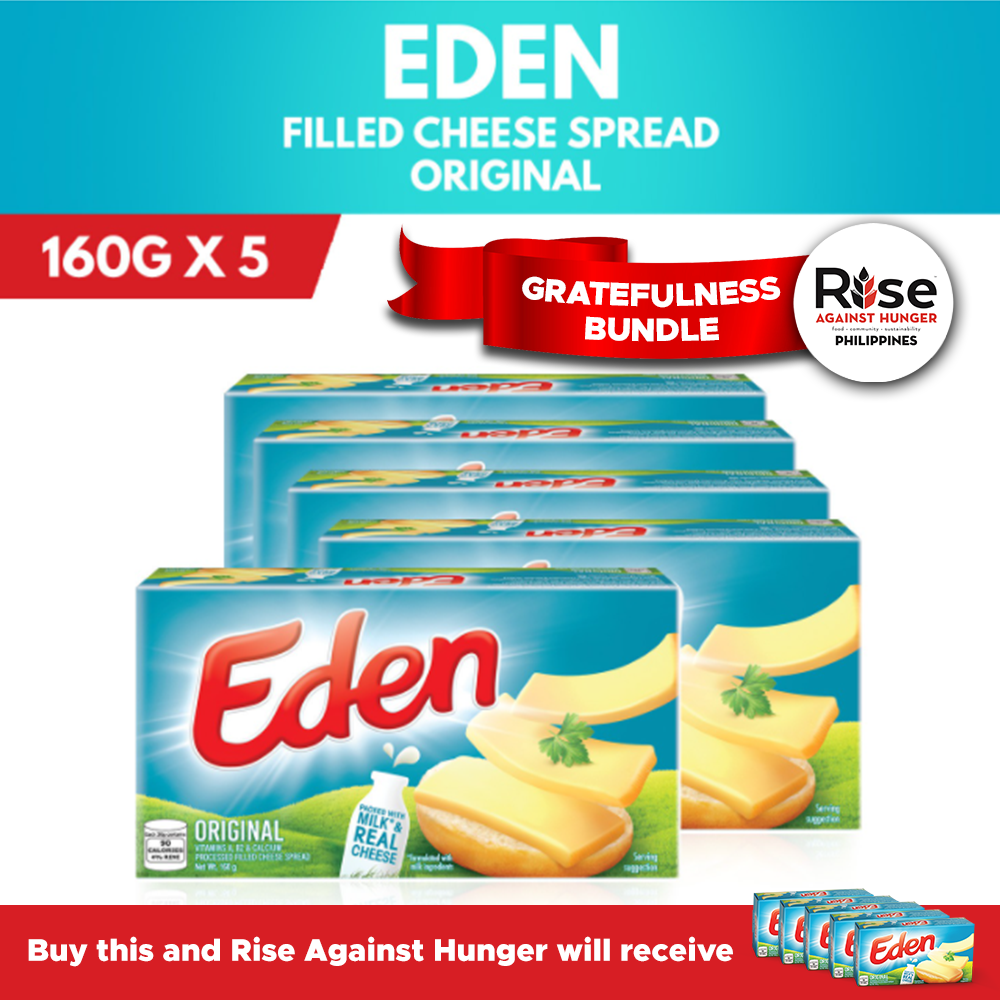 Christmas celebrations look a lot different than the big holiday parties and family reunions before 2020 struck. You've probably thought to yourself: "Why do I need to put so much effort into cooking Noche Buena, if kami kami lang naman?" 
If the past two years have taught us anything, it's never to take anything—or anyone—for granted. This has been two years of uncertainties and struggles but there's still hope. We hang on to hope with our families, our loved ones, and the traditions we have been sharing with them. The fact that we are alive, that we still find ourselves surrounded by family and friends, and that we can still share mealtimes together, there is still so much to be grateful for. The holiday season is the best time to show how grateful you are for your family. Showing your appreciation isn't only just through presents under the tree, but also through putting in the effort by cooking up a feast. A Noche Buena that's as special as your family is what they deserve.
This is why gratefulness was at the center of Eden's Grateful Christmas Facebook Live Event held last December 9. Eden's mom ambassadors Nikka Garcia, Sherilyn Reyes-Tan, and Ciara Magallanes shared real and inspiring stories of what they are grateful for in 2021.
Eden also launched their Eden Gratefulness Bundle in e-commerce, which is a Christmas Bundle initiative for the benefit of Rise Against Hunger Philippines, a non-profit organization that actively implements programs to address food insecurity and malnutrition in the Philippines. For every purchase of the Eden Gratefulness Bundles on Shopee, Eden will donate one (1) Eden Gratefulness Bundle of the same kind to Rise Against Hunger Philippines. Buy 1 and Give 1 now through this link: bit.ly/ShopEdenCheese
Eden has also released the Eden Gratefulness Instagram & Facebook filter, which aims to spread the cycle of gratefulness and which users can use to express on social media their gratefulness for being with family this Christmas season. It's very easy to try, users just need to launch the filter from IG/FB, wait for the randomizer to select something to be grateful for, and once selected, the user can nominate a person who matches the description. After, users can explain why they are grateful for them, tag them in the post, and upload it on Facebook or Instagram with their description or story, accompanied by the hashtag #NamnaminPaRinAngPasko, which you can also try through these links:
Eden Cheese has been a beloved mainstay in every Filipino's home for decades, making dishes more special with its distinct, creamy taste and a must for any occasion, especially during Christmas. There's an Eden Cheese to add to every festive dish, from baked mac to Leche flan! And with each dish, you show just how much you appreciate the gift of your family's presence, time, and love they always give you! So to make your family mealtimes more special, Eden has also prepared various recipes on the CheeseAnything site! Just head on to CheeseAnything.com/EdenPasarapinAngPasko to check out recipes like Spaghetti, Leche Flan, Embutido, Baked Mac for your holiday dishes! Truly making our mealtimes with family more special this Christmas.
Ready to cook up a festive feast? Here are a few dishes from Eden's CheeseAnything holiday page that will surprise your family:
LECHE FLAN
INGREDIENTS
230G EDEN MELT SARAP, SLIGHTLY MELTED
8 TBSP SUGAR
1 CAN EVAPORATED MILK
1 CAN CONDENSED MILK
5 EGGS
1/2 CUP EDEN ORIGINAL, SHREDDED
PROCEDURE
Put the sugar in a large llanera. Place over low heat until the sugar has melted and golden.
Occasionally move the llanera to avoid burning and to distribute sugar evenly. Remove from heat and allow it to harden.
In a bowl, beat Eden Melt Sarap until smooth. Add eggs one at a time. Make sure to beat the mixture after each egg is added.
Add evaporated milk and condensed milk. Mix well. Once thoroughly mixed, let the mixture sit for a few minutes.
Cover llanera with foil and place in a baking dish with 1-inch water. Bake for 375F for 1 hour or until a toothpick inserted into the leche flan comes out clean. Remove from oven and allow to cool.
Turn leche flan over on a serving dish. Top with shredded Eden cheese and enjoy!
SPAGHETTI
INGREDIENTS
1 CUP EDEN ORIGINAL CHEESE
1KG SPAGHETTI NOODLES
1 BOTTLE BANANA KETCHUP
560G PINOY-STYLE SPAGHETTI SAUCE
1 TSP GARLIC, MINCED
3⁄4 KG GROUND BEEF
5 HOTDOGS, SLICED
2 BOUILLON BEEF CUBES, DISSOLVED 1 MEDIUM ONION, CHOPPED
7 TBSP BUTTER & 2 TBSP SALT
4 TBSP COOKING OIL
PROCEDURE
Cook pasta according to instructions on the packaging. Drain and set aside.
Saute garlic & onion in butter until onions turn translucent.
Add ground beef and cook for 5 mins. Add hotdog and cook for 2 mins. Add the sauce, cubes, ketchup, and water. Simmer for 20 mins. Stir occasionally.
Add Eden cheese to the sauce to make it creamy.
Pour spaghetti sauce over pasta. Top with grated Eden Cheese and serve.
BAKED MAC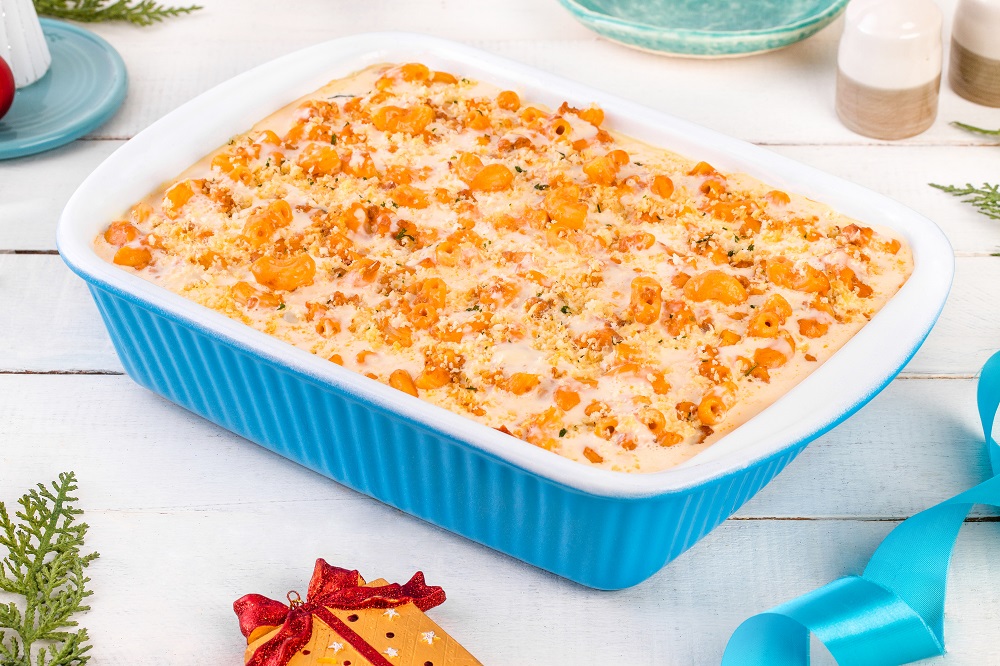 INGREDIENTS
400G ELBOW MACARONI
FOR THE MEAT SAUCE:
2 TBSP COOKING OIL
1⁄2 CUP SAUSAGE OR HOTDOGS, SLICED
1 MEDIUM WHITE ONION, PEELED AND DICED
3 CLOVES GARLIC, PEELED AND MINCED
1 PC GREEN BELL PEPPER, SEEDED AND CHOPPED
300G GROUND BEEF, LEAN
2 CUPS TOMATO SAUCE
1⁄2 CUP TOMATO PASTE
1⁄2 CUP TOMATO KETCHUP
1⁄2 CUP WATER
1 TEASPOON SUGAR
1⁄2 TEASPOON ITALIAN SEASONING/ DRIED BASIL OR 5 PCS FRESH BASIL LEAVES, CHOPPED
SALT & PEPPER, TO TASTE
FOR THE CHEESE SAUCE: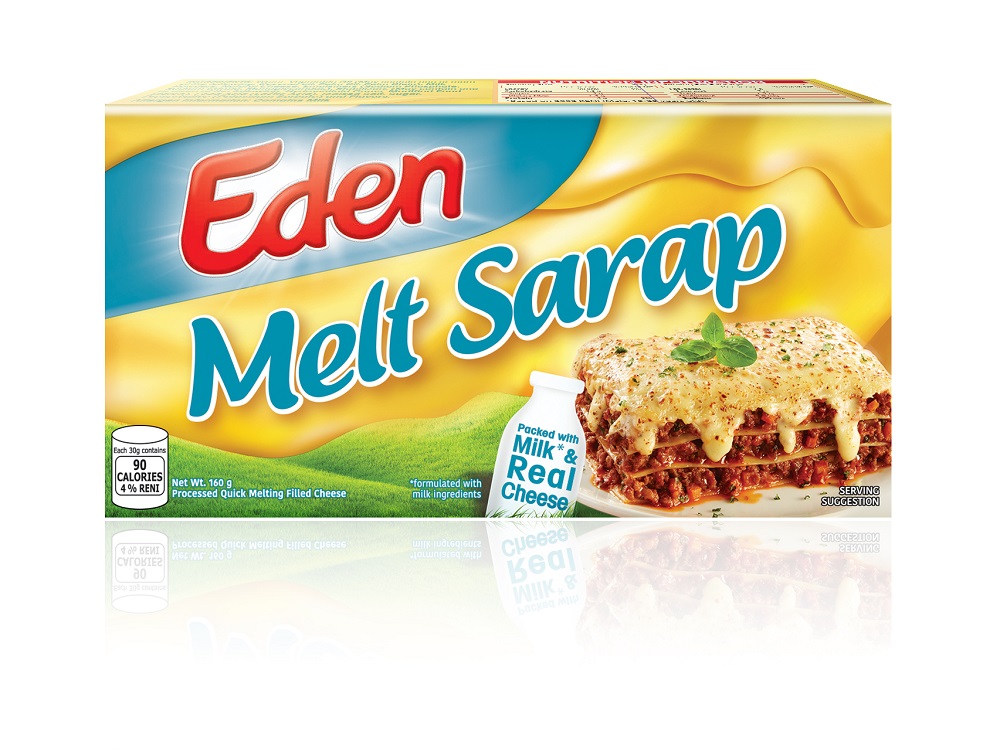 1 TBSP BUTTER
1 TBSP FLOUR
2 CUPS FRESH MILK
1 BAR – EDEN MELTSARAP 165G, DICED
SALT & PEPPER, TO TASTE
PINCH OF GROUND NUTMEG (OPTIONAL)
FOR THE CHEESE TOPPING:
1⁄2 CUP BREAD CRUMBS (PANKO)
1 BAR – EDEN MELTSARAP 165G
GRATED PARSLEY,CHOPPED (OPTIONAL)
PROCEDURE
Cook the macaroni pasta according to package directions. Allow to cool and set aside until assembly.
For the meat sauce: In a pot over medium heat, heat oil. Add sliced sausage or hotdogs and cook, stirring occasionally for about 1-2 mins or until lightly browned. Remove from pan and set aside.
Add onions and garlic and cook until softened.
Add bell peppers and cook until tender-crisp.
Add ground beef and cook, stirring occasionally and breaking apart with the back of a spoon, for about 7-10 mins until lightly browned. Drain any excess fat.
Add tomato sauce, tomato paste, ketchup, and water. Stir in sugar and the dried herbs.
Bring to a boil. Lower heat. Cover and continue to cook for about one hour or until meat is fully cooked and sauce is thickened.
During the last 10 mins of cooking, add cooked sausage or hotdog. Season with salt, pepper.
For the cheese sauce: In a pan over medium heat, melt butter. Add flour and stir well into a smooth paste. Cook, stirring regularly, for about 5 minutes.
Gradually add milk to the mix, whisking vigorously to prevent lumps. Cook for about 2-3 mins or until smooth and thick enough to coat the back of the spoon. Stir in nutmeg, salt, and pepper to taste.
Gradually add Eden Meltsarap, whisking regularly until melted. Cook until cheese sauce is thick but spreadable.
For the cheese toppings: Combine bread crumbs, grated cheese, and parsley. Sprinkle on top of the cheese sauce.
To assemble: Grease bottom and sides of a rectangular baking dish with nonstick cooking spray and set aside. In a large bowl, combine macaroni and meat sauce. Gently toss together until well-combined.
Transfer pasta mixture into prepared dish. Pour cheese sauce on top spreading across to completely cover the pasta. Sprinkle cheese toppings.
Bake in a 350 – 375 °F for about 20-25 minutes or until hot and bubbly. Remove from oven and allow to cool for about 15 minutes before cutting into serving portions.
CHICKEN-HAM EMBUTIDO
INGREDIENTS
1 KG GROUND CHICKEN
2 EGGS
½ CUP ALL PURPOSE FLOUR
1 CARROT, CUT INTO SMALL CUBES
1 ONION, MINCED
1 RED BELL PEPPER, CUBED
¾ CUP RAISINS
3 TBSP PICKLE RELISH
1 TSP GROUND BLACK PEPPER
1 TSP SALT
3 TBSP KETCHUP
1 CUP CHRISTMAS HAM, CUBED
1 BAR, EDEN QUESO DE BOLA, GRATED
1 BAR EDEN QUESO DE BOLA, CUT INTO STICKS
PROCEDURE
Put all the ingredients in a bowl, except 1 bar of Eden Queso de Bola cut into sticks. Mix until well combined.
Prepare 4-6 pieces of aluminum foil about 12 inches long each.
Put 1 1⁄2 cups of mixture on each aluminum foil. Flatten the mixture.
Put a stick of Eden Queso de Bola in the middle of the flattened meat mixture.
Roll the foil from top to bottom to form a cylinder.
Twist both ends of the foil to lock.
Repeat Steps #3-5 until the meat mixture is consumed.
Steam the Embutido for 30-45 minutes.
Let it cool before slicing.
Whip up a Noche Buena that your family will remember for years to come. Eden Cheese is available in all leading supermarkets. Eden Cheese and the Eden Gratefulness Bundle are also available online via Shopee. in this link bit.ly/ShopEdenCheese
Hits: 212