Comfort Food in the Comfort of your own Cars
Mimi & Bros Launches Park & Munch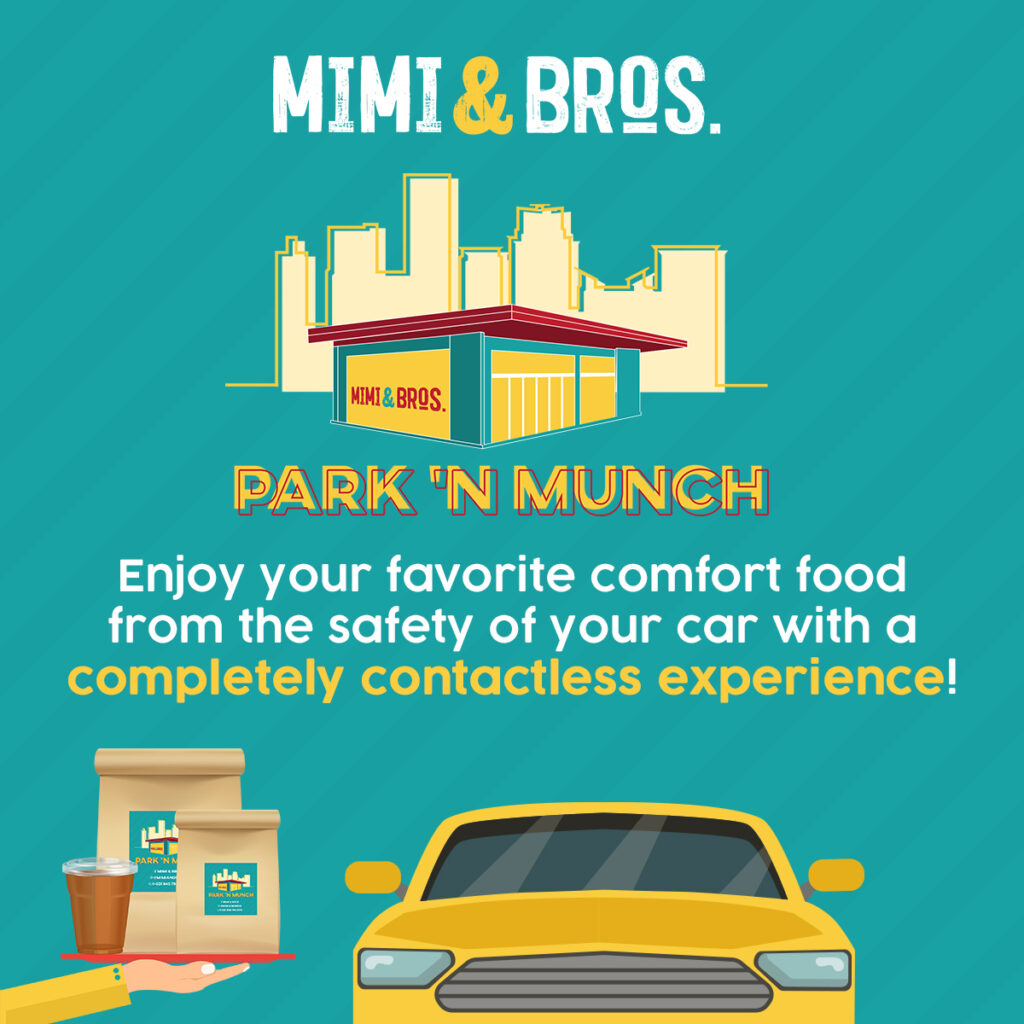 Mimi & Bros, which made the corner of Crossroads and 32nd Street in Bonifacio Global City a haven of "HAPPY" for young professionals, has a way for everyone to have tummy-filling comfort food while still practicing social distancing.
Mimi & Bros introduces Park 'N Munch, a safe and convenient park-and-eat-in-your-car style of service. The first of its kind in BGC, it's the perfect way to enjoy dining out with the family minus the risk of interacting with other people. This new and fun dining experience certainly suits the entire family, including kids.
Park 'N Munch's fully automated ordering system guarantees guests a completely safe and contactless experience.
After entering the parking lot, just scan the QR code on the Mimi & Bros standee and follow the easy order and payment instructions. The Park 'N Munch mini-app can also be accessed through @mimiandbros on Facebook Messenger.
"The entire experience of Park 'N Munch is not just virus-free but also hassle-free. We want everyone to satisfy their cravings for comfort food in a fun and unique way," says Chef Ed Bugia, the head of the F&B division of MFT Group of Companies, owner of Mimi & Bros.
For people who are in between errands and who desire a snack, they may try out Mimi & Bros' Chili Dogs, Mimi's Fried Chicken Sandwich, Bros' Rib Sandwich, and Double Cheese Smash Burger. Did we mention Mimi & Bros' BBQ Pork Ribs are slow-cooked for six hours for that tender, melt-in-your-mouth goodness?
Those who are in for the big munch can have Chicken Karaage, Bros' Bagnet, Chubby Cheeks Pork Sisig, Triple B and Shrimp Pops. Veggie Rice Bowls are also available.
Meanwhile, those who have more time may just throw a few pillows and blankets at the back of their SUV or pick-up, turn on the music, and enjoy the BGCscape while munching on Mimi & Bros' signature bestsellers like Corn Dogs, Croquettes, and Chili Nachos.
After choosing from Mimi & Bros' menu of comfort food favorites, customers can pay online and give instructions where they are parked, all without leaving the Park 'N Munch mini app. Just wait for their orders to be brought to their car by the Mimi & Bros team and enjoy their meal.
After guests are done eating, the Mimi & Bros team collects the trays. No need to hurry though because Mimi & Bros wants everyone to savor every bit of this delightful escape.
"We want our customers to hang out again with us like they used to. We know a lot of our customers miss us and this is the safest and coolest way we came up with to serve them," adds Chef Ed.
Visit Mimi & Bros' Facebook Page (facebook.com/mimiandbros) or Instagram Page (instagram.com/mimiandbros) for details about Park 'N Munch and more.