Seafood Paella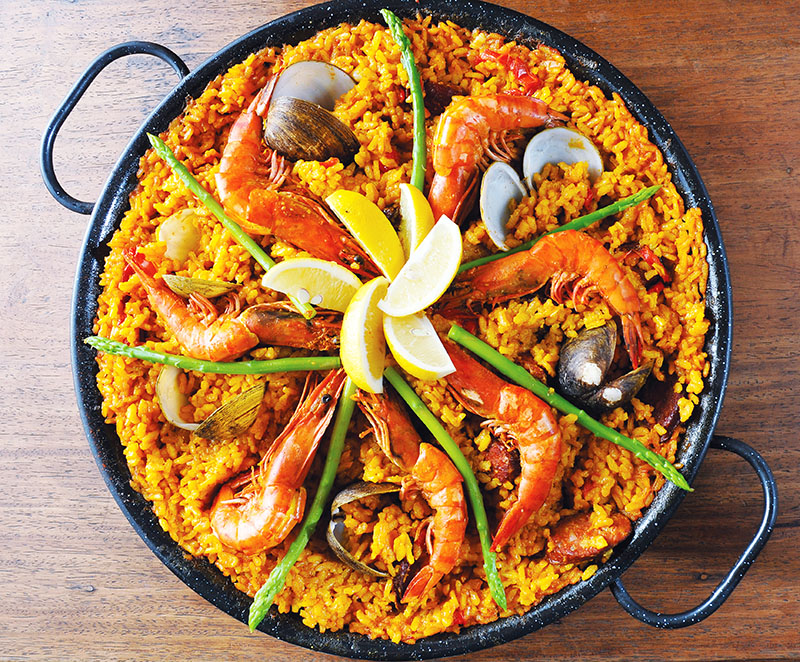 Ingredients:
For the stock:
1 onion, minced
4 cloves garlic, minced
1/2kg mussels, cleaned
1/2kg clams, cleaned
8pcs. prawn heads
2 tbsp olive oil
2 liters water
1 pinch of saffron
For the rice:
2 cups Bomba rice (or any short grain rice)
1/2 cup olive oil 
1 red bell pepper cut into strips
1 chorizo bilbao or Pamplona, sliced into chunks
2 onions, minced
4 cloves garlic, minced
2 tbsp Spanish paprika
2 tbsp tomato paste
8-10 pcs large prawns
8-10 pcs large clams
8-10 pcs large mussels
asparagus spears for garnish
lemon wedges to serve
Procedure:
Pick the nicest clams, mussels and prawns and set aside. You will use those as the paella topping.
After setting aside the nicest prawns, peel and remove heads from the rest. Set aside peeled prawns together with the nice ones.
Using the rest of the seafood, make stock. To start, sauté onions and garlic in some oil. Add chopped prawn heads and shells, and sauté for a minute. Add clams and mussels and add water.
When the water starts to simmer, check if the clams and mussels have opened. If they have, take them out. Strain cooking liquid of dirt by transferring the liquid into another pot leaving the dirt underneath behind.
Add saffron to the strained broth and add salt only if needed. Keep warm.
To start paella, sauté sliced chorizo in olive oil. Once chorizo is a bit toasted, set aside, leaving the oil behind.
In the chorizo oil, sauté bell pepper slices, onion and garlic. Add paprika and then add the rice.
Sauté for a minute coating the rice in oil. Add tomato paste and then half the stock.
Keep heat on low and add stock a bit at a time once the rice has absorbed liquid.
Once in a while, scrape bottom to avoid any burning.
When rice is half cooked, add picked seafood, peeled prawns and chorizo. Add more stock and stir a bit and continue to scrape the bottom.
When liquid is almost all gone and the rice and seafood are cooked, arrange asparagus on top. Do not stir or scrape anymore to create a "burnt" crust at the bottom and sides of the pan (tutong). You'll hear crackling sounds and smell a faint burnt rice smell. When you smell that, turn fire off.
Serve paella with lemon wedges.
Hits: 130