Savory Starts
---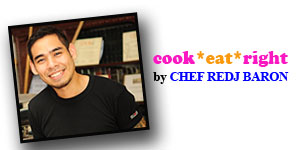 ---
One of the things I love assembling when it comes to food service is the Hors d'oeuvres. I feel that it's a delicate art. Creativity and proper combination of ingredients are vital to making a delicious appetizer. Here are some of the starters I have made that were inspired by restaurants or hotels I've worked with.
Roasted Chicken Strips on Grilled Vegetables and Rosti with Mild Yellow Curry Sauce
A few weeks ago, we featured an authentic Swiss restaurant located in BF Homes, Paranaque. I enjoyed so much of their food and one the best sellers was the "Rosti". The Executive Chef and owner were kind enough to teach me the step by step process of making it. I thought that it might be a good idea to make a small version, top with grilled vegetables and some leftover chicken. I also made a curry sauce I learned at a Malaysian restaurant I worked at many years ago. Now, it's Chicken Curry with Potatoes and Grilled Vegetables in bite sized form.  Served with some roasted fresh tomatoes to complement the pungency of the curry, I made this for our family reunion. May the flavors tickle your tongue and create memories with every nibble!
For Rosti:
2 pcs medium size potatoes (boiled until waxy)
half of a medium size onion (cut into thin strips)
2 tbsp oil for pan frying
Procedure:
Hand peel potatoes and rougly grate.
Gently combine thin strips of onions.
Pan grill on a griddle or a non-stick sauté pan until both sides are done (gently shape into small squares).
For Mild Curry Sauce:
1/4 cup meat curry powder
2 tsp turmeric powder
1/4 tsp ground cumin
1/2 tsp ground coriander
2 tbsp minced red onions
2 tbsp mince lemongrass bulb
1 pc star anise
1 pc cinnamon bark
3 pcs cardamom seed
 1/2 cup chicken stock
1/4 cup coconut cream
1/4 cup vegetable oil
Procedure:
Combine the fi rst four ingredients with ample amount of water to make a fi ne paste. Set aside.
Sauté red onions, lemongrass, star anise, cinnamon bark and cardamom seed with oil.
Add the paste and sauté some more.
Pour in the stock and incorporate until smooth.
Add the coconut cream. Salt and pepper, to taste.
---
The Beauty of the Sea on a Plate
This dish depends entirely on what seafood you prefer. I used less expensive seafood, and yet they were enjoyed by the eating mob. If you want an extravagant platter, you could use scallops or halibut cubes which will go well with the Saffron-clam Cream sauce. I'm sure your loved ones will be pleased with the simple yet elegant starter.
 Saffron-Clam Cream Sauce
 3 tbsp butter
 1 tbsp olive oil
 2 tbsp minced white onions
 3 tbsp flour
 1/2 cup or more clam stock
 pinch of saffron threads
 1/4 cup all purpose cream
Procedure:
Sauté onions with butter and olive oil.
Add the flour to make a roux.
Then pour in clam stock and incorporate well to make a smooth sauce.
Add cream and saffron. Salt and pepper to taste.
For Clams:
 6-8 pcs clams
 2 tbsp butter
 1 tbsp olive oil
 2 tsp minced garlic
 1 tbsp minced celery stalks
 2 tbsp minced white onions
 2 tbsp white wine
 water (as needed)
 For Topping:
 80g minced bacon
 coarsely chopped parsley leaves (as needed)
 quick melt cheese
Procedure:
Sauté onions, garlic and celery with butter and olive oil.
Add the clams and sauté some more.
Pour in the white wine and simmer for a while.
Pour ample amount of water and simmer until shells open (discard unopened ones).
Haul out clams and top with bacon, cheese and parsley. (do not throw stock, it will be used for the Saffron-Clam Cream Sauce)
For Shrimps:
 8 pcs Shrimps (shelled and deveined. Use shrimp head for garnish)
 1 tsp Spanish Paprika
 1/4 tsp garlic powder
 2 tbsp olive oil
 1 tbsp lemon juice
Procedure:
Season shrimps with paprika and garlic powder.
Pan grill until done.
---
 JOIN US ON OUR NEWSLETTER!
---
Hits: 180