Too Cool For School Salad
---

---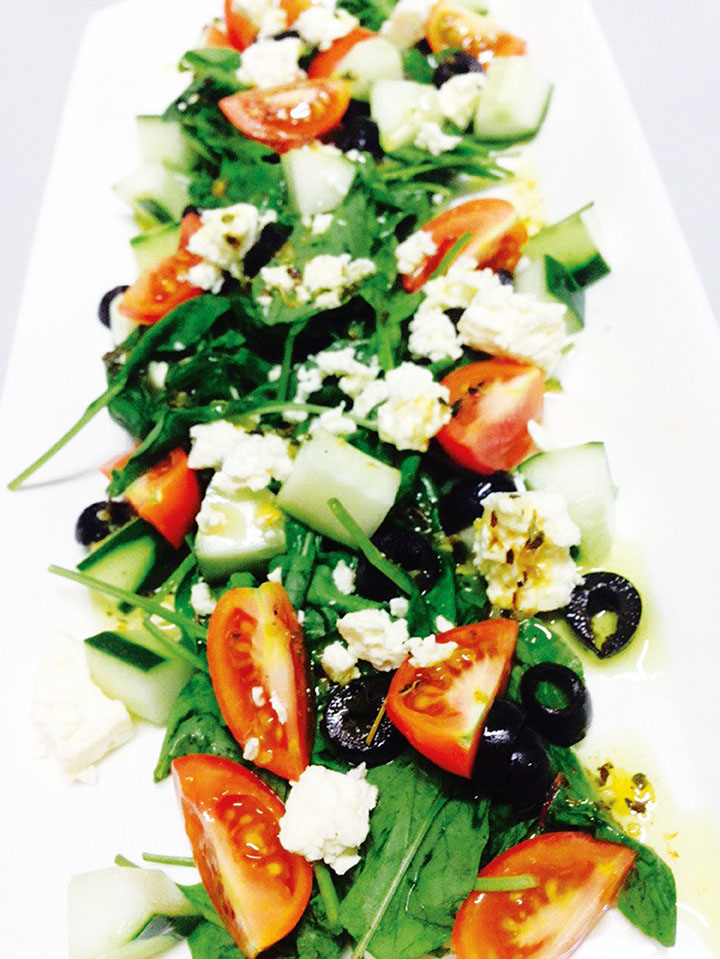 It's summer and nothing beats the heat like a cool summer salad. With a fresh dressing that lightens and brightens palate. Most people think of drinks or smoothies or something frozen, and don't get me wrong, that will work, but if you are chowin' down on something heavy. So when I think of a salad, I make sure that it is balanced. Have just enough protein so you can function, but I like to keep the dressing light. Mainly olive oil based dressings with citrus for acid.
One of my favorite salads is my take on the famous Greek salad. The secret here is good olive oil and Feta from my "Filos" Anthony of El Greco!
Greek Salad
200g arugula (picked and clean)
40 g cherry tomatoes (halved)
60 g kuri cucumbers (diced)
60 g feta cheese (Crumbled El Greco)
40 g calamata olives (stoned)
watermelon (seedless and cubed)
120g chicken breast (grilled)
Dressing
250g Olive Oil (El Greco)
1g garlic (paste)
2g oregano (dried)
2g thyme (dried)
10g onion (paste)
40g red wine vinegar
40g lemon juice
20g Dijon mustard
2 tsp sugar (this can be removed)
salt and pepper to taste
Mix all ingredients for dressing together and whisk until the dressing has emulsified. Place in chiller until you need to use it.
Build salad any way you like then dress with dressing. Last place the chicken and feta on top. Serve straight away while the salad is nice and cool. Goes good with a tall glass of lemonade!
Hit me up and follow me on Facebook (Chef Bruce Lim) and Instagram (@chef_bruce_lim).
Hits: 157