Conti's Launches Newest Cake to Celebrate 25th Anniversary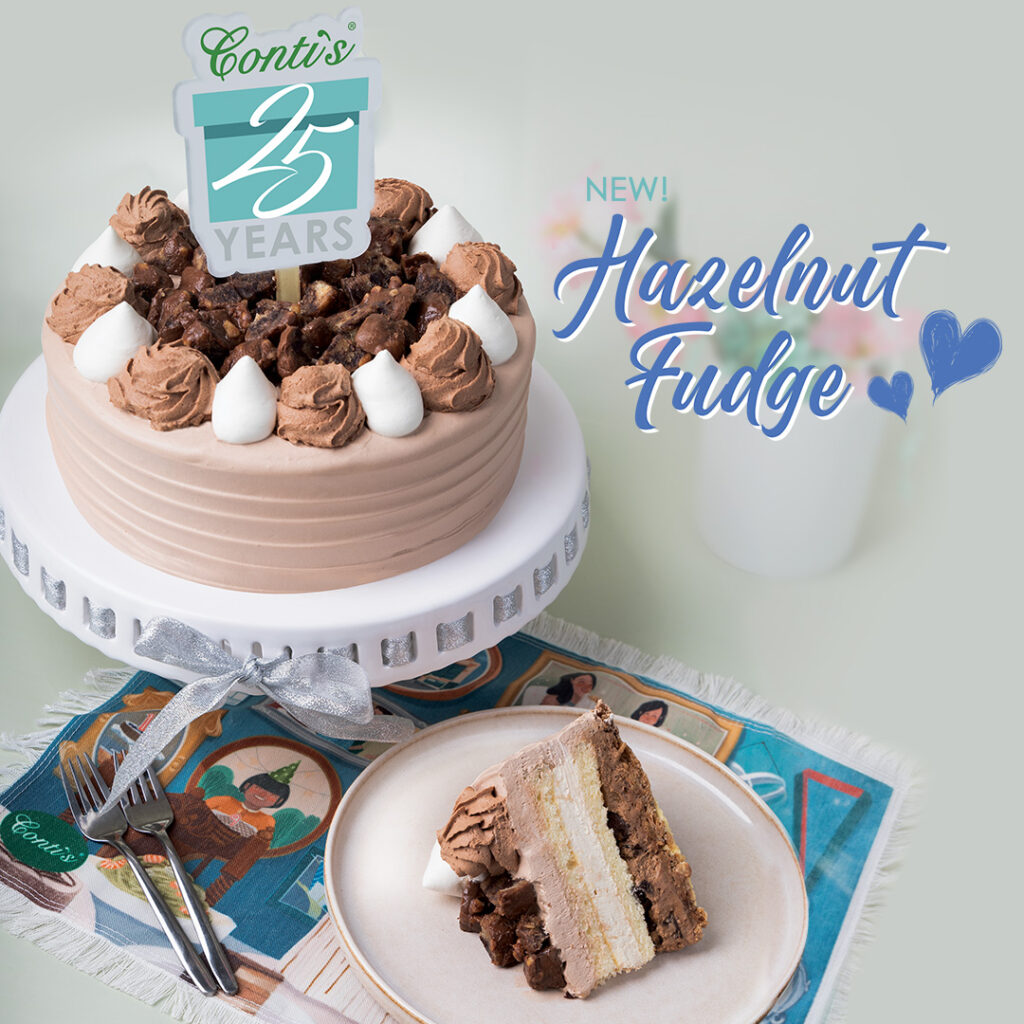 To celebrate its 25th anniversary, Conti's Bakeshop and Restaurant has rolled out a handmade cake creation that tells a sweet story: the Hazelnut Fudge cake.
"This decadent concoction celebrates our past, present, and future," says Angela Conti- Martinez, one of the Conti sisters who founded and continues to own the Filipino restaurant chain.
This new Conti's Hazelnut Fudge cake is made with hazelnut mousse and vanilla cream on a bed of crushed sugar cone, with bits of brownie brittle in between, topped with chewy hazelnut fudge.

Patricia Tan, general manager and daughter of Cecille Conti-Marañon, one of the company's founders, says that her mom and two sisters, Carole Conti-Sumulong and Angela Conti-Martinez, see the new cake as a perfect representation of the founding Conti sisters.

"Just like the three main components of the cake, my mom and her two sisters complement each other very well," Tan said. "They're different from each other and bring something unique to the table, producing something so delightful."

Conti's has come a long way from its humble beginnings as a small food family business operating in a makeshift kitchen in Paranaque back in 1997.
It is now one of the top homegrown food chains in the Philippines with almost 70 branches and close to 3,000 employees nationwide.

The Filipino-owned bakeshop and restaurant chain is also one of the few companies to survive the economic downturn brought by the pandemic. It has even thrived and emerged stronger than before.
Within the past 12 months, Conti's opened 10 more stores in Luzon and more branches are expected to launch as the brand continues to grow.

The success of Conti's is due to its unwavering commitment to quality and consistency, not just in food, but also in customer service, employee satisfaction, and supplier relationships.

"We owe our success to our hard-working team, our valued stakeholders, and, most importantly, our customers for trusting and choosing Conti's to be part of their celebrations and everyday lives," Conti's president and CEO Joey Garcia says.

"Every single one of them serves as our inspiration and motivation to keep doing what we do," he adds.
Conti's celebrates the many blessings they have received over the years—from those who gave them their start and continue to support them today—and using those blessings to be conduits of change for the underprivileged people in their community.
And its milestone cake, Hazelnut Fudge, captures this fully. This antioxidant-rich nut symbolizes a "sweeter way of living that will be more rewarding to the soul."
"This cake serves as a testament that whatever gifts we're given, we should use them wisely to serve others in need," said Angela Conti-Martinez.
"When we continue to do good with what we have been given, we will be surprised by all the blessings that come afterward," she adds.
This is the kind of mission the Conti's family hopes will live on as the company moves into its next 25 years.
Hazelnut Fudge is available in all Conti's stores for only P1,025.
Get a free special anniversary Placemat for every order of Hazelnut Fudge.
Promo runs from September 29 until supplies last.
This promo is not valid in conjunction with other promos and discounts.
To know more about Conti's Bakeshop & Restaurant, visit their website at http://www.contis.ph/ or check out their Facebook (@contisph) and Instagram (@contis_ph)
pages. Other pages bearing our name and images are fake.
They do not in any way represent the brand.
Hits: 410