Orange you glad? A Fennel twist on the Familiar
---

---
Valentines Day is just around the corner and for those who want to avoid the chaos in and around restaurants on Feb 14, cooking a special meal at home is a great option. Aside from getting to choose what menu to serve, cooking at home also ensures that the best ingredients are used.
What can be challenging for home cooks though, is the prospect of baking dessert. Even today, ovens aren't always present in most homes. Unless there's an avid baker in the family, most homes usually just have a stove and an oven toaster or a turbo broiler. Aside from not having an oven, another hurdle can be the lack of experience in making desserts. Even for avid home cooks or even some chefs, cooking experience can be exclusive to savory dishes.
My recipe this month is probably the easiest and simplest dessert you can make, apart from slicing some fruit of course. Panna Cotta is a dairy-based (milk, cream or both) dessert that uses gelatin to form it. This classic no-frills dessert is often just flavored with vanilla, but you can be as creative with it as you wish. More importantly, there is no baking required!
I'll be sharing two Panna Cotta recipes with you this month. One is mildly spiced with fennel and served with orange segments. The other is playful version, inspired by the hugely popular Cereal Milk desserts of pastry Chef Christina Tosi. The simple and humble flavor of those last few gulps of milk in a cereal bowl has catapulted Chef Tosi and her Momofuku Milk Bar to superstar chef status. Her desserts have also garnered a James Beard award. Simple and nostalgic, the flavor of cereal milk is an excellent Panna Cotta flavor.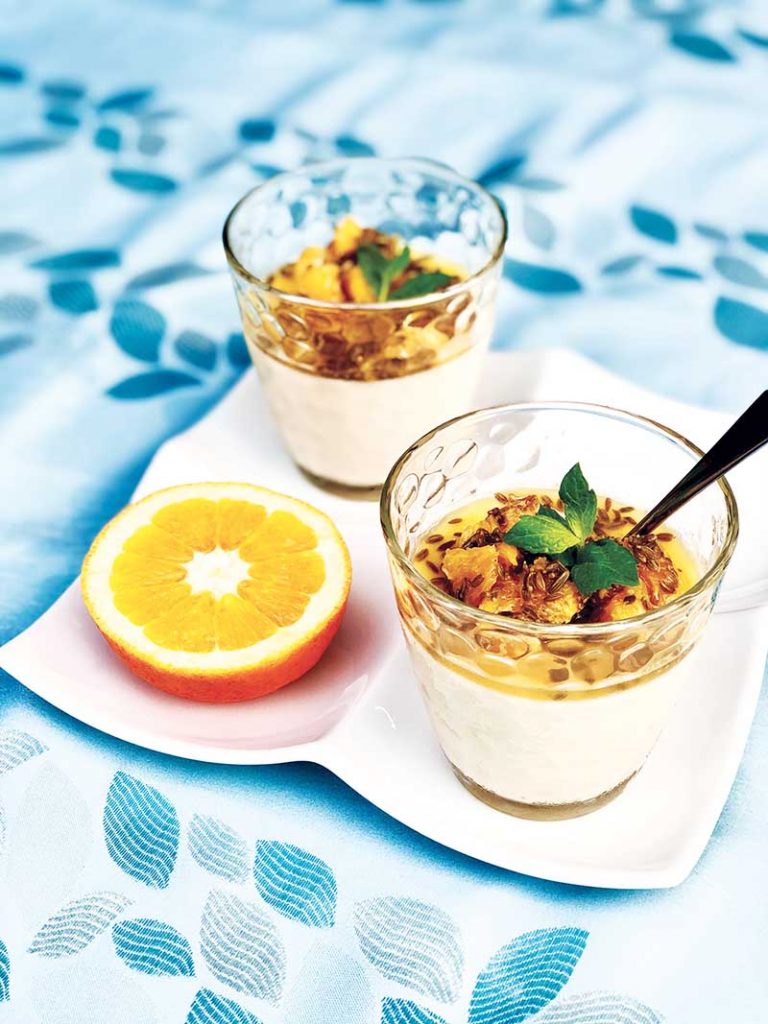 Orange and Fennel Seed Panna Cotta
| | | |
| --- | --- | --- |
| Serves 4 | Prep Time 20 minutes | Chilling Time 4 hours |
Ingredients:
600ml milk
3 tbsp light brown sugar
2 tbsp fennel seeds
2 sachets gelatin powder
2 pcs oranges, peeled and cut into segments
1 tbsp fennel seeds
1 tbsp light brown sugar
Procedure:
Place milk, sugar and fennel seeds in a saucepan.
Heat until the milk just starts to form small bubbles.
Turn the heat off and let cool slightly.
In a bowl, pour gelatin powder and add 1/3 cup of the warm milk. Stir until gelatin is dissolved.
Strain fennel out from the milk, add gelatin mixture and heat again on the stove, whisking continuously for about 2 minutes.
Pour contents into desired containers and let cool then chill in the fridge for 4 hours.
To make the orange-fennel compote, add orange segments, fennel, sugar and a little orange juice in a pan.
Let simmer until the sugar has melted. Let cool down to room temperature.
If you wish to unmold the Panna Cotta, simple dip the container in hot water to loosen and then turn over onto a plate.
Serve with orange and fennel compote.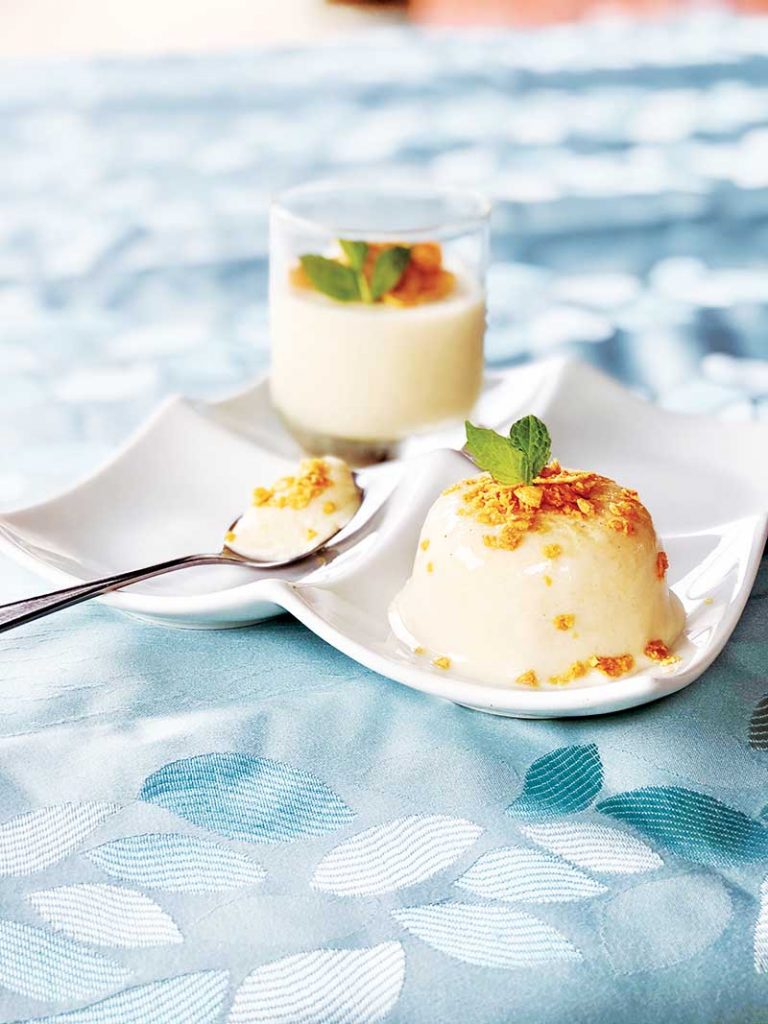 Cereal Milk Panna Cotta
| | | |
| --- | --- | --- |
| Serves 4 | Prep Time 20 minutes | Chilling Time 4 hours |
Ingredients:
600ml milk
2 cups corn flakes, crushed
3 tbsp light brown sugar
2 sachets powdered gelatin
1 cup cornflakes for garnish
Procedure:
In a large bowl soak corn flakes in milk. Stir and let soak for 15 minutes.
Strain the milk, reserve 1/4 cup and set aside.
Place the rest of the milk in a saucepan, add sugar and heat until bubbling.
In a cup, mix gelatin with reserved milk.
Add the gelatin mixture into the hot milk and whisk over a low flame for a minute.
Pour into molds and let cool then chill for 4 hours.
Garnish with crushed cornflakes.
Hits: 131