What's the Philippines' Favorite Merienda?
52 Years of Merienda Moments with Mondelez Philippines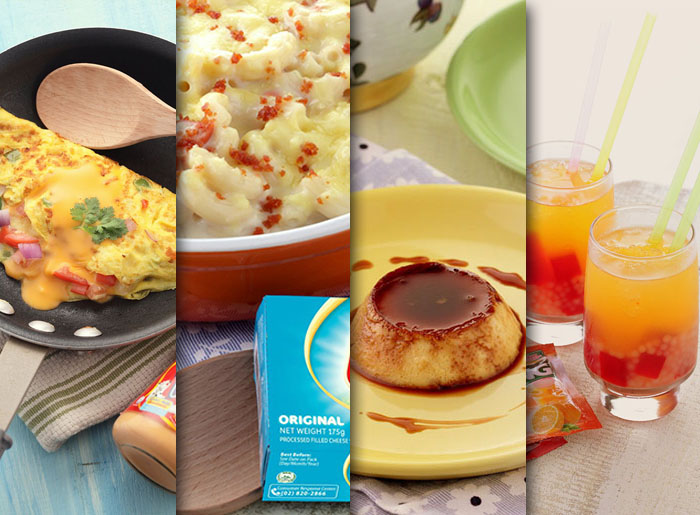 When 3:00 p.m. rolls around, you know what's coming next. "Merienda tayo!" These are perhaps the two most enticing words your officemate, significant other or family member can say to you at this time. With a quick trip to the convenience store, office canteen or friendly aling nagbebenta, you get your dose of joy to help you through the day. Or at least until dinner time. What can we say? Pinoys love merienda.
We have our National Fruit, National Flower and even National Bird. But is there such a thing as the Philippines' National Merienda? There are many contenders though. There's Pancit, Turon, Sago't Gulaman, to Ham and Cheese Sandwiches, Fishball, Spaghetti with Cheese and even Chicharon with laman! These and many others are what everyday Pinoys love to munch on and what Balikbayans crave for when they go back home.
Here's wondering, what is it that makes merienda so irresistible?
Mondelez Philippines is interested to know, "What is the Philippines' favorite merienda?" You see, the Company has spent the past 52 years making your snacking moments more joyful, and it's not about to stop now. Their name may not sound familiar, but their products have surely been part of your merienda moments; and even your parents' and grandparents'!
Formerly named Kraft Foods, Mondelez Philippines is quite the authority on snacks. The Company makes Tang, the favorite powdered drink in the country and a standby companion for any merienda– be it the sweet ginataang halo-halo or the hearty goto and tokwa't baboy. Tang can even be used as an ingredient for snack recipes. Try the Sago at Gulaman with Tang or be more daring and try Leche Flan made with Tang.
Mondelez Philippines is also a pioneer of the carton cheese trend which started in the 1980s and it still leads the market today. Its product Eden Cheese has been making Pinoy Spaghetti cheesier for three decades now, as well as other snack treats like hot pan de sal and Eden cheese and other pasta and noodle dishes. Mac and Cheese anyone?
Then there are its other products Cheez Whiz (Did anyone say sandwiches?), Oreo cookies which can also be made into a smoothie (!), Toblerone, Tiger Energy Biscuits and Cadbury Dairy Milk. Looks like Mondelez Philippines really does have your snack favorites housed all in one roof in its historic five decade-old plant in Sucat, Paranaque.
Creating Joy: Why do we Love Merienda? If you ask Cavite-born Ira, who's been based in the US for the past 15 years, her merienda favorites are those made by her Tita. "I miss her homemade ensaymada with Eden Cheese. How she would lovingly make each batch and the way my cousins and I would fight over who would get a piece." Now a Mom to three kids, Ira tries to recapture those fond memories by making new merienda moments of her own, especially when serving her children's favorites Macaroni and Cheese and cheesy French Fries.
Back home, it might be a Mom thing or not but mother Colleene who is also a mom of three makes Turon with Eden Cheese for her kids in the same way her Mom taught her how – well okay maybe with a few improvements.
The Merienda Moment is the Favorite. From the homemade Toblerone Chocolate Cake missed in Los Angeles, to the Hotdog Sandwiches (with Eden Mayo!) loved in Novaliches, the merienda favorites list is endless. Perhaps with so many kinds of favorites, what in fact unites people is not the food in itself. What unites people for merienda are the memories created when families and friends get together to enjoy them.
That's why Mondelez Philippines is committed to continue creating delicious moments of joy through its snack products that are also merienda favorites. It may already have five decades of snack-making expertise under its belt, but it's not stopping in innovating its products and flavors to ensure memorable merienda moments continue to be made for the next five decades and beyond.
In the past year alone Mondelez Philippines has introduced several new snack favorites for morning or afternoon enjoyment. There's the coconut taste and feel of Oreo Coconut Delight, the island flavor of Tang Dalandan, Honey Lemon and Calamansi on a hot summer day, and the convenient and picnic-ready packaging of the cheesy Eden Mayo and Eden Sandwich Spread. Of course, its other well-loved products are always present to help create joyful memories with you.
Like right now. Here are some merienda recipes made with Mondelez Philippines that can help you create moments to remember with your loved ones. For more recipes to create delicious moments of joy, visit http://ph.mondelezinternational.com/recipes.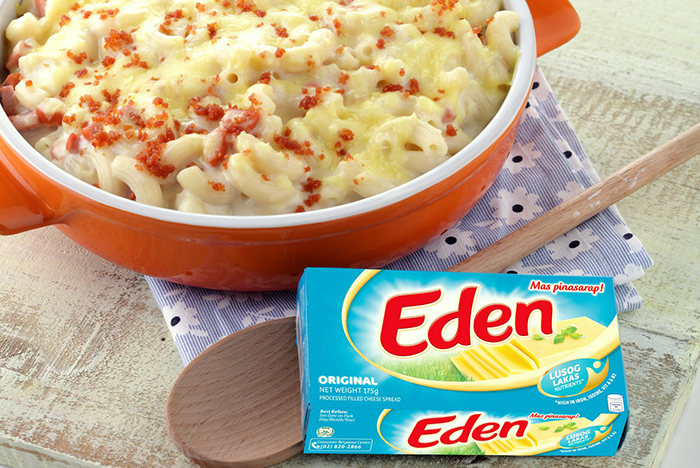 Mac and Cheesy Chorizo
Serves 4
Ingredients:
250 grams elbow macaroni
1 piece Chorizo Bilbao
1 tablespoon oil
2 tablespoons butter
1/4 cup finely chopped onion
2 tablespoons all-purpose flour
2 cups milk
3/4 teaspoon salt
1/4 teaspoon ground black pepper
2 cups grated Eden Cheese (use the small holes of the grater)
1/2 cup shredded Eden Cheese (use the big holes of the grater)
Preheat oven to 350°F.
Cook elbow macaroni according to package instructions. Drain.
Slice the Chorizo Bilbao crosswise. Chop 3/4 of the chorizo slices. Mince the remaining 1/4.
In a pan with a little oil, fry the chopped chorizo. Set aside.
In the same pan, fry the minced chorizo. Set aside.
Melt butter in a saucepan. Sauté onion for 2 minutes. Add flour and stir constantly for about 1 minute. Add the milk, salt, and pepper and stir until mixture boils and thickens.
To the milk mixture, add the 2 cups grated Eden Cheese.
In a baking dish, combine the macaroni, cheese sauce and chopped Chorizo Bilbao. Mix well.
Spread the minced Chorizo Bilbao on top as well as the shredded Eden cheese.
Bake in preheated oven for 30 minutes, or until hot and bubbly. Let cool 10 minutes before serving.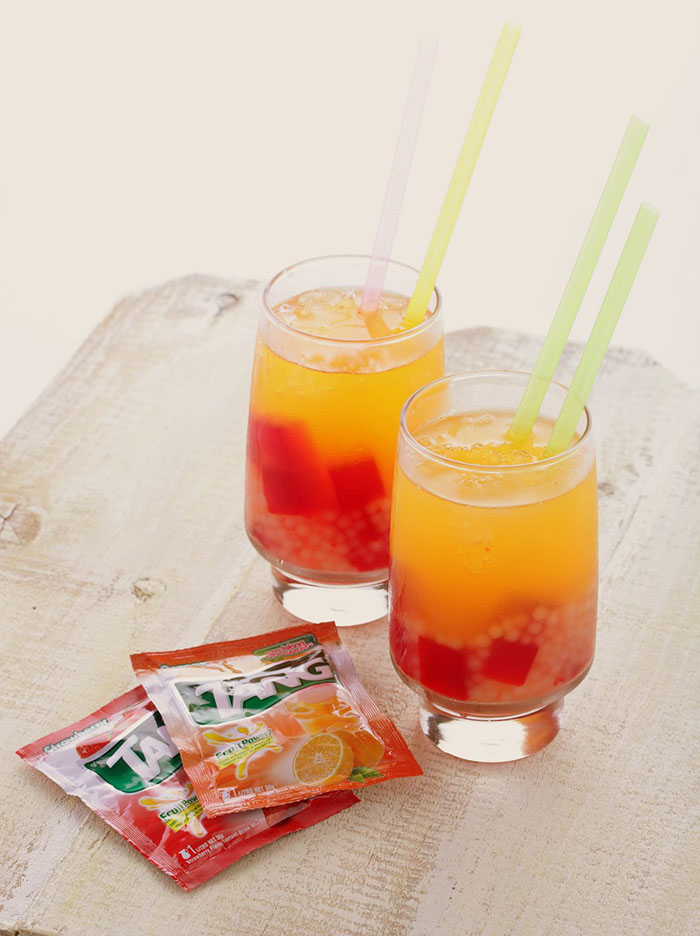 Tang with Sago at Gulaman
Ingredients:
1 packet unflavored gelatin
2 cups water
1/2 packet (25 gm) Tang Strawberry
1 packet (25 gm) Tang Orange
1 liter cold water
1/2 cup cooked small-sized sago
Crushed ice
Combine unflavored gelatin and water in a saucepan. Turn on heat to low and simmer.
Remove the gelatin mixture from the heat. Pour into a bowl.
Add the Tang Strawberry powder into the gelatin mixture. Mix well until the Tang Strawberry powder has completely dissolved.
Place the gelatin mixture in a shallow tray. Refrigerate until firm.
When firm, slice the Tang Strawberry in gelatin into cubes. Place into four tall glasses.
Mix the Tang Orange with 1 liter of cold water. Pour into the glasses with the Tang Strawberry in gelatin. Add 1 tablespoon of sago into each glass. Top with the crushed ice.
Serve with long teaspoons.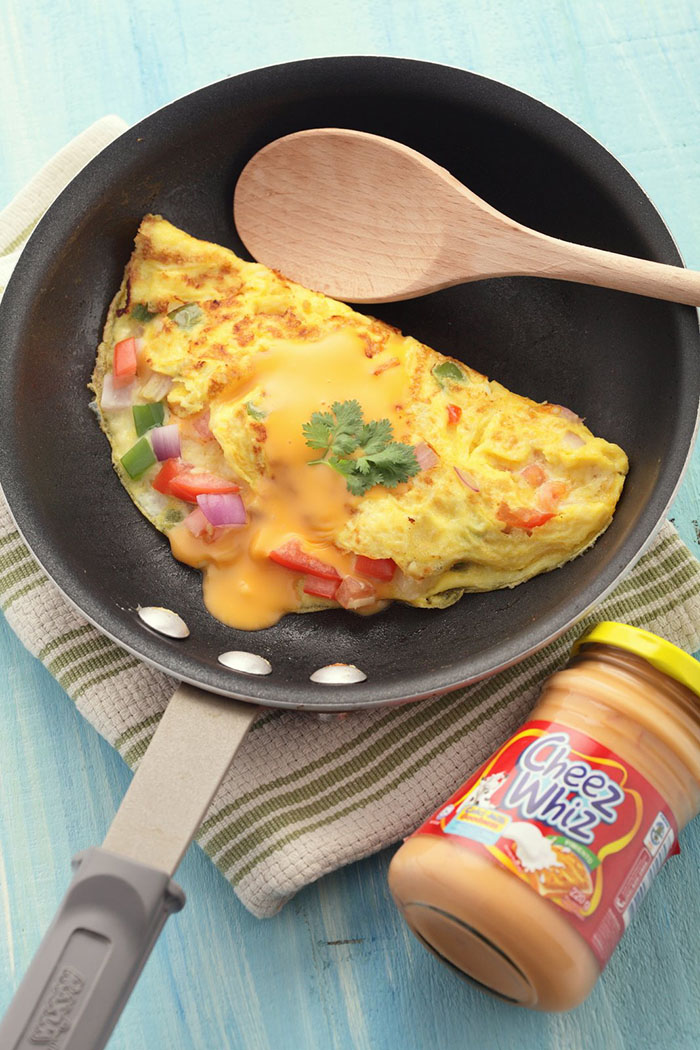 Omelet with Cheez Whiz
Serves 4
 Ingredients:
1/4 cup oil
1/4 cup chopped onion
1/4 cup chopped tomato
1/4 cup chopped red bell pepper
4 eggs, beaten separately
4 tablespoons Cheez Whiz Pimiento Flavor
Heat oil in a frying pan. Sauté the chopped onion, tomato and red bell pepper. Transfer mixture from the pan to a plate, making sure the oil is left in the pan. Divide the mix into 4 portions.
Pour in one beaten egg into the pan. On one side, place 1 portion of the sautéed mixture. Top with 1 tablespoon Cheez Whiz Pimiento Flavor. Fold on top the side with no mixture.
Transfer omelet to a plate with toasted sliced bread cut into triangles. Do the same with the rest of the eggs.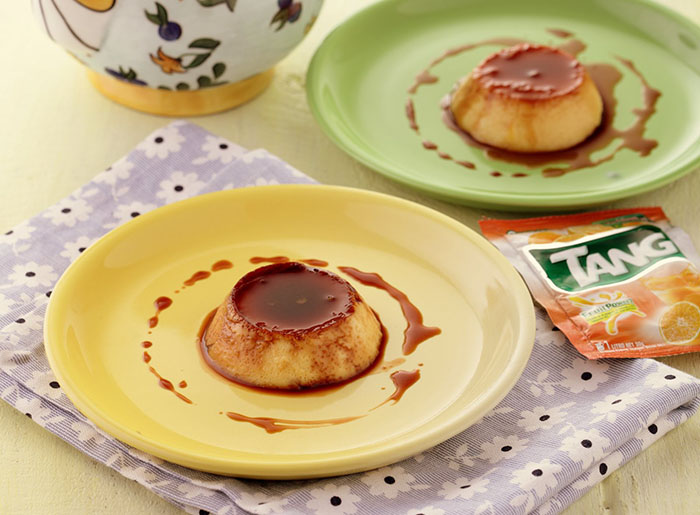 Leche Flan with Tang
Serves from 6 to 12
This recipe uses a 12-cup muffin pan. Two 6-cup muffin pans or individual molds can also be used.
Ingredients:
Caramel:
2 tablespoons sugar
Flan:
10 egg yolks
1 can (about 400 ml) condensed milk
3 tablespoons Tang Orange powder
1 cup evaporated milk
Preheat oven to 300°F (150°C).
Make a dark caramel by distributing the sugar at the bottom of each muffin pan slot. Heat the muffin pan on a stove top, moving around to melt the sugar on each slot and creating an even and thin layer of caramel. Set aside.
Separate egg whites and egg yolks. Place each in separate bowls. (Keep the egg whites for other recipes)
Add the condensed milk to the yolks and mix well. Add Tang Orange powder and mix. Add evaporated milk and mix well.
Pour mixture over each slot of the prepared muffin pan with the caramel.
Bake in a water bath (Baño Maria or Baine Marie) for 40 minutes to 1 hour or until perfectly set.
When the custards are set, take the pan out of the oven and let cool.
Remove custards from the slots and into one serving platter or individual ones.
Put inside the refrigerator. Serve cold
Hits: 353