May You have Joy and Serenitea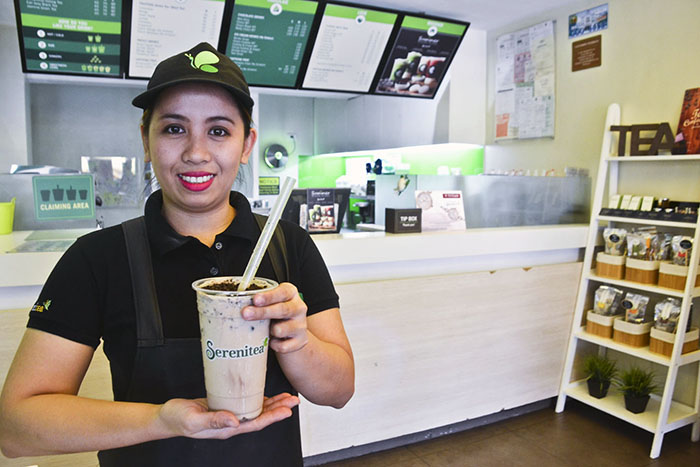 What's the secret to making people want something? Give them something they never even thought to have. This is the story of Serenitea, a pioneer in the resurgence of the Milk Tea trend in the country. In a consumer market that has highs and lows depending on what's in, how does Serenitea keep its business sweet and successful?
It began in 2008 when then partners Juliet Herrera and Peter Chen decided to take a leap of faith and start their own business. "I was only 23 years old and Peter was only 24 when we started Serenitea," shares Juliet. "We didn't realize at the time that the industry we entered was so challenging. But we said we should start early so that if we fail, we have time to start again."

Young though they were, they also had the drive to succeed and thus quickly learned the ropes of the business. Relates Juliet, "Peter went to Taiwan to study how to make milk tea. He even worked in a tea shop. While he was there, I was here processing our business documents."
From starting their so-called "Lucky" store in San Juan City, the now married couple has 38 branches nationwide including one in Cebu and in Davao. From having only 25 flavors in their menu, they now have 40 flavors, with limited-edition ones being added regularly. Serenitea also offers savory snacks – similarly patterned from Taiwan street food – to complement their tea drinking experience. Most recently, their stores have started selling Serenitea Confections. These include candies, chocolates and jams that have been flavored with tea. And they've also taken to selling their own tea bags.
Their growth through the years shows that indeed Serenitea's mission and vision for its consumers is to "…Create balanced and rejuvenating beverage experiences that enrich lives." If you asked them what they think helped propel their success, they would reply that it was all about giving consumers something that they never thought to have.
Something sweet, something new and something tasty. Juliet relates, "At the time we started we introduced three things. First, our teas are freshly-brewed. Once a customer orders that's the only time we will brew the tea using our customized tea espresso. And we use one tea bag for one order. Our products may cost more than other brands' but that's because we offer premium quality. As much as possible too when we create stores we ensure that the customer is able to see how the teas are prepared by our staff."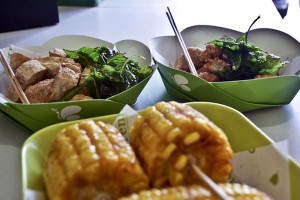 The second new thing introduced by Serenitea was the ability to customize the sweetness of your drink. From 0, 25, 50, to 100% sweetness, Serenitea introduced more "customization" to the Milk Tea market. Lastly, building on customization, Serenitea built on the idea of adding what they call "sinkers" to their drinks. "Before, they were called toppings. We then called them sinkers – because they sink inside the cup – and we add them to help enhance the drinking experience of our consumers. We have the Pearls or the Sago, and the Crystals, or the Nata de Coco," adds Juliet.
The other not-so-secrets: Quality Products and Ingredients. Juliet shares that their ten best-sellers are their Milk Teas, followed by their ice cream-based drinks. "It's hot in the Philippines so these are the drinks people want," she says. "For the milk teas the best sellers are Hokkaido, Okinawa and Winter Melon. For ice cream-based drinks and best sellers are the Cookies and Cream and Cocoa Cookies and Cream flavors."
"What makes flavors best-sellers are the processes you employ to make them, of course they have to be safe and like our teas, fresh. Secondly the ingredients we use are premium quality, like the Oreo cookies we use for our best-selling flavors," explains Juliet.
She continues, "It helps our business to use premium ingredients like Oreo cookies. Number one because of the brand name. We have collaborations with them. When consumers see that we have tie-ups with Oreo cookies, which is a quality brand, they are encouraged to enter the store and order."
"Oreo cookies and its makers Mondelez Philippines are our partners. They provide the ingredients for our drinks. I think if we didn't have Oreo cookies as ingredients we wouldn't have the Cookies and Cream and Cocoa Cookies and Cream drinks as best-sellers. Especially Cookies and Cream, that flavor is so popular among consumers," she adds.
Mondelez Philippines, the former Kraft Foods is the maker of Oreo cookies, among other delicious brands like Toblerone, Cadbury Dairy Milk and Eden Cheese. These products are not only sold in stores, they're also used as ingredients by restaurants and food providers for their own products. The Company's mission to create delicious moments of joy also extends to helping business owners develop their products through its Food Service function.
Juliet offers insights on what makes a successful business; one that's driven by passion and reliability. "Of course you should ensure the quality of your products, quality in everything actually. We have to make sure our ingredients are of good quality too so that we won't have doubts in serving them to our consumers."
She continues, "Business doesn't have an age requirement. Personally I think starting with no knowledge helps too because you learn everything along the way. Lastly, you need to be passionate. Not to get excited just when you start but to continue that passion. The hardest things to do are to create and sustain your brand. You also have to dream. If you don't have a dream, you have no reason to achieve something."
For more information on how Mondelez Philippines can support your food business, visit http://ph.mondelezinternational.com.
Here's a recipe from Serenitea that can help you recreate the experience of drinking their refreshing drinks at home: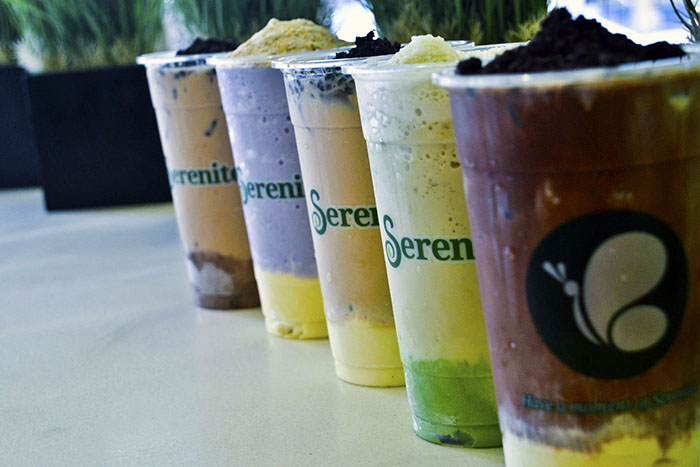 Milk Tea with Cookies
Ingredients:
A glass or cup with cover (for shaking the drink)
One bag black tea
2 tbsp Fresh Milk or Non-dairy Milk
2 tbsp Oreo cookies, crushed
1 1/2 tbsp sugar
Hot Water
Ice
Procedure:
Ready your glass with cover and fill with 170 ml of hot water. Steep black tea for 2 minutes. Remove tea bag.
Add 2 tbsp of milk.
Add 2 tbsp of crushed Oreo cookies.
Add 1 1/2 tbsp of sugar.
Fill the cup with ice and shake.
*Tip: You can change the flavor of your Milk Tea with Cookies by using different Oreo cookie flavors. Experiment with Oreo cookies in Strawberry or Chocolate flavors or even the new Coconut Delight flavor.
Hits: 529