Killing Me Softly Death by Chocolate, A Lot of Chocolate
---

---
You can never have enough chocolate.  A chocolate cake is the ultimate cake. It never goes out of style and is impervious to culinary and baking trends.
It is the first cake all bakers learn how to make. When you've mastered a version of your basic chocolate cake, you will then want to add flourishes. I think my recipes below provide enough variation that will keep the concept of a chocolate cake fresh and interesting. You can never have enough chocolate cake recipes.
White Chocolate Strawberry Cake
Chocolate and strawberry are a classic combination, but I chose to pair this with white chocolate because the color of the strawberries will provide a beautiful stark contrast to the snowy white. White chocolate tends to be sweeter than regular chocolate and the sweet to tart flavors of strawberries cuts the sweetness. Now is the perfect time to do this cake as a quick trip to the market will show that strawberries are in season and they are sweet and juicy.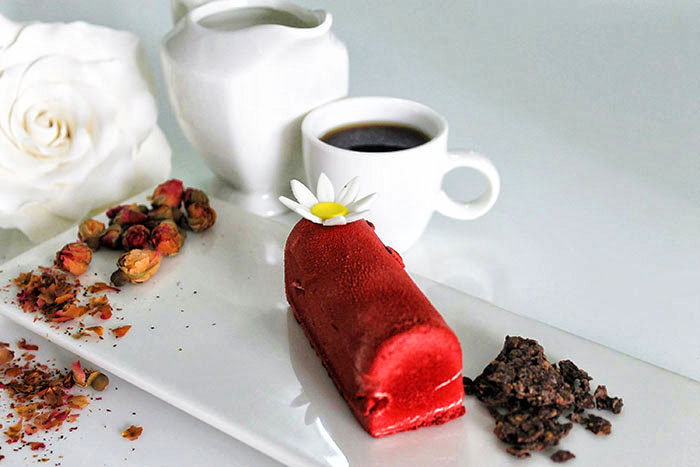 White Chocolate Mousse
Ingredients:
200g white chocolate
300ml whipping cream
5g gelatin powder
6ml water
1 cup sliced fresh strawberry
Procedure:
Chop the chocolate and place it in a bowl; melt over a slowly simmering bain-marie until the temperature reaches approximately 45˚C on a cooking thermometer.
Beat the cream until firm peaks cling to the whisk. Whisking quickly, add about 1/3 of the whipped cream to the hot chocolate.
Pour the mixture over the remaining cream and fold in gently with the whisk or a spatula to evenly blend the ingredients. In a small pan combine gelatin and water and wait to bloom.
Then bring to heat until the gelatin mixture dissolved and combine with white chocolate mousse.
To assemble
Use the spring form pan and place 1/3 of the mousse mixture and place the 1/2 of the strawberry (you can add more strawberry if you want) then another 1/3 of the mousse and 1/2 of the strawberry the last is the remaining 1/3 of the mousse mixture.
Freeze over night and take out from the pan. You can cover the whole cake with red chocolate ganache.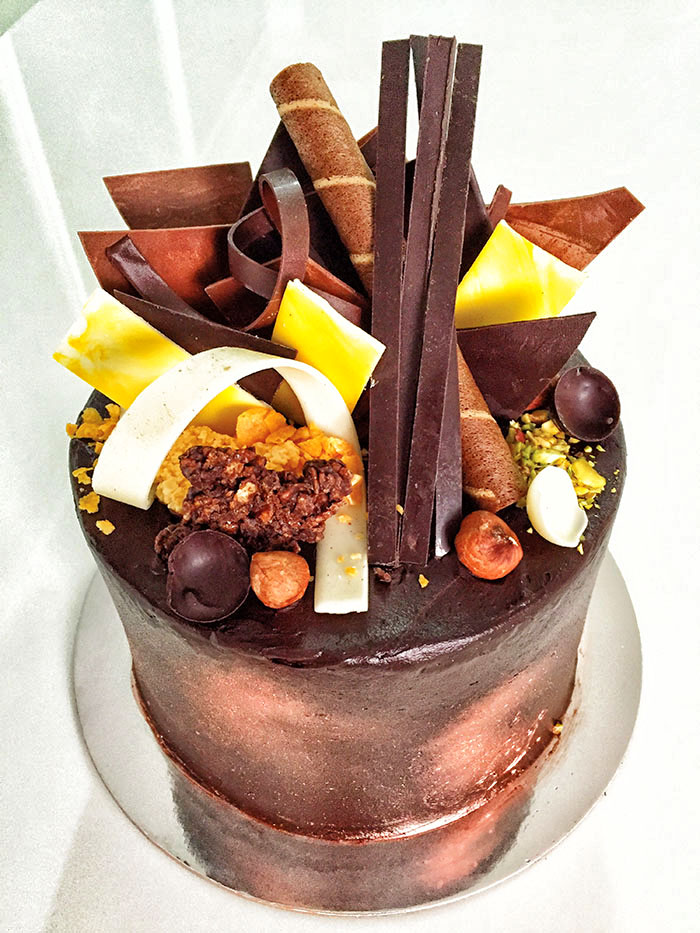 Crazy Chocolate Overload Cake
Chocoholics rejoice! This is the cake for you. You can choose to decorate this cake with any and as much chocolate bars or candies that your heart desires.
Ingredients:
2 1/2 cups sugar
1 3/4 all purpose flour
3/4 cup cocoa powder
1 1/2 tsp baking soda
1 1/2 tsp baking powder
1 tsp salt
3 eggs
1 cup milk
1/2 veg oil
2 tsp vanilla
1 cup boiling water
Procedure:
Heat oven to 180˚C/350˚F. Grease and flour 8 inch baking pan. Stir together sugar, flour, cocoa,
baking soda and powder and salt.
Add eggs, Milk, oil and vanilla, beat on medium speed for 2 minutes. Stir in boiling water (batter will be thin). Pour batter evenly into prepared pans.
Bake for 40-50 minutes.
To assemble
Slice the cake into three portions, and in between of the cake spread chocolate ganache. After the third layer, cover the entire cake with chocolate ganache.
After the ganache has set, decorate the cake with all the chocolate bars of your choosing. You can choose a single variety or a combination of many varieties.
Hits: 169