Brownie Points
---

---
In this recipe it just took a sprinkling of an assortment of nuts: walnut, almond and cashew to transform your basic brownie into an elegant dessert. You can, of course, choose other nut varieties. If you're feeling even more extravagant you can try pistachio, hazelnuts, even pili nuts and experiment with how it changes the taste of your brownies. The addition of nuts also cuts the richness of a pure brownie and adds an undercurrent of salty to complement with the sweet. A brownie a la mode is also one of those on the fly desserts that can be whipped up easily.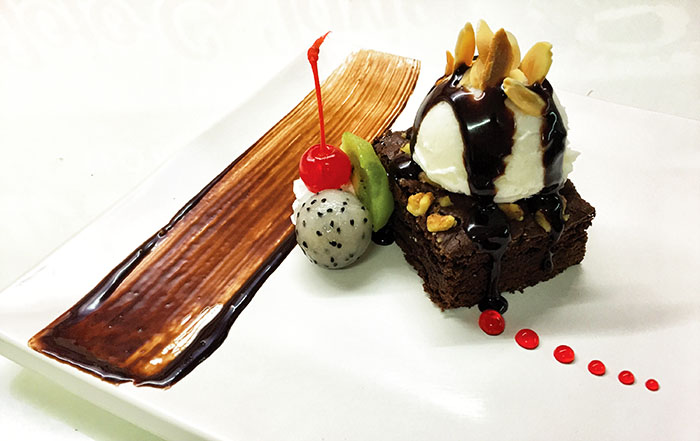 Almonds and Walnut Brownies A la Mode
Ingredients:
1/4 cup toasted walnuts
120g all purpose flour
1/2 cup butter
1 tsp vanilla
1/4 tsp salt
1 tsp baking powder
40g cocoa powder
200g sugar
2 pcs large eggs
150g chocolate chips
Cashew nuts (for garnish)
Vanilla ice cream (for topping)
Procedure:
Pre heat over for 15-minutes and prepare an 8-inches square baking pan by brushing with shortening and lining with parchment paper.
In a small pan combine all dry ingredients and set aside.
Combine chocolate chips, butter and melt over a sauce pan with simmering water. Add sugar and mix to combine.
Add eggs one at a time, lastly add flour or dry ingredients and chopped walnuts and mix just to combine. Do not over mix.
Transfer to prepared pan and bake for 30 to 35 minutes or until toothpick inserted inserted in the center comes out clean. Cool in pan for 30 minutes and cut into squares.
Hits: 182