Your New Favorite Spot: The Fireplace at New World Manila Bay Hotel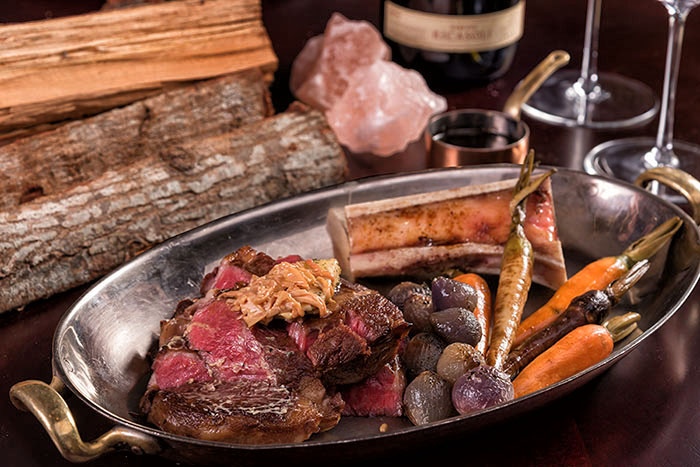 Since its conception in 2005, The Fireplace has been the go‐to, high‐end venue in Manila for corporate functions as well as celebrations with loved ones. It has been a beacon of elegance and quality fine dining for 11 fruitful years, and this year, it's about to get even better.
Under the tutelage of its new executive chef, James Williams from Australia, a new and improved The Fireplace is set to wow its loyal patrons and entice more people to explore its new menu—thoughtfully designed to showcase new irresistibly delectable fare featuring local and organic produce at a better price point. Now you can enjoy The Fireplace any day at a friendlier price. But do not fret: For The Fireplace's loyal patrons, our classic dishes are still available for you to enjoy. Simply ask for the separate Classics Menu from our servers.
With more than two decades of experience in the culinary and hospitality industry under his belt, Chef James Williams promises a stronger and bolder selection from The Fireplace, featuring the best produce that the Philippines has to offer.
"One of the main focuses has been on local ingredients and highlighting them throughout the menu," explains Chef Williams. "The Philippines is rich in produce and diverse, so it's easy to source. From the menu, we use some quality local pork, oxtail, local baby lobster, uni (sea urchin), heirloom tomatoes, burrata, chicken, beef cheek, mahi mahi, tuna, exotic Ifugao rice, sweetcorn, potatoes, prawns, calamari, octopus, calamansi, and a host of local craft beers." Chef Williams adds, "The new dishes at The Fireplace will be product‐driven and paired with good technique. The menu will change every few months to keep it interesting for regular guests… It's time for the restaurant to give its customers more reasons to return."
With all the new changes at The Fireplace, everyone can expect "a host of fun events, cooking classes and dinners with an ever changing menu" to keep things interesting and exciting—both for newcomers and for regular diners, according to Chef Williams.
With his culinary creativity, Chef Williams created new dishes exclusively for The Fireplace. From new appetizers, salads, soups, main course, and dessert, you will soon find your new favorite at The Fireplace. Some dishes are inspired by Michelin Starred Chef Dani Garcia from Spain after the successful 'Dinner with the Stars'—a well‐attended gastronomic event prior to Madrid Fusion Manila 2016. With the same clean and crisp design, The Fireplace's new Beverage Menu features a carefully curated selection of beverages from high‐end international brands as well as local artisans. Newly offered drinks include selections from old and new world wines, signature cocktails, imported whiskey, and  handcrafted beer from local brewers.
The Fireplace now also exudes a more relaxed vibe, making fine dining more accessible to a wider range of clientele without compromising its quality—that unparalleled service that The Fireplace has been known for in the past decade. The Fireplace gets a revamped look to maximize comfort without sacrificing aesthetics and durability. The new flatwares are hand‐made by local artist Lanelle Abueva, lending a more personal touch and adding charm to the already personalized service at The Fireplace.
Most of the drinks are now served in a copper mug, prolonging the coldness of the drink and adding a certain rustic charm to the place. Lastly, our servers are wearing more comfortable outfits so they can move swiftly to attend to our guests' needs.
Keeping the classics, introducing the best, and loving the new. Expect a more impressive and an even more unforgettable The Fireplace on your next visit. Book a table now and find out what's making The Fireplace Manila's newest favorite spot.
Hits: 45