A delicious way to keep fit and healthy with Regilait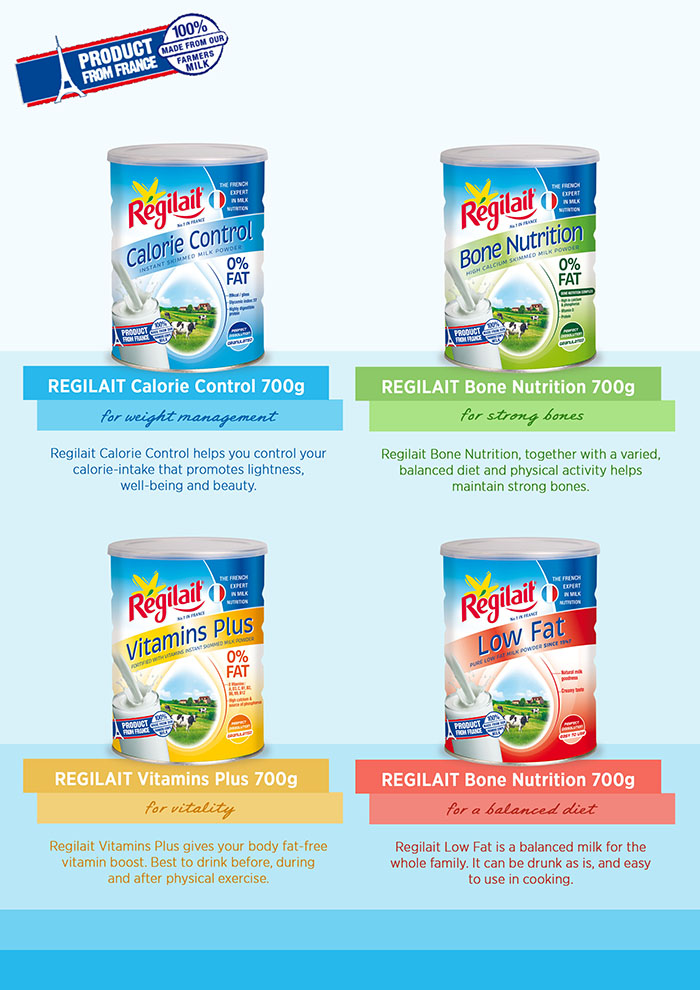 Maintaining good health should always be a top priority no matter one's age.  Keeping fit and healthy allows us to take part in activities with family and friends, to be more productive at work, or to just generally have the energy to enjoy everyday life.
One of the best ways to maintain a healthy lifestyle is through proper nutrition. Milk is considered as an important component of a healthy diet as it is packed with nutrients beneficial for the body, such as vitamins B1, B2 and B12, protein, and essential amino acids. These nutrients are also vital to achieving bone health, helping one avoid low bone mass that leads to osteoporosis, as well as other illnesses.
Now, Filipino families can start and maintain a fit and healthy lifestyle through good nutrition with Regilait. The number one milk brand from France, Regilait is formulated to deliver complete nutritional benefits in a non-fat formulation, providing a delicious milk drink Filipinos can truly enjoy.
Regilait is made of 100% pure cow's milk collected only from French dairy farms. The collected milk is dried and packed in France, has no additives, and is zero percent fat. Regilait also has 100% perfect dissolubility, thanks to the granulation process for a smooth and delicious drink.
Regilait milk comes in four delicious variants delivering full nutrition for varying dietary needs and lifestyles.  One of these is Regilait Bone Nutrition, which is enriched with vitamin D3 to help build and strengthen bone mass. Two glasses of Regilait Bone Nutrition also provide for one's daily calcium requirements.
The Regilait Low Fat variant is rich in calcium, protein and phosphorus but has 46% less fat than full-cream milk powder.  Regilait Low Fat delivers the perfect compromise between nutrition balance and good taste, the perfect accompaniment or ingredient when making healthy dishes for the family.
For weight management, Regilait Calorie Control is the ideal option.  High in calcium, phosphorus and vitamin D3, this variant helps prevent insulin resistance due to weight issues and has a low glycemic index.  It also contains only 89 calories.
Lastly, Regilait Vitamins Plus is perfect for boosting vitality and performance. It is enriched with vitamins A, D3, C, B1, B2, B6, B9, and B12, which are ideal for those with an active and sporty lifestyle.
Regilait is available at Landmark, Makati Supermarket, Pioneer Market, Unimart and select Metro, Robinsons, Shopwise and Rustans supermarkets in Metro Manila.