Royal Thai Cuisine by Award-Winning Guest Chef at Red Ginger, City of Dreams Manila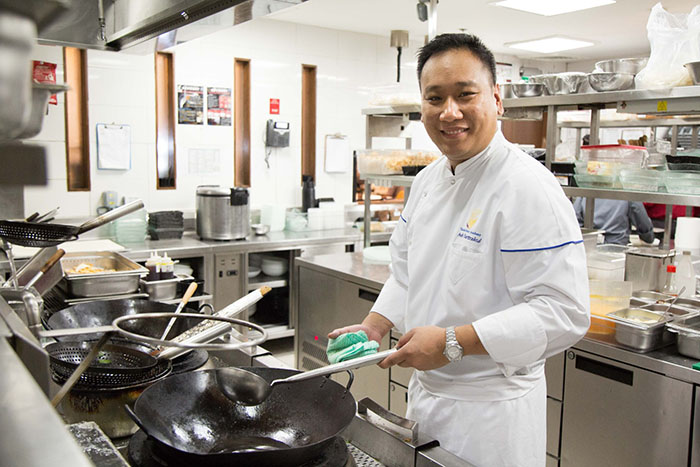 Award-winning Thai Chef Aek Charttrakul helms Red Ginger's kitchen from September 15 to 25 as the Southeast Asian restaurant's guest chef, serving royal cuisine from Thailand during lunch 12:00 noon to 3:00 pm and dinner 6:00 pm to 11:00 pm.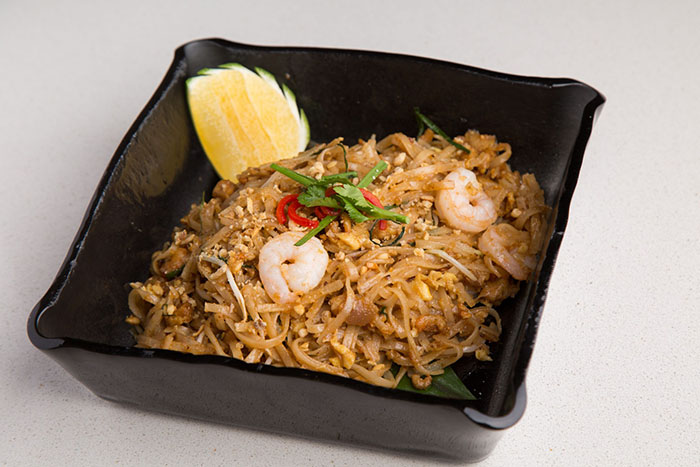 Guest Chef Aek has mastered the art of cooking Thai cuisine while working in 5-star hotels in Bangkok and a specialty restaurant in France. Together with the Red Ginger culinary team, Chef Aek will prepare the Thai dishes to highlight the balance between different flavors including spicy, sour, sweet, salty, and bitter. A unique facet of Thai cuisine is the use of fresh herbs and spices as well as the inclusion of fermented fish sauce in some of its dishes.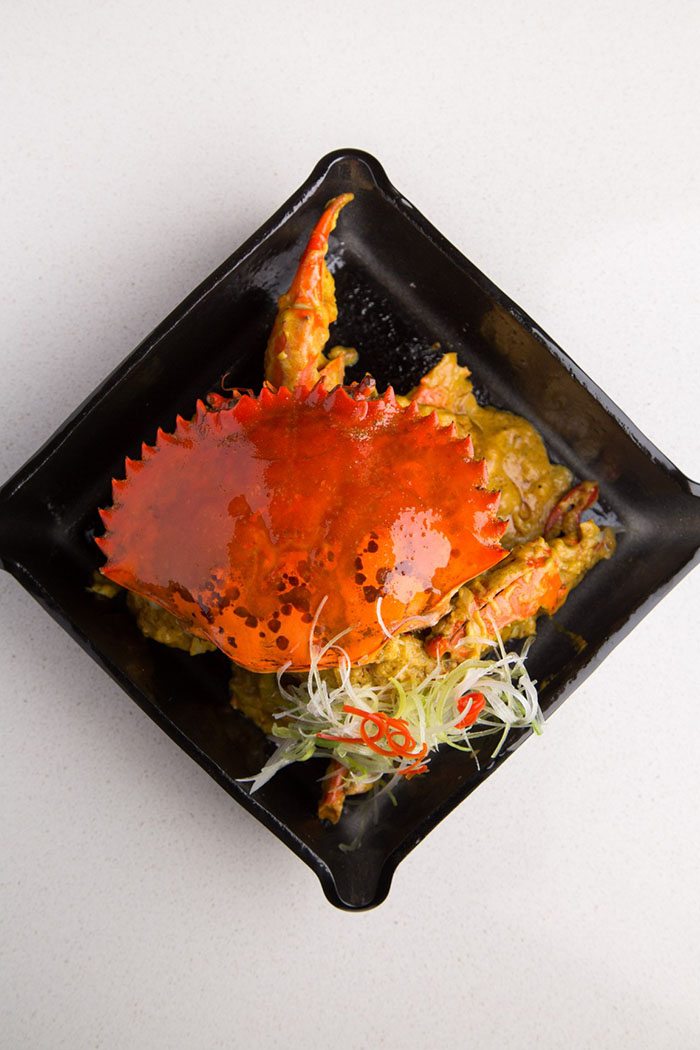 Most Thai dishes are stir fried or grilled and served with rice.  Fish, pork, beef, and chicken are all prepared in a variety of ways, though typically cut into bite sized pieces and stir fried with various spices, such as garlic, chili, and basil.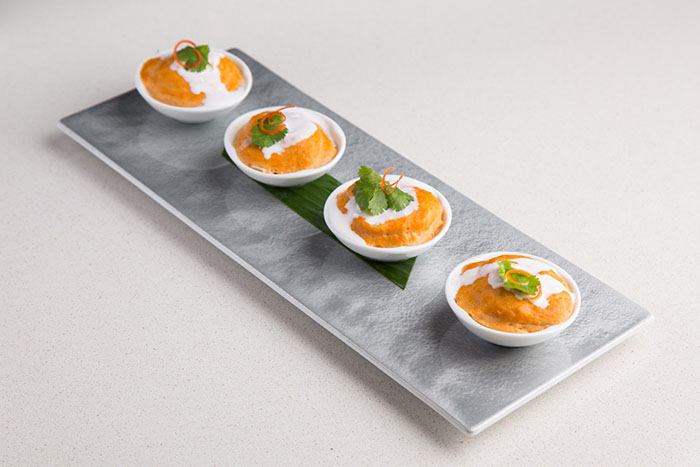 Thai cuisine is influenced by neighboring countries, such as China, Laos, Burma, and Malaysia. With the influence of Chinese migrant, noodle dishes are also common in Thailand. Each of Thailand's different regions has developed its own style and is responsible for dishes that are quite different from those of other regions.  Northern Thai cuisine shares similarities with cuisine from neighboring Laos, though the Thai versions of the dishes are a lot heavier on the chili.  Southern curries on the other hand, are less spicy, with a greater Malaysian influence, and feature more coconut and turmeric.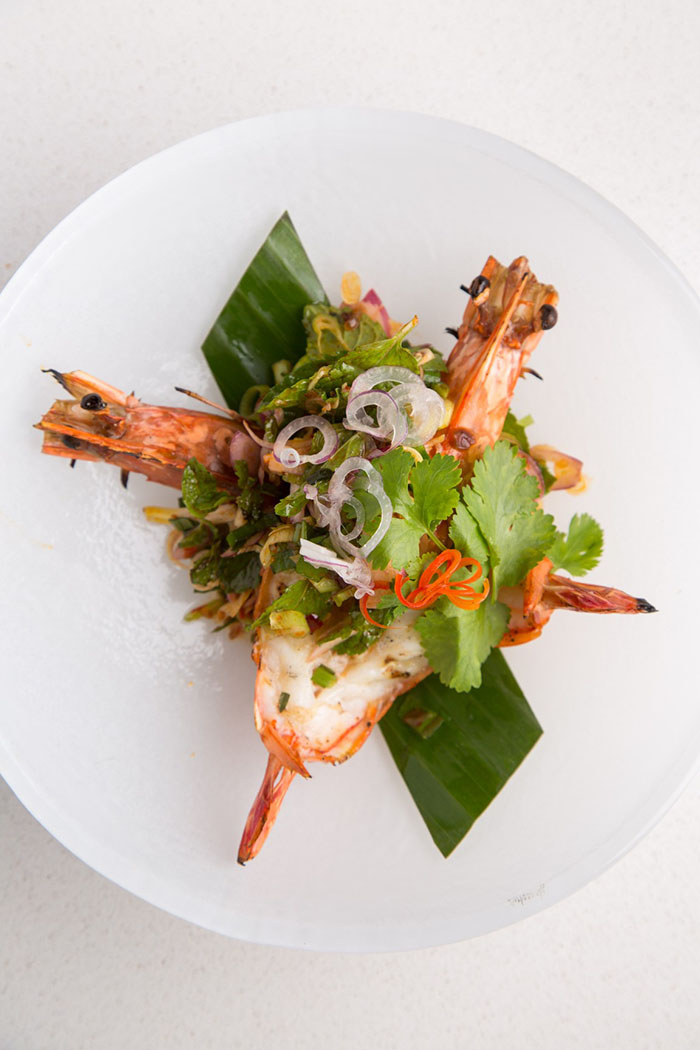 An exclusive a la carte menu will be available at Red Ginger during this promotion, showcasing appetizers such as Crispy Vermicelli Tossed in Sweet and Sour Sauce (Mee Krob), Rice Cracker with Peanut Sauce (Kao Tang Na Tang), Spicy Herbal Shrimp Salad (Pla Kung), and Spicy Pork Rib Soup (Tom Klong Kradook Moo).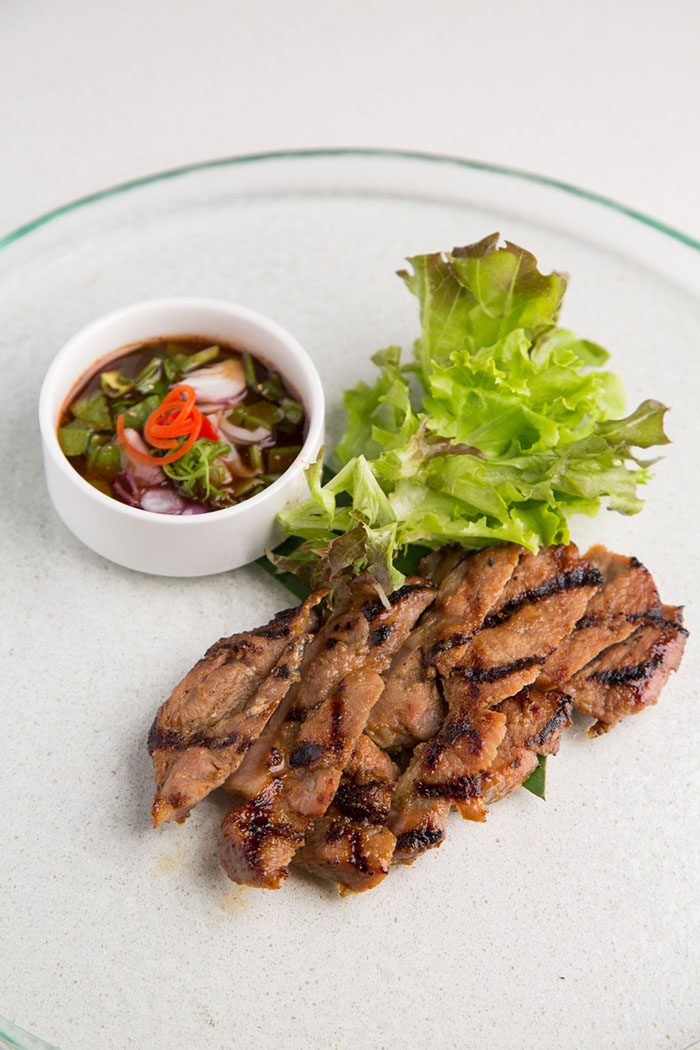 Thai entrées include Green Curry with Chicken (Kaeng Kew Wan Gai), Deep-fried Fish with Sweet and Sour Sauce (Pla Rad Prik), Roasted Pork Neck with Spicy Thai Dipping Sauce (Kor Moo Yang), Stir-fried Crab with Egg and Yellow Curry (Poo Pad Pong Karee), Steamed Fish Souffle (Hor Mok Pla), Stir-friend Beef with Hot Basil (Pad Kaprao Nua), and Stir-fried Thai Noodle (Pad Thai), while desserts offered are Coconut Sticky Rice with Mango (Kao Naew Mamuang) and Rice Flour Ball Dumpling in Coconut Milk (Bua Loy).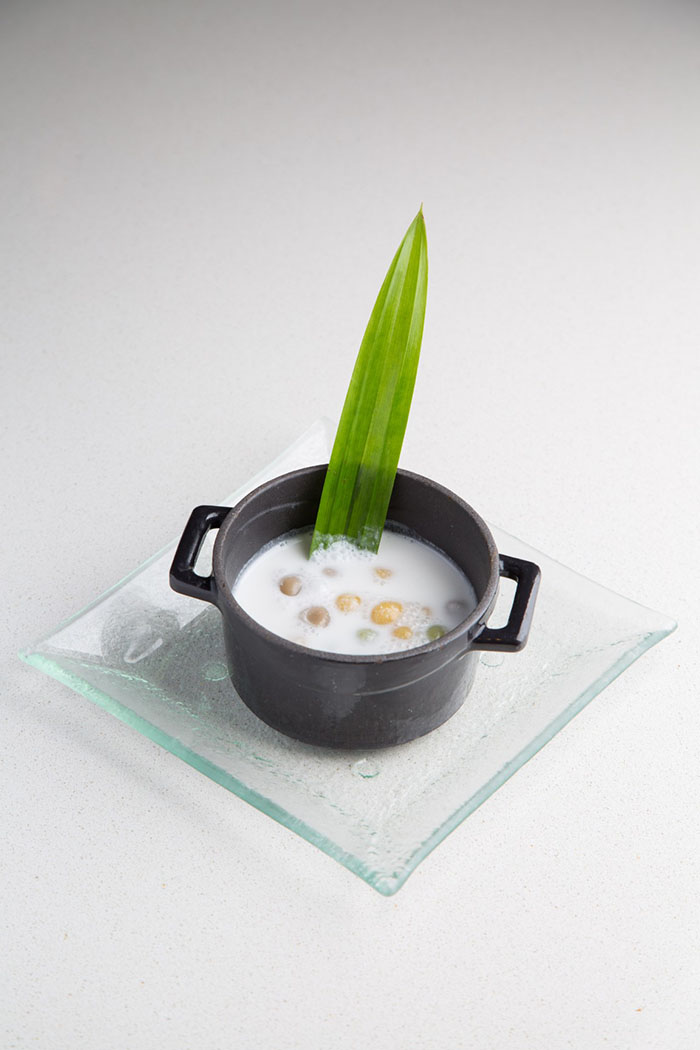 Currently seated as a Board of Director and Culinary Consultant of the Thai Culinary Academy, Chef Aek Charttrakul began his career in 1999 cooking royal Thai cuisine in Benjarong, Dusit Thani, Bangkok. He likewise expanded his expertise by occasionally working in Le Toit du Monde Restaurant in Val d'Isere, France. After five years, he moved to Swissotel Le Concorde Bangkok where he managed the banquet kitchen until 2008.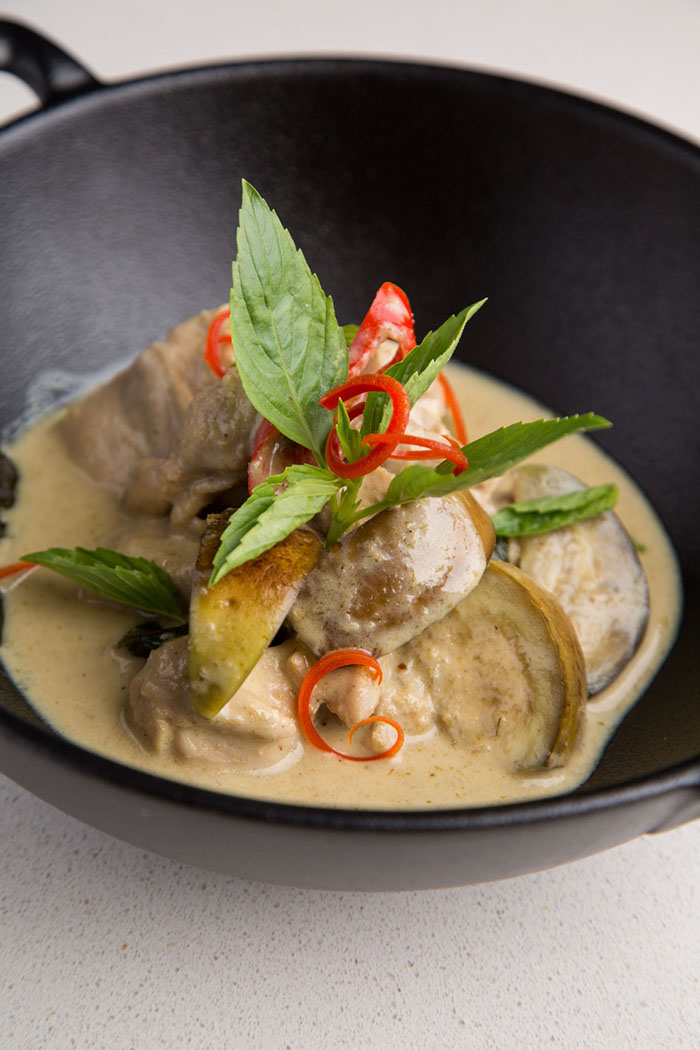 In 2013, Chef Aek joined the Suan Dusit Rajabhat University & International Culinary School and has since represented his country in various national, regional, and international competitions, garnering gold, silver, and bronze medals. His most recent accolades include receiving a silver medal at the 2015 Philippine Culinary Cup, a gold medal 2nd prize at the 2014 Villeroy & Boch Culinary World Cup in Luxembourg, and a gold medal with distinction at the 2014 Salon International de L'Agroalimentaire (SIAL) International Top Chefs in China.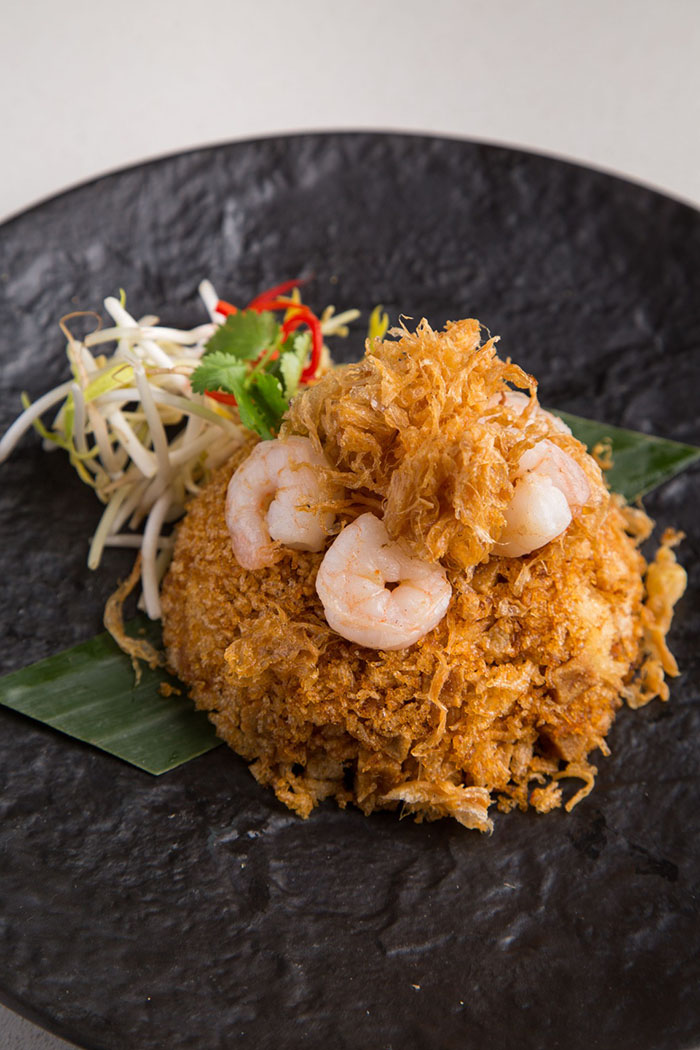 Peranakan cuisine
The Southeast Asian restaurant also highlights Peranakan cuisine via an all-day a la carte menu until October 31. Dishes include Nyonya Fried Chicken marinated in shrimp paste and fermented bean curd with pineapple acar (Indonesian pickle) and curry mayonnaise; Lam Mee noodles in rich prawn gravy, char siu (Chinese barbecued pork), fish cake and hard-boiled egg served with homemade sambal; Babi Asam pork belly stew with tamarind, sticky turmeric rice, and prawn crackers; and Bubur Cha Cha sweet potato with taro and sago in pandan coconut milk.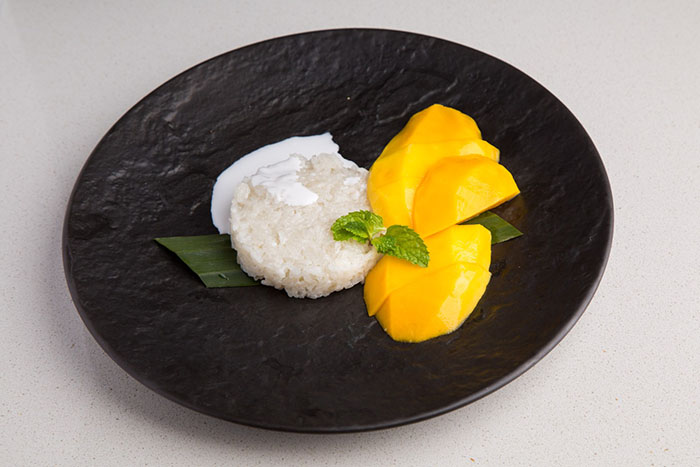 Peranakan or Nyonya cuisine combines Chinese and Malay influences, merging Chinese ingredients with Malay spices and cooking techniques, producing aromatic dishes that are tangy, spicy and creamy.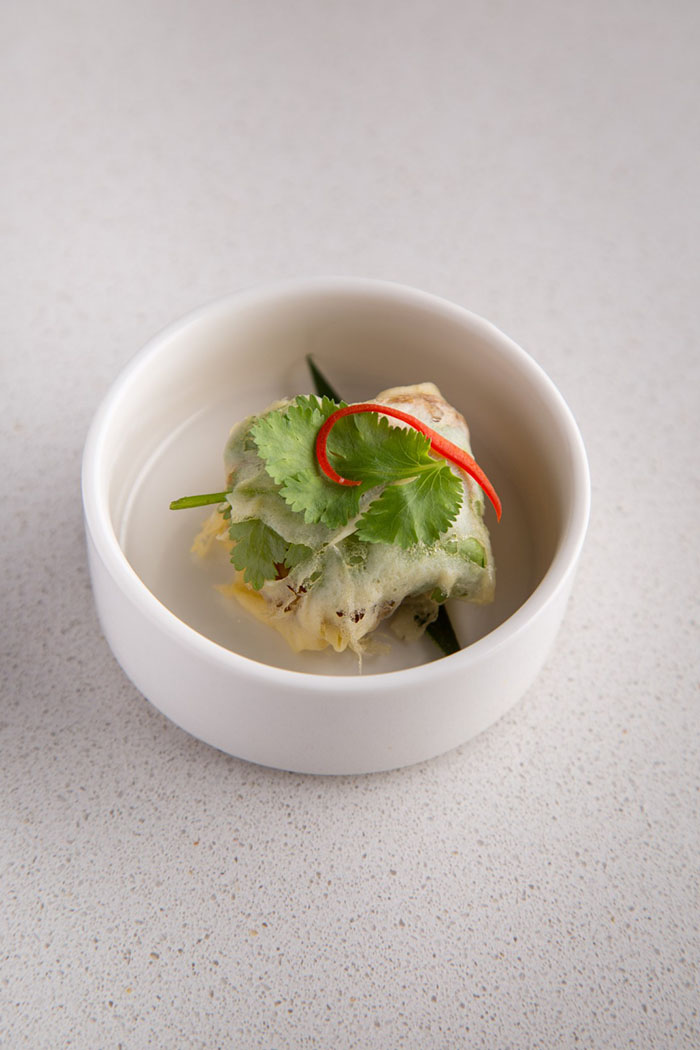 Common ingredients in Peranakan cooking are seafood or beef dishes prepared with laksa leaf, pandan leaf, tamarind, lemongrass, kaffir lime, rice or egg noodles, coconut milk and chili. These dishes are typically eaten with rice or fried fish.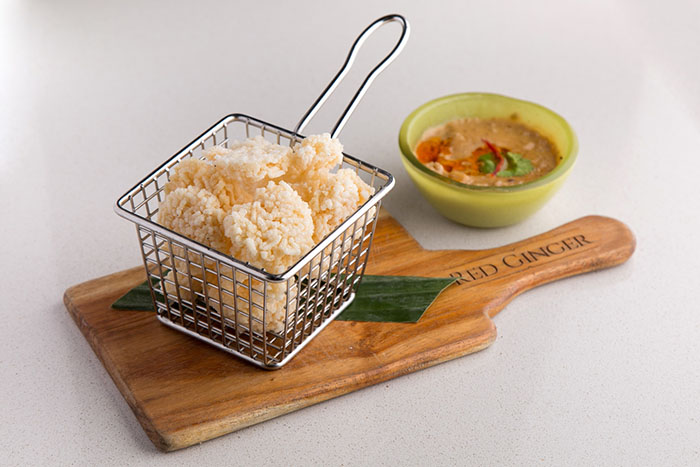 For inquiries and reservations, please call + 63 2 800 8080 or e-mail guestservices@cod-manila.com or visit cityofdreamsmanila.com.ph.
Hits: 63