AirAsia Reveals Grand Winner of "AirAsia Travel Photographer 2016" Contest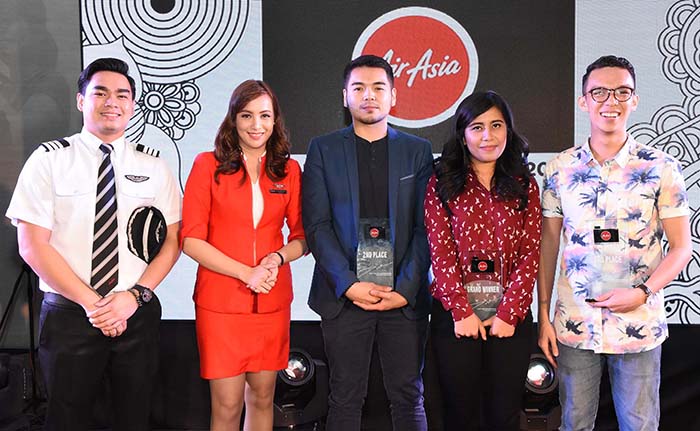 After hundreds of entries and a series of exciting challenges, Kimberly Pauig, a writer from Pasig City, emerged as the winner of this year's AirAsia Travel Photographer Contest.
The results were announced live at the dramatic AirAsia Travel Photographer Final Show held in Green Sun, Makati City.
From hundreds of entries, the field was whittled down to six finalists who travelled all the way to Macau to compete in different challenges. Finalists Neil Michael Cardano, a Hotel Front Desk Officer from Puerto Princesa, Palawan; Mithilaya Miclat, a Nutritionist-Dietician and Social Entrepreneur from Davao City; Eliseo Zuniga, a lawyer from Taguig City; Kimberly Pauig, a writer from Pasig City; Daniel Magbanua, a Fashion Photography student from Quezon City and Dave Poblete, a BPO employee from Makati City, showed their skills in portraiture, food photography and more, as they visited Coloane Village, Fisherman's Wharf and other cultural attractions in Macau.
At the Final Show hosted by DJ Tracy Abad of The Mad House of Mellow 94.7, the top three finalists, DJ Magbanua, Kimberly Pauig and Dave Poblete were selected and immediately went through final presentations to the judges who are composed of young leaders and veterans in the field of photography, branding and visual arts. The panel of judges included Nachi Ugarte, creative director of GRID magazine; Jacob Maentz, documentary photographer; Wawi Navarrosa, artist/photographer, founder of Thousandfold.
"We are impressed with the quality and composition of entries we received this year. The six finalists did a wonderful job in the final leg of challenges with each of their photos revealing a compelling story. Needless to say, it was a difficult decision to choose only one winner." said Jacob Maentz.
After an intense deliberation session, Kimberly Pauig, a writer from Pasig City whose beautiful portrait shot wowed the judges, became the "AirAsia Travel Photographer 2016". She received 200,000 AirAsia BIG Points, a surprise vacation package and several prizes from partner brands including GRID magazine and Flight 001 Philippines. Dave Poblete was named 1st Runner Up and Daniel Magbanua placed 2nd Runner Up, with both receiving 50,000 AirAsia BIG Points. Dave Poblete also took home the People's Choice Award, as he received the highest public votes at the official AirAsia Travel Photographer website (www.airasiatp.com).
To revisit the exciting journey of the top six, visit AirAsia's Official Facebook page (facebook.com/AirAsiaPhilippines) to watch the webisodes featuring their amazing experience in Macau all the way to the final elimination and announcement of the winner.
The AirAsia Travel Photographer 2016 is also brought to you by AirAsia BIG Loyalty Programme, Mellow 94.7, Grid Magazine and Flight 001 Philippines.
The AATP, which is now on its second-year, is part of AirAsia's continuous effort to inspire, engage and empower the youth to pursue their goals by traveling and sharing their stories through stunning images and photographs. All participants went through rounds of judging and were selected based on creativity, content, originality and technical or visual presentation.
Hits: 41