"Add Extra Cheer to Your Holiday Toast with Franzia"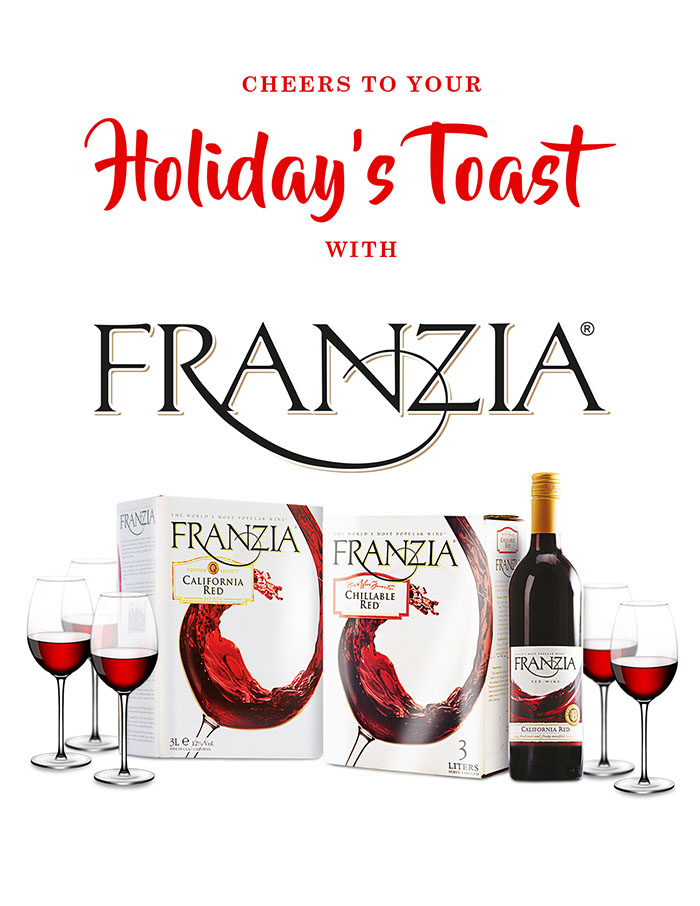 The most wonderful time of the year is finally just around the corner, and what is a better way to celebrate the festive season than to open a box of Franzia for every gathering. With the classy packaging of the three liter wine, a box of Franzia would already be more than perfect to share with friends in a small sized office, with your Christmas party barkada or a family reunion during Noche Buena.
Made from the finest grapes in California USA and known as the world's best-selling wine, Franzia's innovative Smart Tap technology amps up its freshness and quality which make the wine fresh and delicious up to its last glass.
Much more, Franzia is also a classy hamper centerpiece to give to all the important people on your Christmas gift list. Franzia also offers a bottle of wine in 750ml, aside from the Franzia box, which is equivalent to three liter bottle of wine, that could serve  more than twenty-five wine glasses.
Whether you choose California Red or Chillable Red, Franzia Wines provide value and pleasure out of these two selections. Take a cue from these recommendations on what best Franzia wine to take to your holiday shindigs:   
            Best wine for the meat connoisseurs. Smooth, easy and wonderfully balanced, Franzia California Red Wine possesses ripe and juicy blackberry and cherry flavors that ends with a crisp, clean finish. A delicious pair to rich and flavorful beef, pork, and pasta dishes, it also surprisingly blends well with sweet-spicy sauces.
Best wine for a laid-back dinner. Sexy but not stuffy and punctuated with a sweet cherry flavor, Chillable Red Wine is best enjoyed on dreariest days and also perfect for a cool cocktail. Pairing it with any salad, seafood or dessert will show more of its high flavor and strong finish. From big to simple events, it's a wine that's perfect for a relaxing night or chilling with friends.
Ideal for special occasions and as a heartwarming surprise to your loved ones this holiday season, Franzia wines are a standout from the food-gift crowd.
Hits: 45